Hello and welcome to this SPinvest post
SPinvest is a tokenized investment fund/club for all users of social blockchains. Everyone is welcome! The concept of SPinvest is to get rich slowly by using time tested methods of earning, saving and compounding long term. This lets SPinvest offer an ROI of 20% per year on SPI tokens. We encourage long term investing on and off the blockchain. We hope someday everyone will HODL some SPI tokens that can be bought directly from @spinvest are through the steem-engine are dex.steemleo exchanges.
.
---
LIGHTNING Updates
SPinvest Moderator's Nominations
In 3 days @shanibeer will begin the nomination and voting process for us to pick some moderators. You can see full details by clicking here. It's very important that all club members take part in this.
SPinvest's STEEM POWER balance plan
I have pulled all STEEM POWER delegations
SPinvest will begin an 84,000 STEEP POWER DOWN on the 30th
We receive 6400 STEEM every week for 13 weeks starting on the 6th of April
Every power down payment is converted into either BTC are Tether
When power down is complete, we decide how to invest funds
95% SPI token buy back offer
From the hard fork, a few people are very interested in selling back some SPI tokens to make the most of the airdrop. SPinvest is a long term saving fund but each their own. @jk6276 came up with the fairest way to let people cash out SPI tokens if they desire. Click here for full details. It's a good way to get it done.
SPinvest Beneficeries
SPI tokens will be paid out this evening to users that have continued to use the service through the hard fork. Payments will be worked from last Friday on both STEEM and HIVE chains. SPinvest will pay out on both chains this week and next week and then only for the HIVE blockchain from then on out. This means any STEEM posts uploaded from today will not receive payment, SPinvest has no need for SP payments atm.
SPinvest daily Lotto
This is on hold for the time being, i will move it over the HIVE blockchain soon but right it's not in the top 5 list of things to do.
SPinvest Royalty tokens
There are still a few days to get these and i think there are around 20 still for sale. Prices are at the bottom of this post. I have hoping that by the time the next royalty payment is due, we will have SPI tokens on the HIVE chain. Either way, these are not affected by the hard fork for a swap over.
SPI are HPI tokens?
SPinvest will not be rebranding and continue to use SPI tokens. We will have SPI tokens on the HIVE blockchain when some sort of HIVE-engine is released. Simple snap and airdrop. After the HIVE chain SPI tokens are sent out and you have them, you will be free to burn, sell, keep are do whatever with the STEEM chain SPI tokens. They will be worthless and 100% unbacked.
Steem-engine holdings
As far as i am aware, tribes will be doing snapshots and airdropping tokens when they switch over to the HIVE blockchain. No real action required from us, just waiting for a HIVE-engine to be released so just wait and see.
SPI Token value
The dollar price of STEEM looks ok hovering at the 17-18 cent range but HIVE is going up so the ratio between STEEM and HIVE is increasing. It's hard to explain. The SPI token price has been dropping a little every day in terms of HIVE as it overpowers STEEM but the total fund in terms of dollars is increasing as HIVE is mooning faster than STEEM is dropping if that makes sense.

Today the HIVE to STEEM ratio is 1.85. This means it takes 1.85 STEEM to make 1 HIVE. This ratio has been increasing every day since the hard fork and will continue to do so but it should slow down some. If you look at the pie chart, your will notice that our total holding consists of HIVE (63%) and STEEM (34%). 4 days ago, these figures were HIVE (50%) and STEEM (46%). There's something to think about.
Today's SPI token price - 1.45 HIVE
are for STEEM - 2.65 STEEM
Royalty tokens are worth 100 SPI tokens
---
Questions are welcomed
---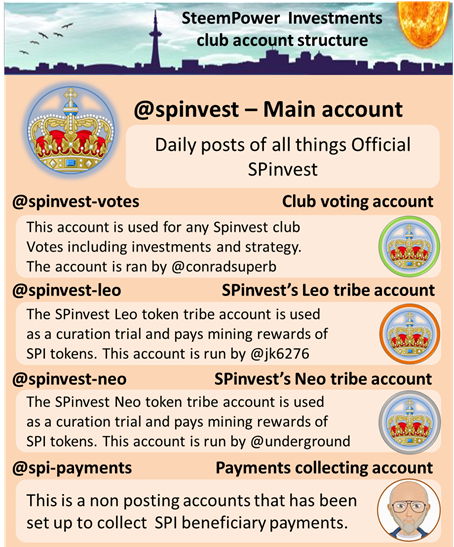 Show support to SteemPower Investments through it's Patreon Page
Click here to join the SPinvest community over at beta.steemit.com (Steemit Communities)
.