It has not been long since the last time I power up my @leofinance account and more specifically it was 16 days ago with 100 leo.
As I have said in previous posts, my goal is to reach 10000 LP but this long journey is not at all easy.
Sometimes watching the course of the leo I wish I could go back in time a few months, when its value was still 0.2 hive I could afford to buy 10000 leo but unfortunately then I could not.
So the only way it's left at the moment, given that its value has skyrocketed, is the daily posts and curations.
So, approaching the time of the official announcement from @khaleelkazi for ProjectBlank, the time has come, I believe, for another power up of my account with another 200 leo, which I have collected with your love to my posts.
My LP before power up was 660LP to my main account @steliosfan and also 5700LP delegated to my leo account @lamprini !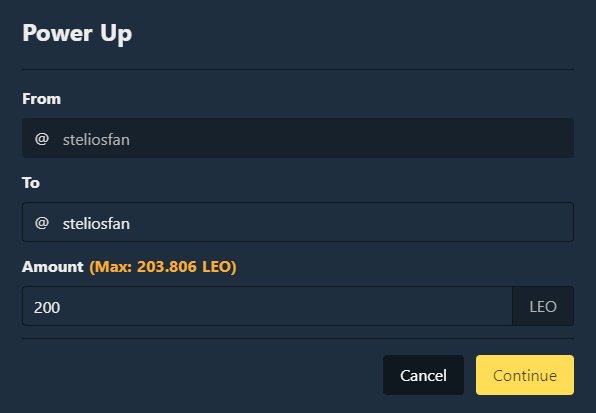 Now ,after power my main account have 800LP and i hope to be 1000LP within the next 10 days until the end of February .

I wish and hope those of you who read this post to continue and you to power up your accounts because great things are coming in the near future and it is a pity and unfair not to board the train of @leofinance which has its final destination the moon !!
Posted Using LeoFinance Beta