Customer Service ☎️ How Do You Go About It?

"The customer is always right" or like they say in Dutch "de klant is koning" (translate: customer is king) are well known phrases, but what if we changed the narrative to "that client could be me"? I don't have numbers to back up if that will lead to increase or reduction of customer satisfaction and or if those clients will return to your business.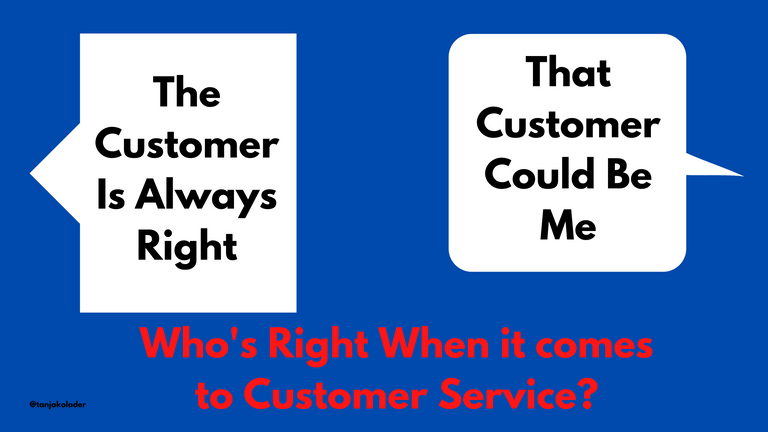 ---
What I do know is that I have been a customer and an employee on different occasions, so I've experienced the different sides like most people I would think. So when I'm dealing with a (potential) client or even other stakeholders, I'll do my best to help them as far as I am capable of. I wouldn't know if that could be considered "client is king" or as "the customer is always right", but what I do is I imagine myself in their shoes and think about how I would want to be treated.
For example, a colleague forgot to reschedule an appointment and the other person showed up. While I have nothing to do with that department and couldn't answer any of the questions of the stakeholder, I could have said "my colleague will get to you as soon as possible" and send the stakeholder on his/her way. Instead I offered the person to sit and wait in my office, while I called around to get some information. While the appointment had to be rescheduled, the client didn't leave with unanswered questions. If I was the client, that would've been my biggest concern, that I didn't drive all the way there, to only leave without any answers.
Another occasion where I tried to place myself in the shoes of a potential client was when there was a misunderstanding and the client possibly didn't understand the terms, instead of arguing with the client about who was right or wrong, I simply said "there must've been a misunderstanding, our apologies for that." Arguing over who's right or wrong only wastes time of both client and employee and in the end the client signed up, so that was a win for the company.
So the bottom line why I do this is because I try to imagine myself in the clients their shoes. When I'm the client and the receptionist, person at the counter or on the phone can't help me with what I need or doesn't have the answers, at least show me that you are doing everything you can to help me and not just repeat those protocols you've memorized. And yes, I know in some cases there are some company policies that those workers need to follow, but don't let the (potential) client leave frustrated or angry and that's what I try to remember when I'm the employee "that client could be me".
Well that's it for today. Any thoughts and how do you go about serving/helping (potential) clients?
---
Chasse into the backstage! 💃
Posted Using LeoFinance Beta
---
---