The cryptocurrency industry is at a major turning point.
For so long, there was Bitcoin and that was all. This was what the entire world discussed when it came to cryptocurrency. It either led to, or was led by, maximalists who believe there is Bitcoin and little else.
Of course, not everyone fit into this category. We are now seeing certain things changing.
Many felt that the future of blockchain and cryptocurrency was far beyond simply one asset class. This meant that, over time, we would see major innovations taking place that would capture the attention of the others. This will eventually lead to increases in their token prices, further reducing the dominance of Bitcoin.
This is something that is becoming evident.
According to Coingecko, the most recent market cap domination puts Bitcoin below the 50% barrier.

We also see the combined total of Bitcoin and Ethereum accounting for 62% of the total.
These are still large numbers. However, it is important to consider that we are seeing a massive shift. It was not too long ago where both those tokens accounted for 70% of the total. Another fact is that Bitcoin was near 70% itself last year.
Naturally, markets ebb and flow. This could be a trend that continues uninterrupted or it could reverse course for a while. Either way, the overall direction of the industry is clear.
Sites like Coingecko do their best to track what is taking place. Yet, there is a lot that is left out of their totals. While most of these are not going to affect things immediately, the culmination of them, over time, could make a big different. When projects like Leofinance and Cubfinance are accounted for, that only adds a few million to the total. Nevertheless, projects like these can 10x or 20x over time.
This is important since there are hundreds, if not thousands, of projects like that out there.
Of course, we are basically overlooking the entire NFT market. We saw some really mind-boggling numbers assigned to some sales of late. It seems as the entire sector is in a mania mode.
Again, we can question whether this will last. Perhaps it will not and a more reserved process takes place. That aside, we cannot dispute the potential that is coming from this innovation. Digital ownership is not going away. In fact, it will only grow as we progress forward. A more digitized world means that ownership representation is crucial. NFTs provide this.
DeFi certainly captured the imagination of the crypto industry. It also is gathering up a lot of money.
Here we see something that is crucial this discussion.
Most are familiar with the DeFi activity taking place on Ethereum. It grew significantly over the last 16 months and continues to do so.
Here is the present TVL according to Defipulse: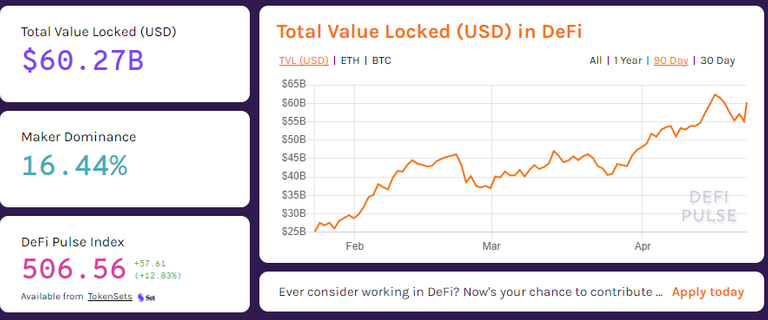 We are now looking at over $60 billion. This, however, is not the only game in town.
When we look at the numbers on Defistation, we see another large amount of money locked up.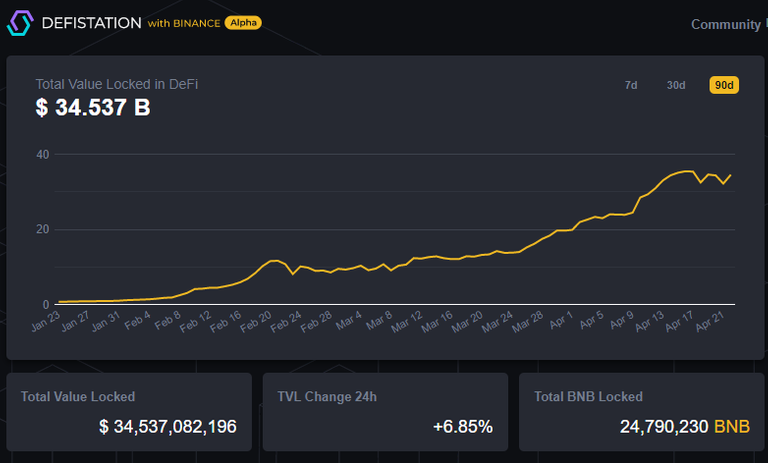 Between the two of them, we are approaching $95 billion locked.
Of course, the later shows the amount of DeFi money locked on BSC. This is an arena that new to the crypto community. It also sent the BNB token skyrocketing this year, giving it a market cap of $87 billion.
Towards the beginning of the year I predicted the DeFi market (TVL) would grow to $300 billion from the little more than $15 billion. That was a forecast of 20x.
If that holds true, which we are on pace for, what will the values of BNB, ETH, and whatever else is involved in that sector be worth?

All of this is important from the standpoint of decentralization.
This is a topic often discussed. It is difficult at times to see how this is occurring when we focus upon a few chains or the token distribution within a particular project.
However, when we take the industry as a whole, we see how this is taking place right before our eyes.
Decentralization is important because it provides resiliency. When something is centralized, it has points of failure. This is no surprise to most in the crypto world. Yet, when we start the process of decentralizing, the attack vectors start to spread out. No longer is it possible to take down the entire apparatus with just a single move.
Bitcoin weathered a lot of attacks. It was the primary target of a near decade long FUD campaign. This was the one that provided cover for all others. Since few were paying attention to what was taking place elsewhere, progress could take place without much interruption.
Fast forward a few years and we see how the shadow Bitcoin provided was put to good use. There are many things starting to take shape which will make it orders of magnitude more difficult to take down. With the increase in overall market cap, the money required is only growing.
At the same time, the number of nodes running different chains is mind-numbing. Who knows how many there are in total. Over the last few years, the number of miners on Bitcoin increased. This does not include what happened on BCH, LTC, and the other Bitcoin forks.
Then we have the PoS systems which keep expanding. They have more master nodes along with block validators. Their totals keep growing with time.
Finally we see the number of whales growing. At one point, there really only were Bitcoin whales. That handful was the financial elite of the crypto world. That is no longer the case.
We are seeing projects (blockchains) become extremely valuable. Thus, large holders in those now have a significant amount of money building up. Many are now compounding it with DeFi, further increasing their positions.
The point to all of this is that the industry, in every way, is spreading out, which is a good thing.
Bitcoin's eroding dominance shows how cryptocurrency is growing and maturing. It is an important step. I would guess that the eventual dominance ends up dropping into the 10% range.
Considering the fact that it is likely that Bitcoin's price is higher in the future, and thus a larger market cap, it shows how much we can expect the entire crypto industry to grow in value.
---
If you found this article informative, please give an upvote and rehive.

gif by @doze

logo by @st8z
Posted Using LeoFinance Beta