Ethereum is on fire. There is no denying that fact. The second largest cryptocurrency, by marketcap is at a new all time high. Many are projecting we see the price cross $2,000 in a short period of time. On a bit longer horizon, $4,000 and $5,000 price targets were put out there.
We will see how the markets handle all of this. What we do know is that DeFi is still raging on Ethereum. Each day there is more activity and the amount of money involved grows. Of course, the run in the token price aids in this effort.
However, not a single day goes by that I do not see multiple messages about the transaction fees on that blockchain. Whether it is in the comments on Hive, Discord, or Twitter, someone always has a story about trying to do something and the fees get in the way.
@disregardfiat has the perfect summation of DeFi on Ethereum: It is WhaleFi.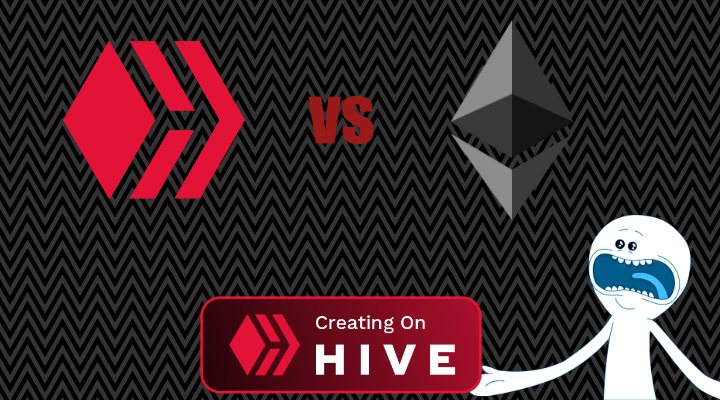 Source
This makes sense since the fees hinder most activity, at least on a small scale. After all, if the fees are near $50, one would want to keep it at around 1%. This means that transactions of $5,000 or greater is the ideal.
Of course, not many are going to play in that area.
There is another issue with a blockchain having such high fees: suddenly, the banks look better. After all, most will charge $35 for a wire. Of course, the settlement time is still awful yet cryptocurrency was suppose to correct the problems the banking industry presented. Having a more expensive system does not provide much optimism for the future.
A final challenge is that even though Ethereum is switching to PoS, from what I understand, the fees situation will not be resolved for another couple of years. This means that if the blockchain gets more activity, which is should, the fees will only go up more.
Hive: Mini-Ethereum
There are a number of projects on Hive that are working on providing smart contract capability to the platform. This is one thing that has separated Hive from participating in the DeFi game to a great degree. Without smart contracts, we are limited to what can be done on (and off) chain. Focusing upon Layer 2, this solutions will be easy to implement since they do not require a hard fork to enact. Also, all upgrades can occur frequently, improving the offerings, for the same reason.
Hive solves the biggest drawback to Ethereum: the fees. With Hive's fee-less system, people can operate without worry about the transaction costs surpassing the value of the transaction itself. How often do we read about someone screwing up and making a transaction that cost a hundred thousand dollars?
That is impossible on Hive.
Since Hive uses the Resource Credit system, an account will simply need enough HIVE to operate. Considering the recent costs on Ethereum, one transaction would buy enough HIVE to allow one to likely transact for the rest of his or her life.
With the price around $.15 for HIVE, $50 would mean that someone could have around 75 HP. That is enough for all but the most active of users. At these levels, $100 would virtually guarantee transaction-free trading for life.
Merging Social Media And Finance
Hive is expanding its offering in the decentralized social media world. For years, it was a blogging platform. Soon, we are going to see a decentralized twitter like service along with video storage that is not tied to any central servers.
With the number of users who are being displaced on Big Tech social media due to their views on certain topics, the market for this is only growing. The spat that WallStreetBets had certainly is shining light on a problem that is outside social media.
Here we see another opportunity for Hive. The view from years ago of using social media as an onboarding to further offerings is starting to take shape. A new application like what Leofinance is going to release can bring tens of thousands of users to Hive in a short period of time. This means that people will suddenly be involved in crypto, even if they do not realize it.
At the same time, the situation with Reddit over WallStreetBets shows there are rather large groups who might want to have the freedom (and security) that a Hive offers. This group is obviously an ideal candidate, not only for a community, but also to partake in whatever DeFi services are ultimately offered here.
The great thing about Hive is that, instead of WhaleFi, it can be MinnowFi. Anyone can participate in whatever amounts he or she has available. That is going to be vital as more people join crypto and start getting rewarded in different tokens. Compounding tells us that people often have to start small before growing their accounts over time. This is difficult to do on Ethereum unless you have a significant pile of money already on hand.
According to Blocktivity, Ethereum did about 1.3 million transactions in the past 24 hours. With Hive doing a little over 900K, that means this blockchain could easily do the transaction volume that Ethereum is without breaking a sweat. The best part is that it could do it for a fraction of the cost.
Ultimately, the goal of new technology is to drive costs down, not up. Hive accomplishes this goal, at least compared to what it costs to run Ethereum.
This could put it in ideal position to attract a lot of the smaller players on that blockchain. Uniswap is reported to have over 1 million users. How many of those people are presently forced to sit out due to the recent fees?
They could find a nice home on Hive.
---
If you found this article informative, please give an upvote and rehive.

gif by @doze

logo by @st8z
Posted Using LeoFinance Beta