Do you recognize this guy?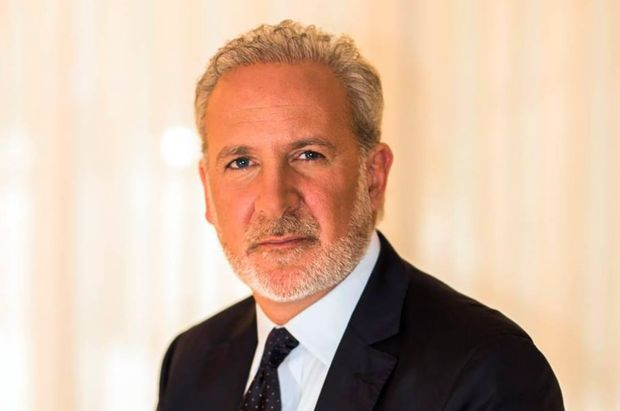 Source
Of course you do. It is Peter Schiff, noted gold bug and Bitcoin hater. He is also an uber-inflationist. This guy, along with the likes of Jim Rickards, have been touting inflation for decades. Of course, the reason, according to them, is all the "money printing" by the Central Banks is going to kick off hyper-inflation.
The question is always when?
Do not worry. It is going to happen any day now. Just give it time. The Fed is "printing money" so it will happen.
This is their rhetoric and, sadly, many believe it. Money printing does not lead to inflation in the USD. That was proven over the last 40 years. Forgetting much of that time, where the US ran growing deficits, just look at the 2010s when Central Banks "printed" $23 trillion.
You would think that was enough to really set things afire.
The other day I wrote a post detailing how the Fed could not win in their battle for inflation. In it I outlined what the Fed was facing and why.
In the comments, I got this reply from @ew-and-patterns.
On the surface, this all sounds really bad. So let's us parse through it to see what is really taking place.
In other words, let us truly find out what is "Beyond Stupid".
CPI
The first assertion is about the validity of CPI. In fact, two of points relate to that.
To truly frame it, we have to look at the two charts from that post which it most likely pertains to.
First, we have a graph that applies to the United States.

Next we have one that reflects the same thing on a global scale.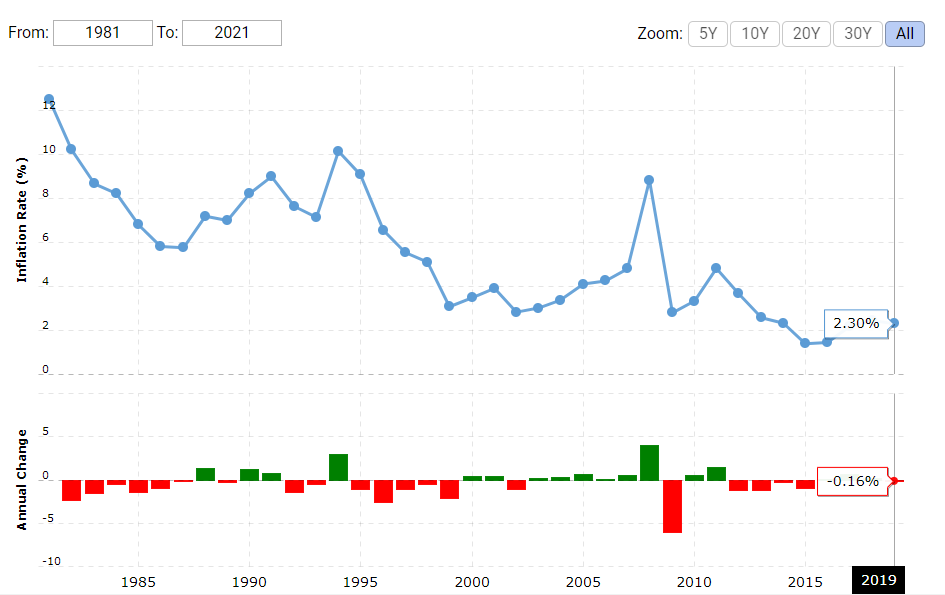 Now let's look at the first statement:
CPI data is fabricated and the goods chosen for a "nmormal consumer" are ridiculous.
So here we encounter the first tactic. A statement yet where is the proof. Simply because someone says something is fabricated does that make it true? Not necessarily. It also does not make it untrue either.
Yet we just have a statement about a widely following metric.
Of course, it is not the only one; more on that in a moment. However, even if we believe the raw numbers are way of, made up if you will, the trend is hard to deny. Let us presume those numbers are off by an order of 2x, and they CPI rate is double what they claim, that would not negate the trend.
Hell, have fun, triple or quadruple the percentage. The result is the same.
But perhaps we can't believe that because it is a state put out by governments and Central Banks.
Another Metric
looking only at CPI data for inflation measuring (even if you believe the bullshit numbers) is beyond stupid.
Agreed. Looking at inflation based solely on this metric is "Beyond Stupid". So is there something else that is out there which could apply?
Fortunately, we have something. For inflation to take place, money has to flow through the system. If money is stalled, it cannot take place, especially at the hyper-inflation level.

source
As we can see the velocity of money, which means the number of times one unit of a currency (in this case a dollar) travels through the system in a certain period of time, has not fared well. For the past 30 years, the VOM has slowed to an outright crawl.
Of course, the lockdown of the global economy as a result of COVID sent things flying off a cliff. The pace got to one.
This is done on a quarterly basis.
The problem is that in spite of all the "money printing" but the Fed and other Central Bank as well as the Biden Bucks, things are not looking so hot.
Here is the same chart blown up to show the last few quarters.

There was a jump during the 3rd quarter after a devastating 2nd quarter. Yet, despite all the easing, the trend resumed. It had a jump and now had two consecutive prints that were lower than the previous quarter.
Could this reverse? Sure. However, the long term trend is down, which is not inflationary.
This data supports the CPI in that the VOM is not pushing prices higher.
Do you really believe that asset price inflation and raw material inflation are irrelevant?
We will take this one in two parts.
Raw Materials
Do I consider raw material inflation irrelevant?
Not if it exists. The question is do we have that? Sure we see the media tout things such as lumber, iron ore, and steel, all of which ran to all-time highs. But where do we really stand.
We start this analysis by looking at the Goldman Sachs Commodity Index (GCSI). From the website we get this:
The S&P GSCI is the first major investable commodity index. It is one of the most widely recognized benchmarks that is broad-based and production weighted to represent the global commodity market beta. The index is designed to be investable by including the most liquid commodity futures, and provides diversification with low correlations to other asset classes.
Here is what that chart looks like over the last year.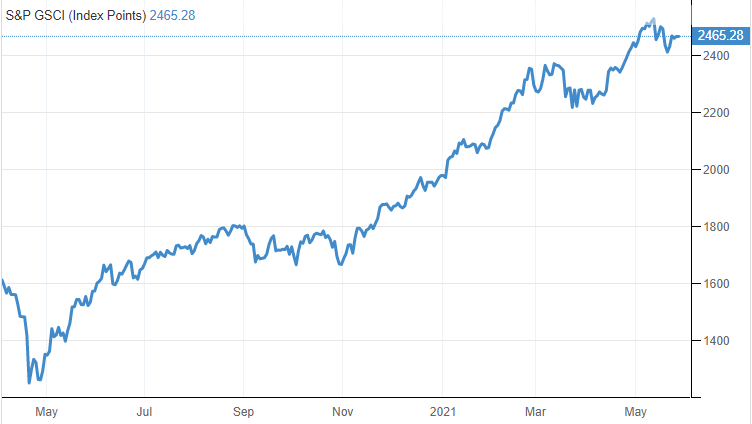 Well that looks pretty bad. Guess that is the case. Although this is a one year chart. How do things look over a 10 year time frame?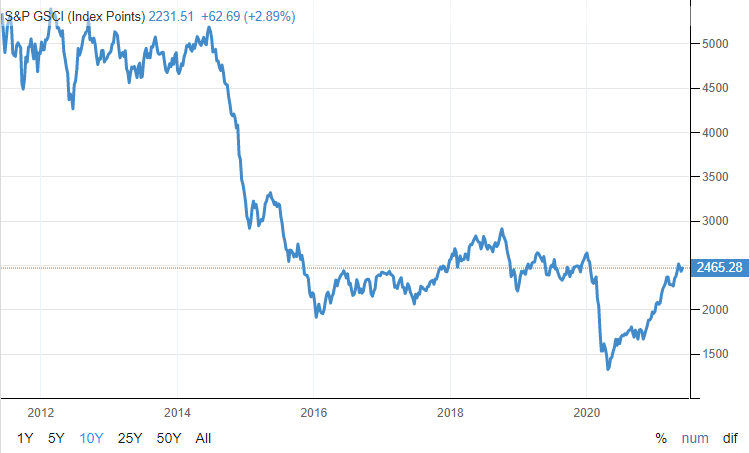 That provides a completely different picture. Notice how we are far below where we were in 2014 and by a significant margin. In act, we sill didnt reach the point we were at before COVID hit.
Let us step back even further.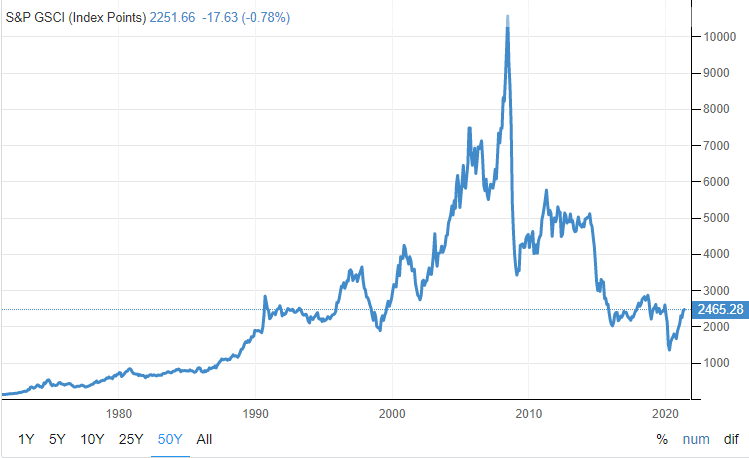 Tells a completely different story. Even after the run up from the lows in April and May of 2020, we still are only at the level we were in the early 1990s. We saw a run up for about 19 years before having a more than a decade of price decline.
So no the increase in the price of material is not irrelevant; it is simply not happening across the board over the long term. And why is that?
With commodities, the higher prices are, the more incentive there is to drill, grow, chop down, or mine. As more companies enter the mix, supply increases. This is basic with commodities.
At the same time, technological advancement is taking place within agriculture, mining, and drilling. Over time, this produces more of whatever the commodity is for less money.
---
Here is the link to the site for this chart. You can pull up many different commodities from agriculture to energy to precious metals. If you do that, you will find that most are at a pricing level of where they were 7-14 years ago.
---
Asset Pricing
This is one of those situations where people have to change the narrative.
Here is the deal: increasing value of assets is a good thing. That means wealth is growing. Does anyone really think the increase in one's portfolio is stocks is a bad thing? How about the value of your home?
In fact, when we look at home pricing, this is often confused to the nth degree.
Almost 2/3 of Americans "own" their home. Well they don't rally own then because 9 out of 10 are financed. This means there is a mortgage against the property.
Of course, here is where the lunacy begins. If the value of the home increases, that means the equity goes up. That makes the asset worth more to the owner as compared to before. But here is a major question: what happens to the mortgage payment? Unless it is some type of variable mortgage, it stays the same. Hence, we see the homeowner is actually coming out ahead in this instance.
And this is a situation we see taking place right now.
The challenge with assets is they tend to go up and down. So the narrative that inflation is evident by looking at the stock market or housing is misguided because they can pop at any moment. In fact, it is likely we see a correction in housing within the next 12-18 months since we have a bull run that is already over a decade long.
Does that mean that nothing is more expensive? Of course not. There are many things have that gone up of late although we have to keep it in perspective. Much of what we are seeing, the inflation print that the Fed is getting, is due to a supply chain disruption. When the global economy is shut down, we end up with shortages. This drives prices up.
Here is a copy of the Fed's statement from last month.
The COVID-19 pandemic is causing tremendous human and economic hardship across the United States and around the world (emphasis added). Amid progress on vaccinations and strong policy support, indicators of economic activity and employment have strengthened. The sectors most adversely affected by the pandemic remain weak but have shown improvement (emphasis added). Inflation has risen, largely reflecting transitory factors.
Giving Timelines
The biggest problem with this discussion is those who take the other side of this argument never give any specifics. They just blurt out accusations and say "we are going to get (hyper)inflation". No timeline. Nothing.
As we can see here, we are seeing prices move up over the recent term in both commodities and the CPI. The Fed finally is getting some inflation. I bet they are very happy.
The problem is that they know it is short-lived. Supply chains eventually do reverse. This inflation is not caused by monetary policy but rather economic disruptions that obliterated productivity. Over time, that will turn around.
How long will it take?
That is hard to say but I stated in the past I would not be surprised to see the commodity bull rage into 2023 and maybe even 2024. That sector usually takes about 18-24 months to reverse the supply equation. Thus, we could see the charts where the prices go higher.
After that, expect a typical commodity reversal. If that does not happen by 2024, then look for technology to really kick into overdrive as high prices pull in a lot of new innovators. That will obliterate things by the middle of the decade.
As for the Velocity of Money, it might improve to where it was before COVID, to about 1.4 or so. Even with that, it will still be down from historical norms by a wide margin. The money is not flowing through the system like it us to. The Fed backed themselves into such a corner, there is a liquidity crisis.
Maybe in another post I will delve into why there is not enough dollars out there, which is causing the Fed to fail in all their attempts at stimulating things.
For now, do not buy into inflationism. It is taking on the aura of a cult or a religion at this point.
Any bouts we see will be offset within a couple of years. Deflation is still something the Fed is battling and, quite frankly, are losing against.
---
If you found this article informative, please give an upvote and rehive.

gif by @doze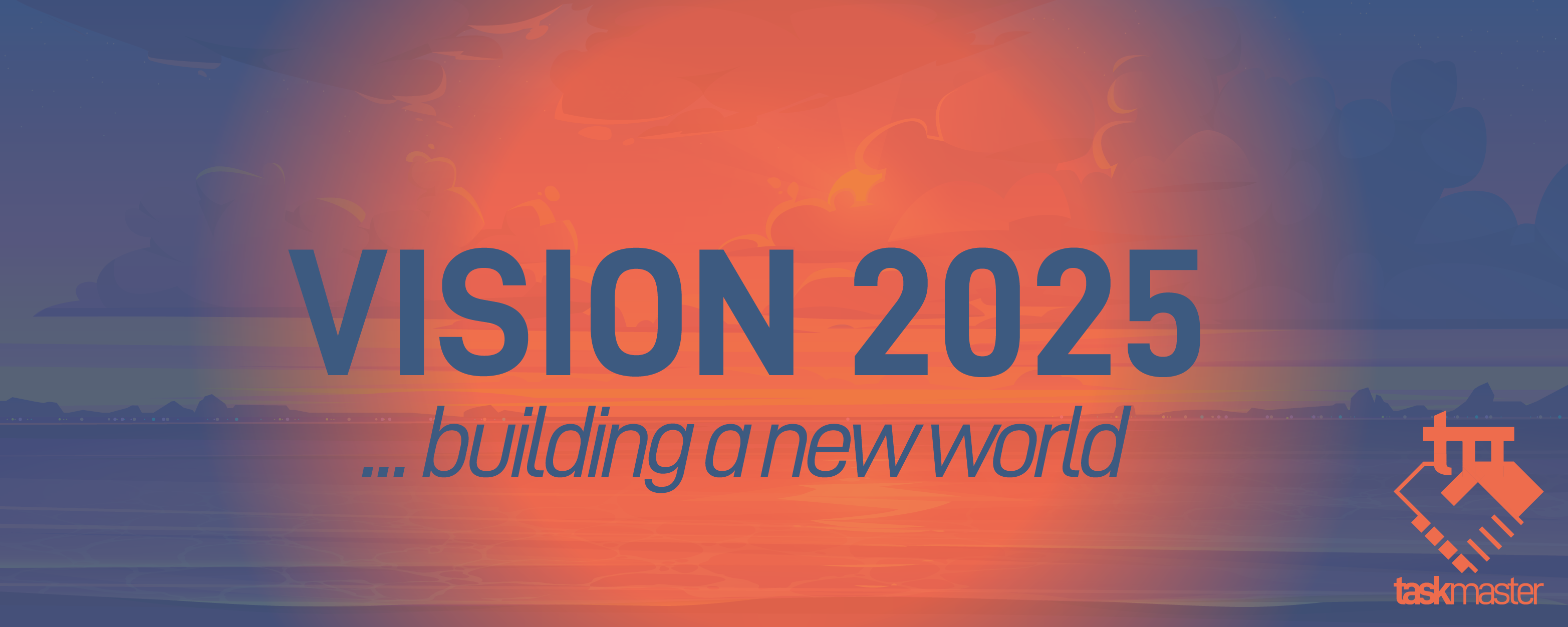 logo by @st8z
Posted Using LeoFinance Beta