They try and try and try. You have to give them credit for persistence.
The United States Federal Reserve is desperate for inflation. It has a mandate from Congress of 2%. The problem is they have not been able to hit it in spite of global money printing that took place since the Great Recession.
Here is a 40 year chart of the United States inflation rate. You will notice that during the last decade (2019-2019), the Fed was NOT able to hit their mandated target in 6 our of the 10 years.

You will also notice that, on average, the rate of inflation is lower each decade as compared to the previous one. We will discuss this in a bit.
This was in spite of money printing all over the world.
The first chart is what the major Central Banks did.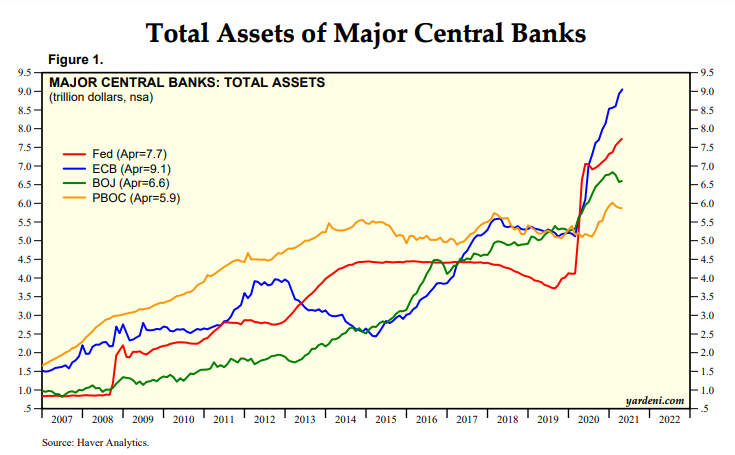 And this is them in total.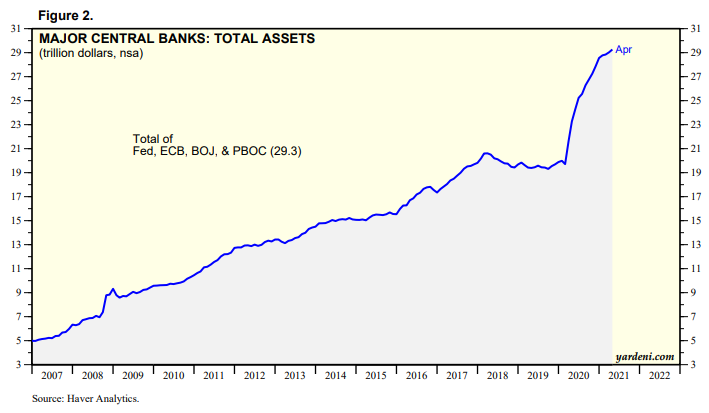 Source
On a global scale, we see a similar situation as the United States with regards to inflation.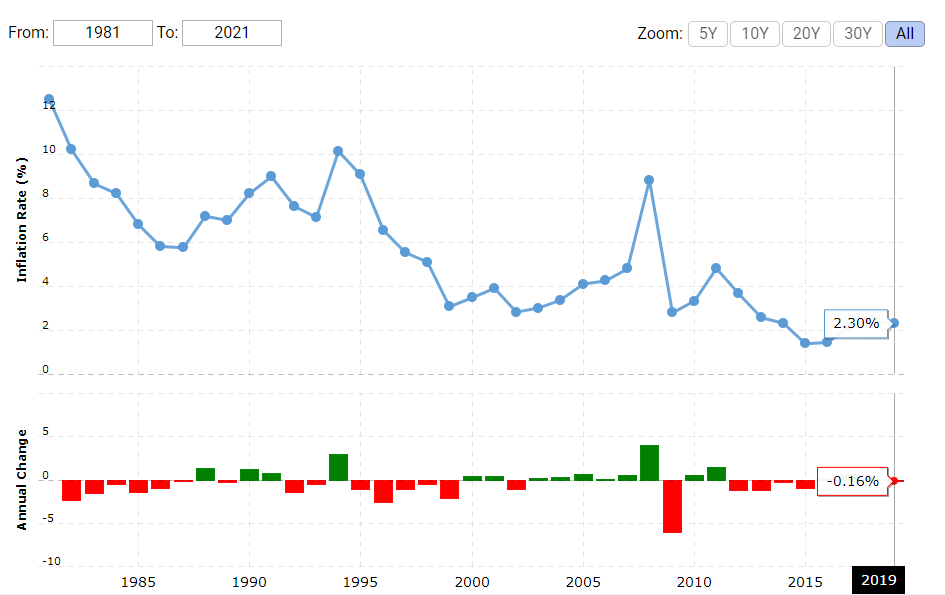 Source
What the heck is going on here? How can the last decade have seen money printing around the globe, to the tune of about $23 trillion in the 2010s, and yet inflation in both the United States and global was flat or falling?
The reason being is that money printing, on its own, does not lead to inflation. This is a old wive's tale told by economists at esteemed institutions such as Harvard or Yale (the same ones who are attacking Bitcoin). These are individuals who never ran a business or had to meet a payroll in the private sector. Economics is an academic exercise.
Nevertheless, people still hold onto the Keynesian model believing that money printing will lead to FOMO, resulting in too much money chasing too few goods and services.
The Reason Why You Will Not See Hyper-Inflation In The US Nor Globally
Inflationist are always screaming that we are going to see out of control inflation. They always point to the money printing, which has gone on for 4 decades by the way, as the impending cause. Yet in spite of racking up $28 trillion in deficit spending and other debt in the U.S. alone, we see inflation rates going down.
But wait, inflation is going through the roof. Look at what is taking place now. That shows that money printing is leading to inflation.
Wrong. Let us look at what is happening.
Source
Since the end of the last US chart, which went through 2019, we can see that inflation did spike. Of course, this is after a massive drop due to COVID-19 and the shutting down of the economy. This caused supply chain issues from commodities to food to finish products. Hence, we are seeing prices rise not due to the amount of money that is out there but, rather, the supply. It isn't too much money chasing appliances that is causing the 2-3 month delay but the fact there are few available.
Which brings us to the point of the article. The reason why the Fed, or any other Central Bank, will never keep up with their quest for inflation is because of technology. Few, if any are going to argue that we are in an era of technological advancement. This creates a monetary problem because technology is not inflationary but, rather, deflationary.
And we are not talking a bit of deflation either. Whereas these charts show rate of 2%-6%, the technological deflation rates of Information Technology is around 33% and climbing.
The challenge is that we are seeing this make up a larger part of the global and, especially, the United States economy. As this keeps growing, all Central Banks are going to see this deepen.
Of course, they are not aware of this or the Fed would not have decided to keep its Security sale in the Repo market that took place last week. Nevertheless, the Fed believes that its money printing is the cause of inflation hence if they start tightening, it will disappear. They do not realize they have lost all control of the economy (if they ever had it).
The reason why the above charts show both the global and U.S. inflation rates heading down over the last few decades is because each is implementing more technology. Presently, about 4% of the global economy and 8% of the U.S. economy falls under I.T. This does not include the side benefits enjoys from the drop in computing or improvements in software.
A cold hard fact is that these percentages are only going to grow. We are moving deeper into a digitized arena. More of our world is being consumed by this meaning the pressures will only keep increasing. Thus, the Central Banks not only will have to keep printing, they are going to have to keep increasing the amount printed. The impact of technology on the economy is not going to slow down.
Remember this each time you come across an article about another breakthrough in AI, robotics, 3-D printing, and renewable energy. Also, keep in mind that three major areas are primed for disruption: upper education, construction, and healthcare. These are fields that are still fairly archaic in how they do things. We are already seeing technologies being developed that will massively alter how these fields operate. Of course, they will come complete with the same deflationary pressures we saw elsewhere in the economy.
The Fed and other Central Banks are desperate for inflation because they are fighting a deflationary spiral. The force that is coming down upon them is incredible. Of course, they are still trying to operate from the same old playbook of the past. This is not going to work. Each time the Fed tries to tighten they run into the same problem.
And it is a problem that is not going away. In fact, it is only going to get worse for them.
---
If you found this article informative, please give an upvote and rehive.

gif by @doze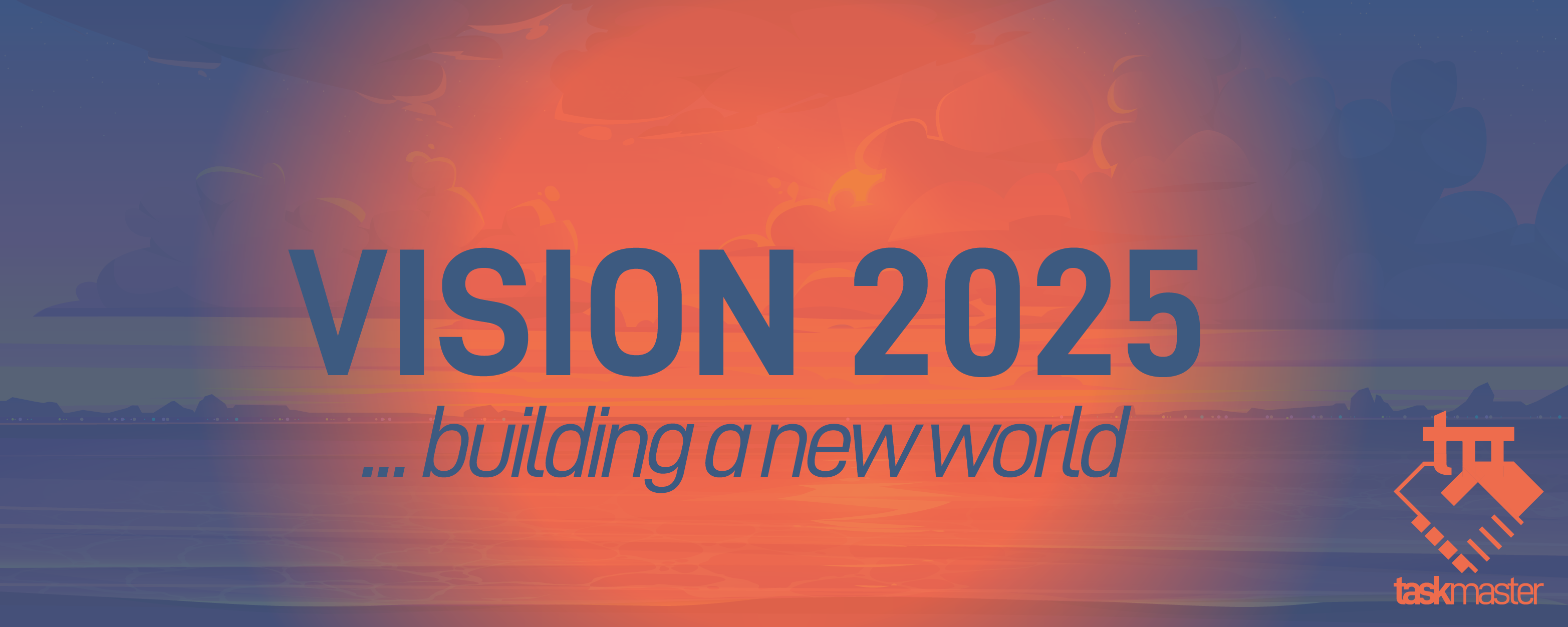 logo by @st8z
Posted Using LeoFinance Beta