So recently i have been stacking tokens from new projects but don't have enough hive and oh boy does that suck sometimes. I am purchasing a new token worth 2 hive right now that pays dividends like dhedge and bro token. I managed to be apart of dhedge early and purchase enough tokens so now i have 30$ in dhedge tokens woooohhooooo. I once was in leo in the beginning but sold early which could have helped me a bit. It sucks when you think about all the things you missed and the whales got to first and the price starts rising. I want to hear your stories of stuff like this happening. Here is a picture of my dhedge divs so far: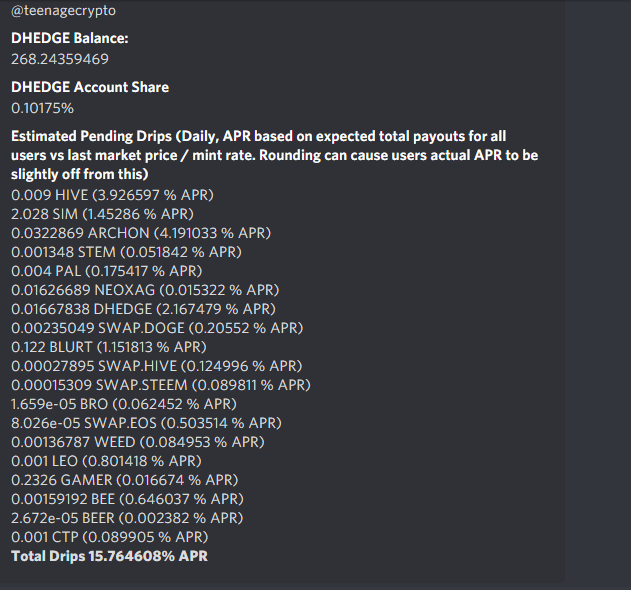 I haven't purchased anymore in awhile because i've been focused on many other tokens / projects. But it's nice to know my investment paid off. I also wanted to let you know everything i earn on hive is a big step because i didn't invest any of my irl money into it. Even though it took me 3 years to grow and earn a steady income I'm doing well for myself. I hope this will change my life and i can show my family who's boss. One day I'll get a ferrari with hive painted on it :) that would be cool. It's always a pleasure getting to hear peoples ideas and join in on them. Even though i don't have a lot purchasing 1 token can make a difference and who knows maybe it will jump 700% in value you never know. That was my mistake when i sold my 100 leo at 12 cents. Man better luck next time.
What was your best investment?
Let me know in the comments for a vote i would love to know.
Yours truly, teenagecrypto
Posted Using LeoFinance Beta