What's up investor friends?
I've been away for so long (about 1 month) that I've forgotten how to write my reviews in Leofinance hahaha. I guess practice and habit get a bit lost if you stop doing it for a long time.
I don't want you to think that I've drifted away from the crypto world. I've been a bit busy in the physical world and some other projects, but I'm always very aware of what's going on every day with cryptocurrencies.
It has now been two months since Bitcoin's all-time high of $64,800 was printed. Since then BTC has been in a period of correction that has taken it down to $30K.
I've been watching the chart and it doesn't look all that bad really. The correction was the best thing that could have happened to BTC and now we are at an excellent point where we are just waiting in the wings. I show you.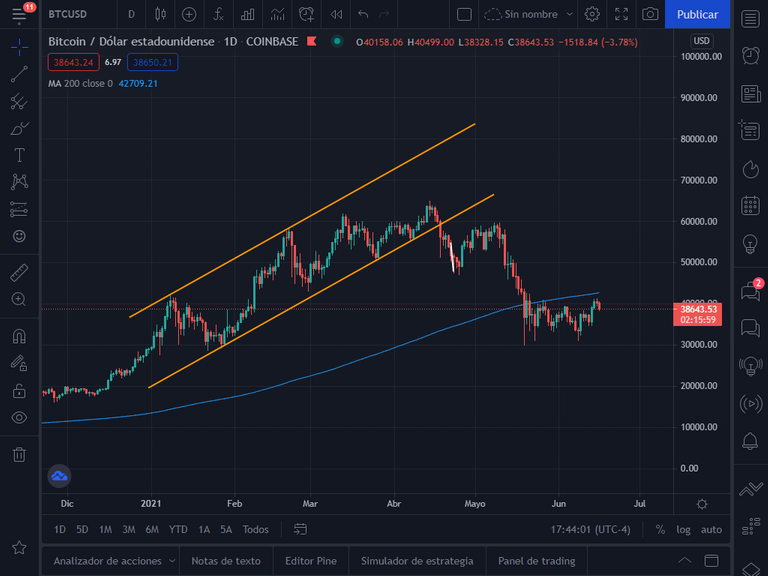 Bitcoin was in a bullish channel since it broke $20K and stayed there throughout the rally to $64,800. Then on April 18 it broke the channel and started the correction to $30K on May 19.
The strongest supports were the $42K and $30K, therefore these were the best possible correction points for BTC.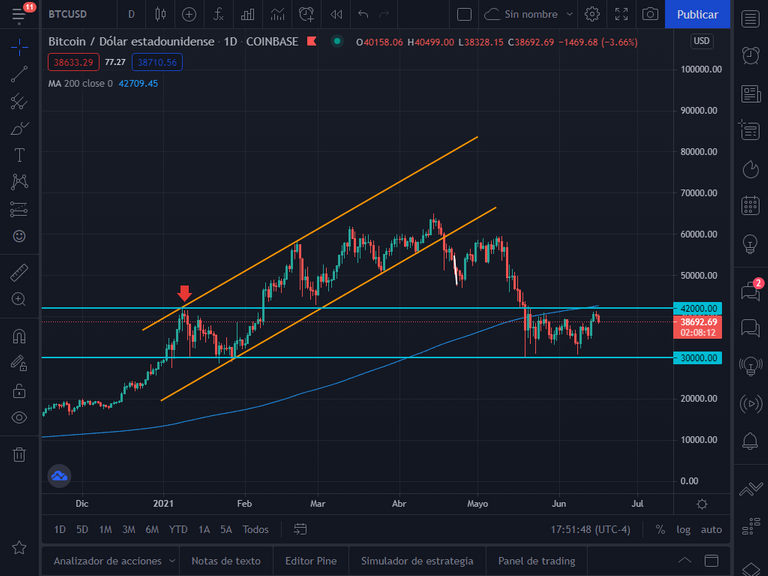 Since May 19 until today, the price has remained between the support now turned resistance at $42K and the support at $30K. It is also worth noting that BTC also broke the 200-period moving average on daily candlesticks and has remained below it.
On June 13 we saw BTC rise from $35K to $40K, this was not just a coincidence. BTC was in a downtrend channel and with this bullish move it has broken this pattern, as I show you below.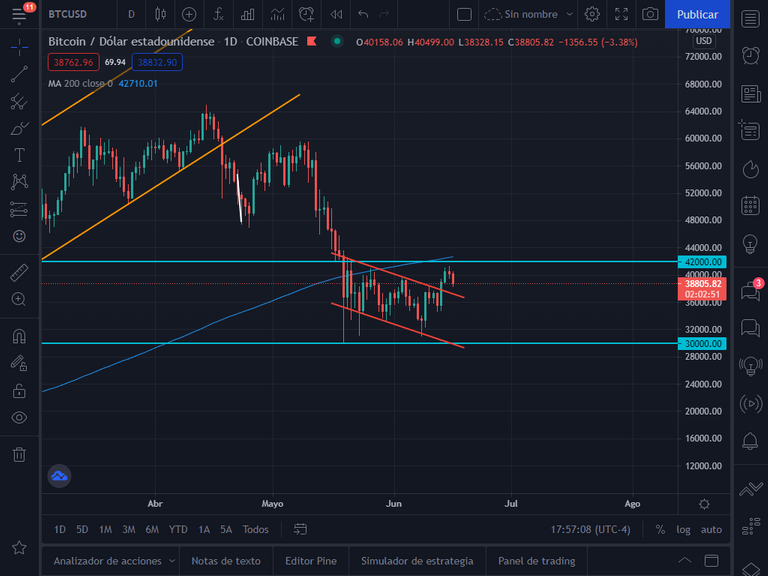 It is currently retesting the bearish channel and we only have two possible scenarios for BTC in the short term.
It's quite simple really, for BTC to regain its bullish rally in the short term, it will need to break the $42K ceiling and stay above it, only then it could head back to the $50 - $60K area.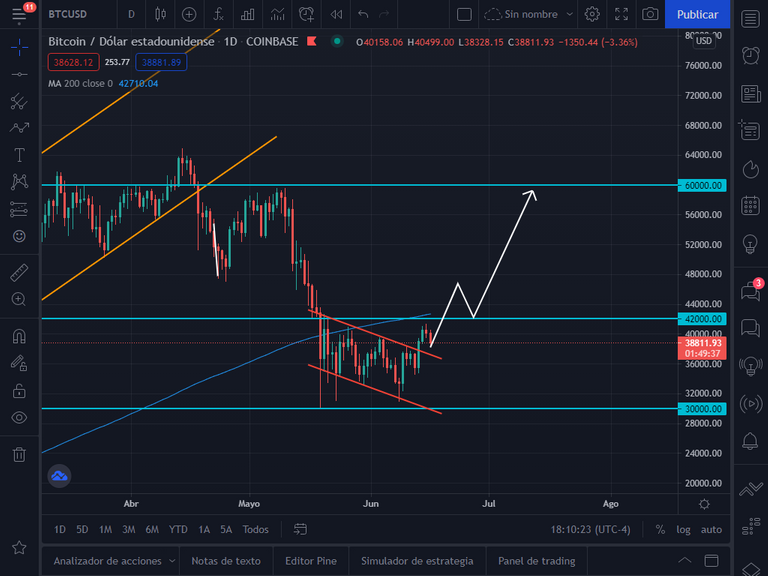 This scenario is what the vast majority of people expect to happen, however there is the possibility of BTC doing the opposite. If it were to break the $30K support, we could unfortunately see a drop to $20K, as there is no more strong support until that area.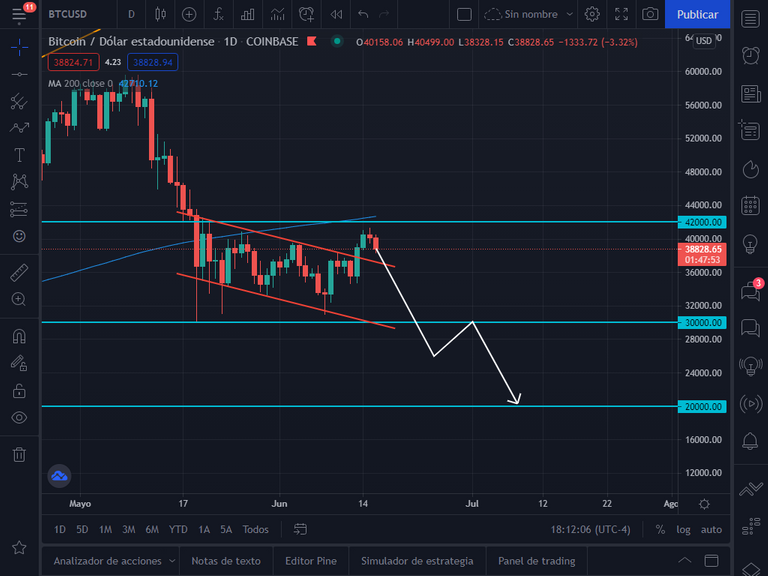 It is also worth noting that BTC has corrected to $30K, which is the .618 Fibonacci point from the beginning of the rally to the last all-time high. This is practically the most important Fibonacci point for asset corrections.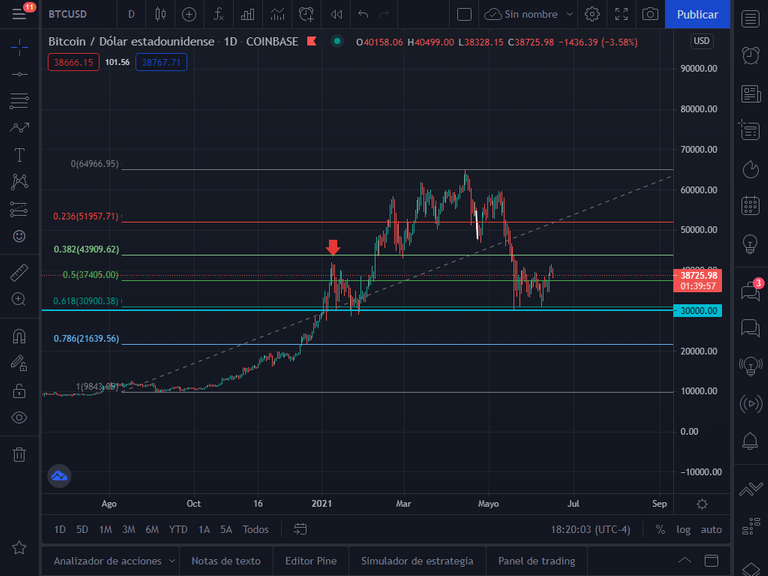 Personally, I remain on the sidelines keeping my BTC in reserve. I think the bullish path is the one we will see in the following weeks, we just have to be patient.
I hope you find this information useful colleagues. Best of probabilities to you 📈💪. And as always, this is not an investment recommendation, you should always do your own research before putting money in.

Posted Using LeoFinance Beta