What's up investor friends?
As we all know the cryptocurrency market has had a lot of turbulence in recent days and all this was sparked by a Tweet from Elon Musk informing that Tesla would no longer accept Bitcoin for environmental reasons.
He is partly right, but this actually went beyond caring for the planet. It is very obvious that Elon simply took advantage of the market to make a few million dollars quickly. Because, who would think of announcing months before that BTC would be accepted in his electric car company, buy a bunch of Bitcoins and then retract accusing BTC of harming the planet, generating a wave of sales? I think the answer is very obvious.
Anyway, the point is that I see a lot of scared people, small investors who put their money in cryptos and now they are just looking at red numbers on their computers. I have even seen many memes regarding this, people making fun of those who bought Bitcoin or other cryptos haha.
But smart and experienced investors know that out of all this crap going on there is a real opportunity. Practically a Black Friday for cryptos.
Cryptos at this time have practically reached half their price, in fact many are down as much as 70%. This is the time to invest.
Right now the price of our LEO token is at bargain prices, approximately $0.260 per token. We are at historic lows right now.
I was looking at charts on Wleo's Coingecko and this is what I found.
Wrapped LEO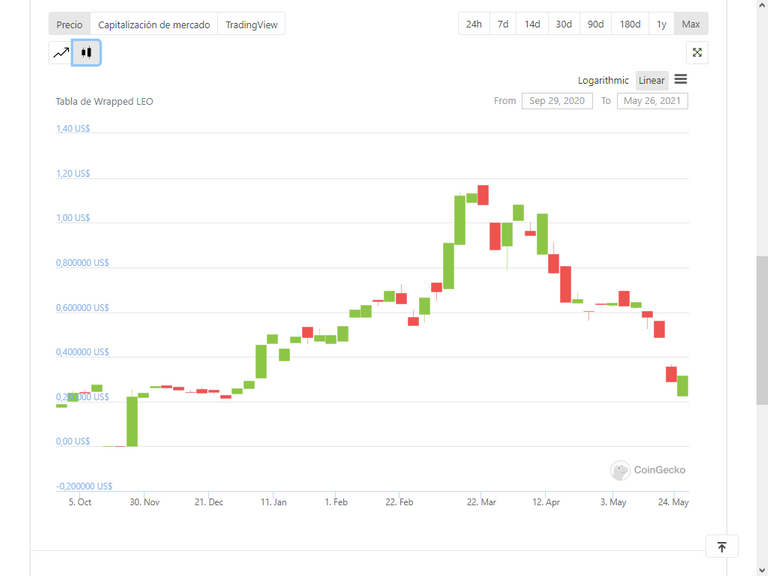 I think many agree with me that these prices will probably never come back. The smart thing to do is to keep getting tokens and keep them.
The same thing is happening with our beloved Cubfinance CUB. It had reached an all-time high of over $3, and is now below $1.
CUB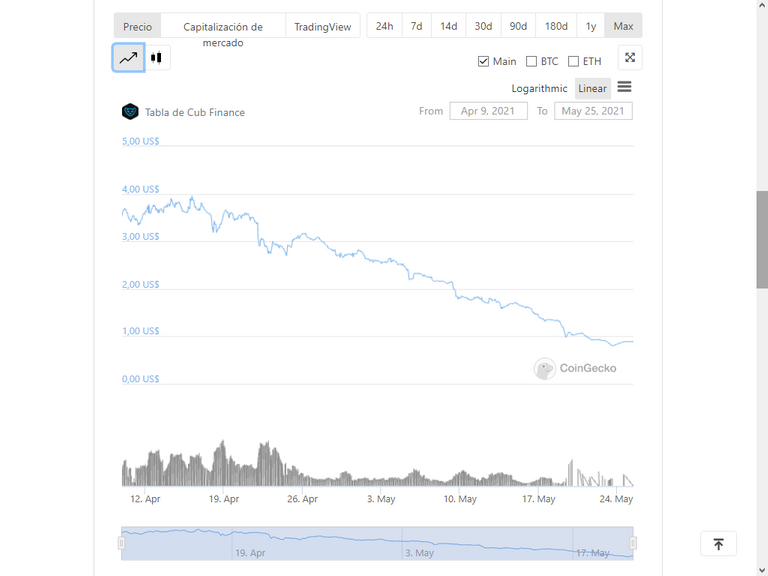 This is a unique opportunity to buy cheap and also continue to support Leofinance and Cubfinance. I think holding tokens is the best decision we can make.
Outside of our world of Leofinance and Cubfinance there are many more cryptos like CAKE, UNI, RUNE, etc. These are all very good projects that are currently up to 50% below their price from a month ago.
I have been looking at the charts a bit and they are all apparently in pretty strong support zones, where they are excellent spots to buy and just HODL.
RUNE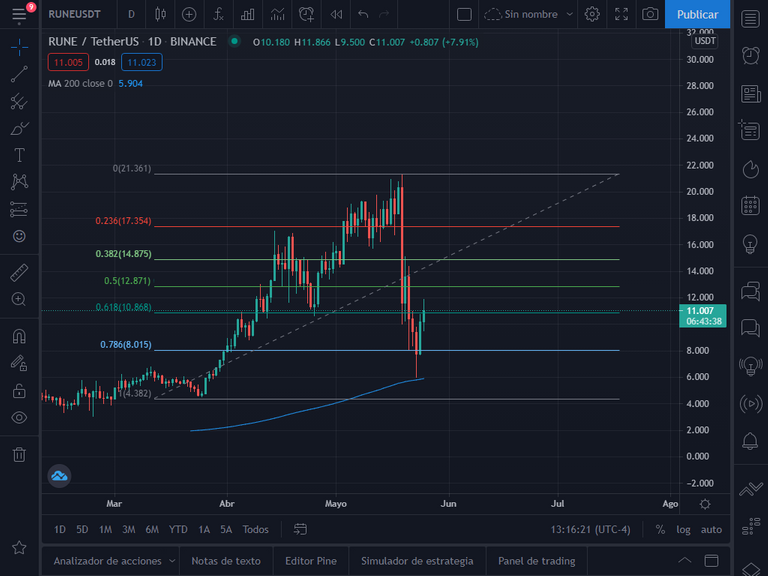 RUNE is at its Fibonacci correction high and is positioned above the 200-period moving average. This is undoubtedly the best point to make a long term purchase.
UNI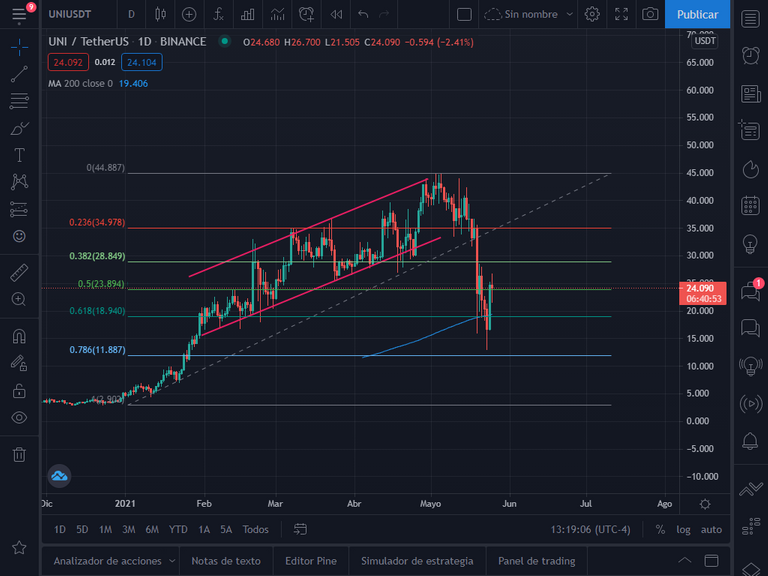 At UNI we can see a very similar scenario. It is currently above the 200-period moving average on daily candles, where there was a large bearish rejection and also above the .618 Fibonacci.
CAKE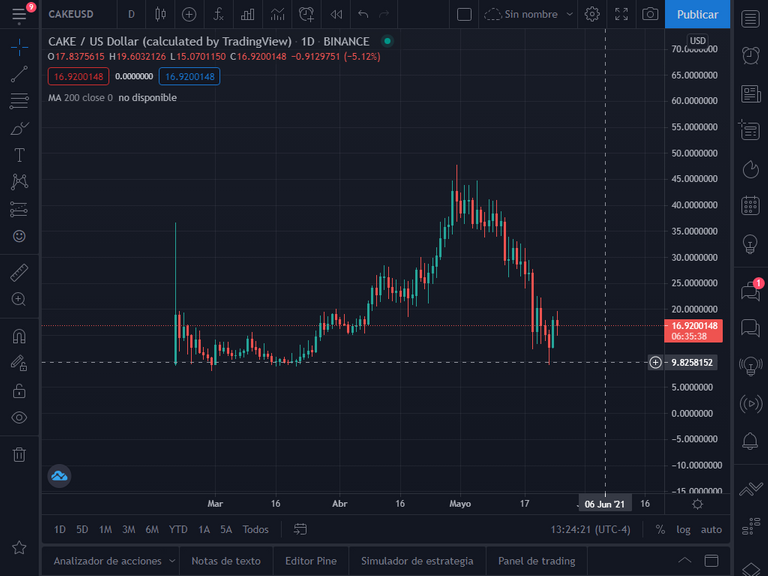 In the case of Cake it is a little bit different, because it is at historical lows just like LEO, which is a plus point for us because we would be buying really cheap.
As I told you at the beginning, a lot of people are panicking because they invested at the top. They are not used to red numbers because they don't know how the market works. In fact a lot of people bought just because a friend of another friend told them about cryptos and that's it, but they don't know anything else.
I remember the same thing happened in 2017-2018 when BTC hit 20K. At that time I was just starting in this crypto world, I was a newbie like everyone else. I never lost money because I was very careful with the little capital I managed by that time, but I knew of many people who even sold their house to buy BTC when it was already at 20K$ and lost it all, by simple FOMO colleagues.
This is why we should always invest very cautiously in these markets with so much volatility, and never put money that we are not willing to lose, that is a very important rule.
And something I always say, sell in euphoria and buy in panic. The phrase is not mine but that is the truth. While everyone is panicking and seeing red numbers, here we are taking advantage and taking positions at bargain prices colleagues.
I hope you find this information useful colleagues. Best of probabilities to you 📈💪. And as always, this is not an investment recommendation, you should always do your own research before putting money in.

Posted Using LeoFinance Beta