Passive Gains and stuff to do with $PIZZA token on Hive-Engine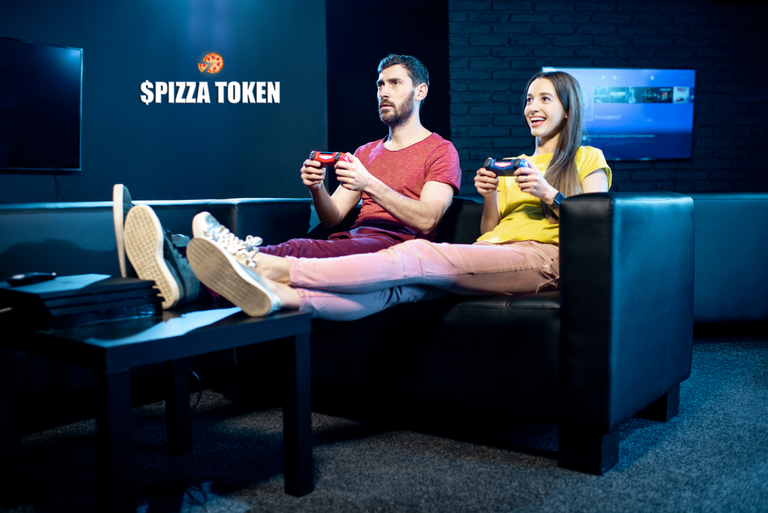 Over the past few months the $PIZZA team has been working super hard to build tools that will add value to the HIVE ecosystem. Along the way, the idea of what our fresh ass token is has grown tremendously and continues to grow every day!
While we are focused on building long-term tools that will cement hive.pizza as a foundational part of HIVE culture, we are also working on features and partnerships that will see short-term value and passive gains for holders as we build this wonderful thing of ours.
Let's take a look at a few of the cool things you can do with your $PIZZA tokens already:
Engagement
By holding 20 $PIZZA tokens in your wallet you can invoke the !PIZZA command!

This is gamified with weekly rewards!
Each week we reward 1st-3rd place delivery drivers with additional $PIZZA rewards.

Rank 1 (20 $PIZZA): Deliver up to 10 slices per day
Rank 2 (200 $PIZZA): Deliver up to 20 slices per day
Farm $PIZZA Tokens / Delegation Rewards
By delegating Hive Power to our curation account @hive.pizza you will begin automatically baking $PIZZA tokens that will be delivered to you daily!

Currently there is a daily inflation of 20 tokens that are sent to delegators each day. The amount you earn is determined by the amount of Hive Power you delegate to the account. The more you delegate, the more of the daily share you will earn!
We will increase the daily inflation pool by 10 tokens for every 10,000 HP that is delegated to the account.
Farm $VFT Tokens
We won the last $VIBES Governance vote and have been added to the VFT Labs farm! You can now deposit your delicious 'za into the VFT Farms to harvest VFT tokens daily that can be either sold on the DEX or used to purchase music or other NFTs from their store!
Buy Video Games
Over at our game store you can use $PIZZA, HIVE, and HBD to purchase Steam PC games! We try our best to score deals and then pass them forward in hopes that more games come to HIVE to buy their games! Tell your friends! Profit from this will go into growing the game store and selection.
Daily & Weekly Rewards
We have several tiers of rewards where holders can earn up to 10% of their $PIZZA back!

Every day we have a random winner that wins up to 5% of their holdings back in $PIZZA.
Every Sunday we draw several weekly winners .
Every Sunday we reward the top 10 $PIZZA holders in up to 10% back in rewards.
This is just the beginning and more cool things are coming soon! We're in over 2,000 wallets already just from natural engagement and growing every day!
We've built several tools as well for the HIVE community such as:
Hive Discovery Extension for Brave/Chrome Browsers
HiveRSS
hiveisbeautiful
Hive-Engine Pricing Plugin for WordPress
and more!
We are also creating an entire onboarding process that will draw in new users and help them step into the wonderful world of HIVE, a wonderful drama-free Discord community, and a series of video game servers that many HIVE gamers are already playing on!
The $PIZZA journey has been exciting and we invite you to join us! Join Discord
Tagging for visibility
@wine-token @stickupboys @dadspardan @cooperclub @hivetrending @brofundholdings @roger.remix @juanmiguelsalas @globetrottergcc @thegoliath @johannpiber @efastromberg94 @eturnerx @kachinhenry @splatts @forykw @okean123 @jacuzzi @huzzah @honeysaver @darkflame @xabi @myanmarkoko @agmasz @zeroooc @suharik92 @eirik @nyxlabs @progressivechef @jimmy.adames @catharsis @kaelci @blue.rabbit @jongolson @automaton @dajokawild @scottshots @nupulse @shroomifer @drunksamurai @adamada @tin.aung.soe @hatoto @iamraincrystal @javiersebastian @ahmadmanga @knowhow92 @hivecoffee @gr33nm4ster @ciderjunkie @gabbynhice @deanlogic @eii @valentin86 @branders0n @saboin @schlees @successchar @maarnio @phusionphil @grizzle @charcoalbuffet @kingneptune @lxsxl @renovatio @miketr @elianaicgomes @gillianpearce @nobutsd1974 @amico.sports @creodas @seckorama @dibblers.dabs @guurry123 @ahmadmangazap @tattoodjay @joanstewart @papilloncharity @risingstargame @definethedollar @thatcryptodave @venan @stevenwood @nuthman @aerokossasjc @mobi72 @d-zero @zottone444 @xplosive


LEARN MORE



We are not associated with and do not endorse the pizza finance project on BSC. If we do explore BSC, we will announce it here first and it will likely involve our Governance token.




Buy $PIZZA
Leodex
Tribadex
Hive-Engine

Join the Discord and $PIZZA NATION

Join our curation trail here
Vote for us as Hive-Engine witness here
Posted Using LeoFinance Beta
---
---