Today, I began my adventure in the Wild West. Tanah Liar has been abandoned by many people because of the scarce resources available.
Armed with 78 PGL in EOS 'Wombat' wallet, and armed with knowledge during exploration in Yukon. I started the action by buying a Work Certificate and Purchasing Building Repair Tools.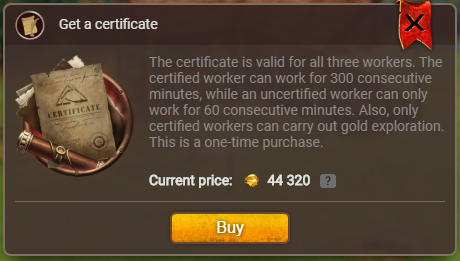 Certificate prices in Wild West are cheaper than in Yukon, which is 44 PGL.
Remaining PGL in my wallet, I used it to buy work equipment and it turned out to be enough for only 6 sets of tools.
"Everyone can only create one account in each world. 1 account on Yukon and 1 account on Wild West." That's the quote I got when I asked the official channel of their telegram.
Continue to watch my adventure among so many existing blockchain.
regards,
thestellarcm
WAX: l3wqu.wam
EOS: thestellarcm
HIVE: thestellarcm
DOGE: D6RQ4BxiNKBxqWTJdeQEbC98v97UqTjDwJ
Posted Using LeoFinance