Why every newbie on Hive & Leofinance should start engaging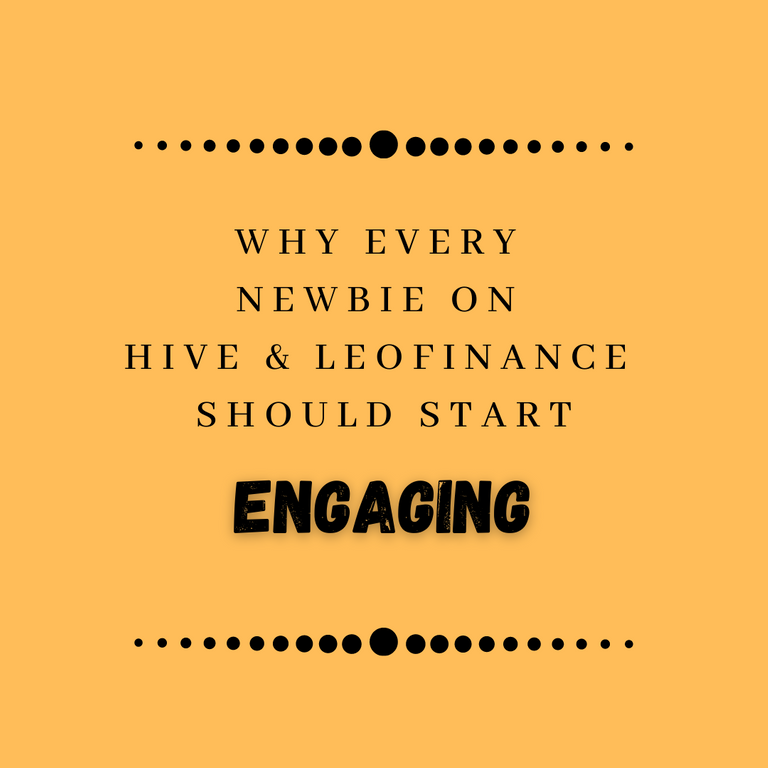 You are new & need to build connections
You decided to sign up to get yourself a Hive account, good for you! Welcome and be part of this revolution called web3.0! You probably found us on social media where the Hivers are chilling their content, or maybe you got lucky and have a friend invite you that already explained quite a bit about the platform and how it works? Either way, Hive is a lot to take in, and you won't know everything overnight. It's OK though, if you know how to keep your keys safe, how to do the standard transactions like creating and publishing a post, commenting, voting, and publishing in the right communities using the right tags, you are good to go.
When someone likes your content, they can decide to follow you, this way your content will show up on their feed. This works the same like on any other social platform. But until connection are built, you are only going to be found by using the right communities and tags. It works the same the other way around btw, if you aren't following any accounts, or subscribing to communities, your feed will be pretty much empty. I'd advise you to start following a few people once you notice several blogs they've published are to your liking.

Find your connections in the communities
Although some communities, like Leofinance have their own front end, every community can also be found by browsing through the Peakd front-end, which many prefer over the Hive.blog site. Peakd is very advanced offering nice features, but it's your personal choice to find the one that you prefer.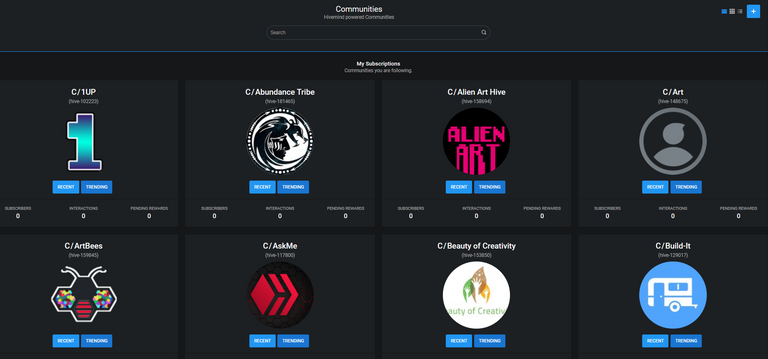 If you click in the search box on the top of the communities page, you can see if there's a niche community out there for you. If you subscribe and browse through the content, I'm sure you will end up finding some like-minded people where you can start making some online connections.

Don't chase & especially don't beg for votes
I know most will understand this by logical thinking, but as I've seen it happen many times, I thought I should mention it anyway. Please, please, do NOT leave comments begging for support. Instead, start creating kick-ass content and get noticed instead. I know that everyone has something they can share that is worthy for people to notice and start supporting. It can be anything from daily blogs or vlogs to sharing some of their artworks (include the process please) or maybe you're a good cook that loves to share recipes in the Foodies community. If you're making an effort and not think votes will magically appear, I'm sure you will be seen at some point.

Engagement is key to get noticed
Many experienced authors on Hive will agree with me when I say that often a valuable comment is much more appreciated than a vote without one. Of course it's always nice to see votes appear on your page, after all, that's a token of appreciation for your work. But trust me when I say that people who leave valuable comments are often rewarded higher because of them making that effort and taking the time to do so.
You will not only often find comments back as a reply, but quite a few authors will vote your comments for making an effort and get curious about your profile. They loved your comment so much, that they are now wondering who this cool person they connected with is and what kind of content this person creates. If they like what they see, they might start following you.

The Hive & Leofinance engagement leagues
Did you know that there is a whole world of engagement out here on Hive & Leofinance called the Hive Engagement League & Leofinance Engagement Leaguea by @abh12345? Click on the links to go to the last round to see how many authors are competing to get high in the ranks of this league every week. Did you see how many comments there are on the contest posts?

Last but not least
Don't forget to have fun on the platform. Create and publish your content first of all because you like doing so. Don't focus too much on the monetary aspect of the platform, because this will grow when people start to notice your content. Once you are starting to make all these connections on the platform, you will understand that Hive & Leofinance is about so much more than the rewards. You'll see many Dapps are being built on the platform, everything is constantly evolving. Have fun first, and enjoy the rewards later!

Let's Connect
If you want to connect, you can give me a follow on my socials. For inquiries, you can send me a direct message on Discord.
My Referral links:
Posted Using LeoFinance Beta
---
---