Did you know that there is a social platform that pays you in crypto for creating and sharing contents?
Did you also know that, you can earn rewards in ETHEREUM for blogging about finance (money), cryptocurrency and blockchain?
---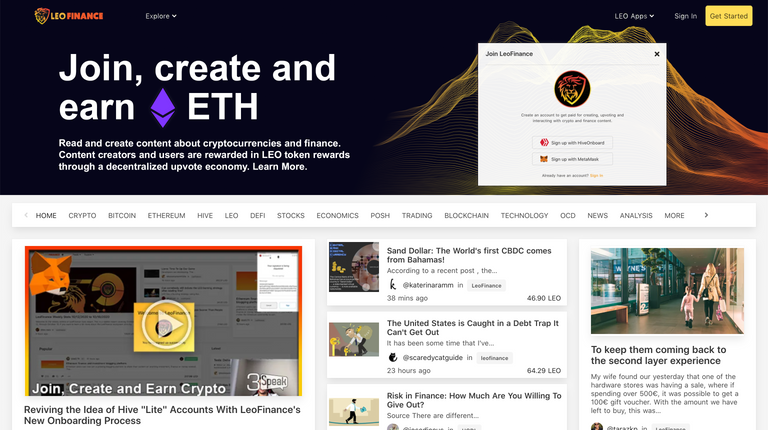 ---
If you did not know or you were yet to join the platform, kindly digest this publication to the end. I bet you, it will not be a waste of time.
---
Here is my little story:
---
I'm a writer and I love to write. For a long time, I've been writing articles on very many centralized social media platforms but got nothing of real value in return. I was doing that in the name of passion and fun while in essence, I was actually making the other party richer through my posting and commenting. However, things turned around for me when I came across the HIVE platform, which has birthed a very rewarding platform with the URL Leofinance.io. Here, there's room for earning crypto rewards. I'd like you to join me in tapping into this opportunity.
---
As the name implies, LeoFinance is a blockchain-based social media community for Cryptocurrency & Finance content creators. Interestingly, the tokenized social platform allows users and content creators to engage and share contents on the blockchain while earning cryptocurrency rewards like ETH, LEO and HIVE. It is an easy-to-use platform with a unique user interface. Leofinance was founded by @Khaleelkazi in 2019.
LEO is the native token of LeoFinance.
---
Are you a writer? Are you a cryptocurrency enthusiast? Are you an accountant or financial manager? Are you one who loves to read finance and cryptocurrency contents? Here's a platform that suites your passion while also offering you the opportunity to earn valuable rewards for your creativity and time. You can come in as an investor or content creater. Either way, you can still earns ETH rewards.
---
Before now, signing up to Leofinance.io was a bit tasking and complex. However, following the integration of MetaMask to the Leofinance platform, it is now very easy for Ethereum holders or MetaMask users to access Leofinance.io, blog, stake and earn ETH rewards. Truth is, we all want more digital assets like Ethereum and here's a way to achieving that.
---
The MetaMask signup option is the first in a series of major updates to LeoInfra and it's purpose is to make signing up to LeoFinance (Hive) easier than ever. Here's a quick guide on how you can successful and quickly create an account on LeoFinance.io and begin your journey:
---
Step 1: On your browser, visit https://leofinance.io. Click on "Get Started" and choose the "Sign Up With Metamask" option.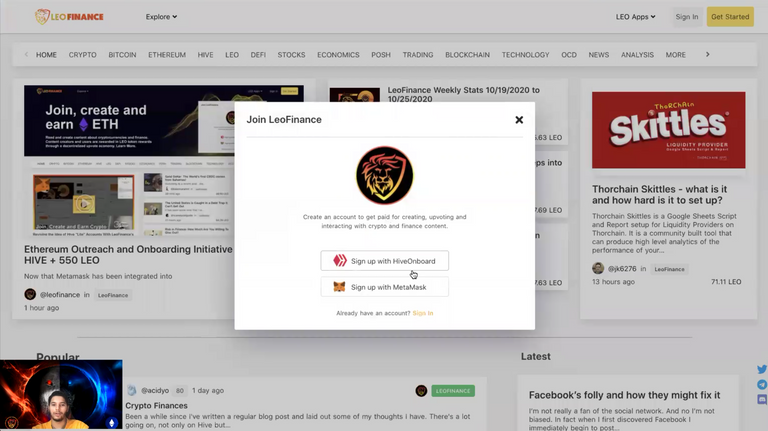 ---
Step 2: Next thing is to input your choice username in the space provided.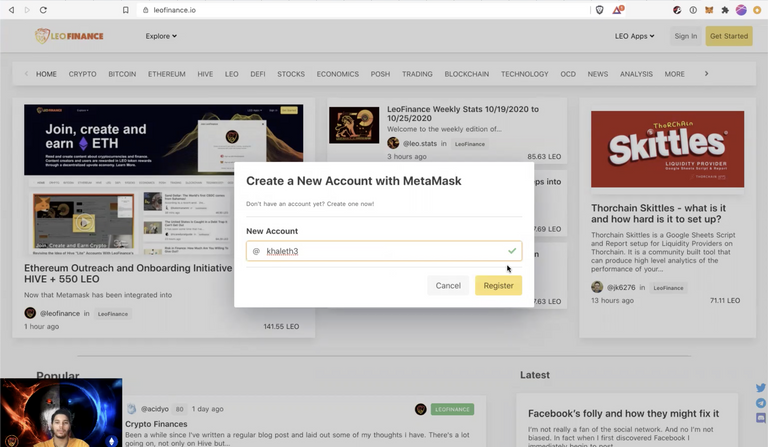 ---
Step 3: Confirm with a Metamask text signature. This text signature verifies that you are the key holder to the Ethereum wallet address.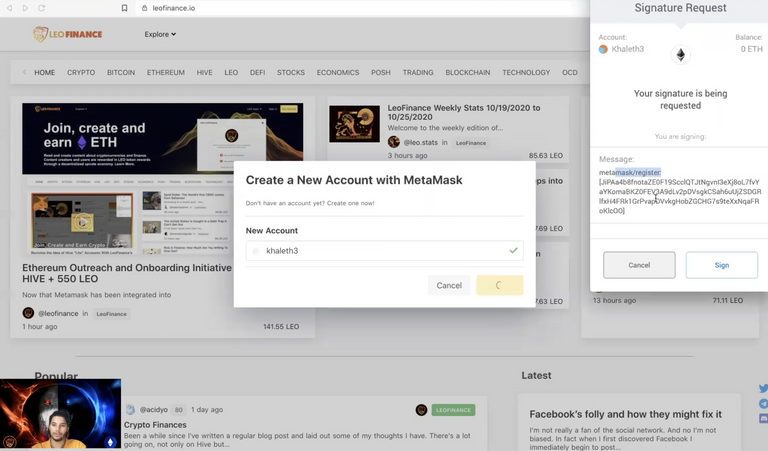 ---
Boom!! With those simple steps, you have successfully been onboarded on Leofinance. I guess that was easy and fast enough.
---
To begin your blogging journey, it is necessary that you first introduce yourself to the existing community members. To do that, simply click on the pencil icon at the top right of the page and begin writing.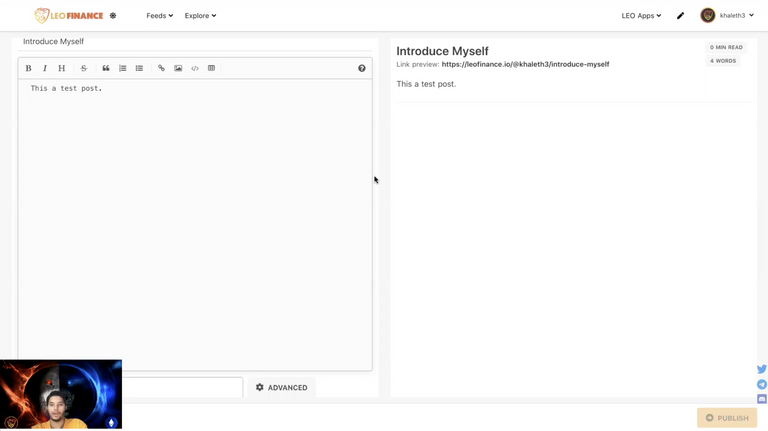 ---
Meanwhile, it is worthy of note that, signing up on Leofinance via the MetaMask gateway does not require a gas fee; it's free. Also to note is that, MetaMask does not share your keys with Leofinance. Hence, your keys are completely safe.
---
Getting Ethereum Rewards
There are basically two ways one can earn ETH rewards on this platform and they include:
Staking LEO and Curating contents
Creating contents and engaging
The first option entails buying up LEO tokens either from LeoDex or WLEO from UNISWAP and then staking them in your leofinance account. With your stakes, you now curate (upvote) contents and earn curator's rewards.
---
On the second option, having successfully created an account on Leofinance, you can begin to publish your original finance and cryptocurrency-related contents in the community. But remember that Leofinance have a zero-tolerance for plagiarism so, ensure your posts are always original and reference where necessary. When you publish a post, people get to upvote (like) it, leaving you with some quantity of crypto on the post as rewards. Very importantly, this upvote comes in the form of LEO token and not in ETHEREUM initially. Also, upvote value on any post depends on a user's LEO POWER (staking volume).
---
To get ETH, you have to convert your earned LEO to ETH and it is quite easy to do that. Now, payouts on a particular post are paid out weekly. Once you receieve a few LEO payouts, you can convert those LEO rewards into ETH automatically and have them stored in your Metamask Ethereum address.
---
LEO to ETH Conversion
Like aforementioned, it's really not tasking converting your earned LEO to ETH. Here's an easy guide:
Firstly, you click on "Claim LEO Token Rewards" as shown in the screenshot below.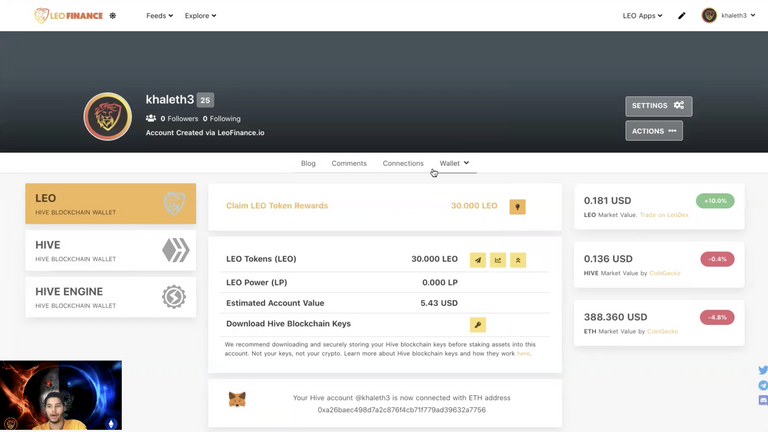 ---
Next is to choose how much LEO you want to convert to ETH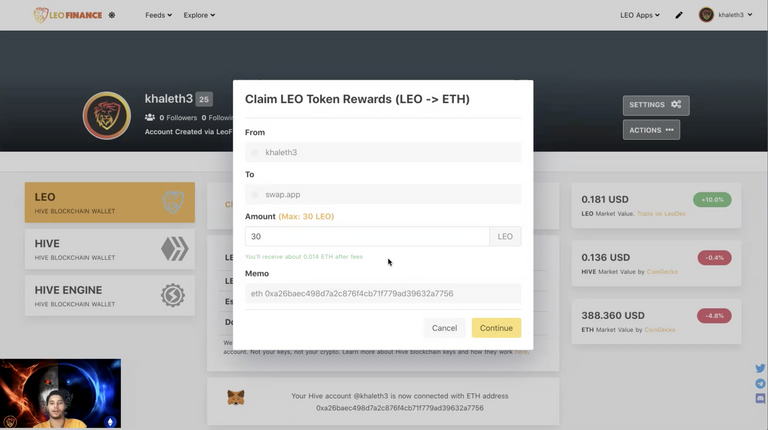 ---
Click on the "Continue" button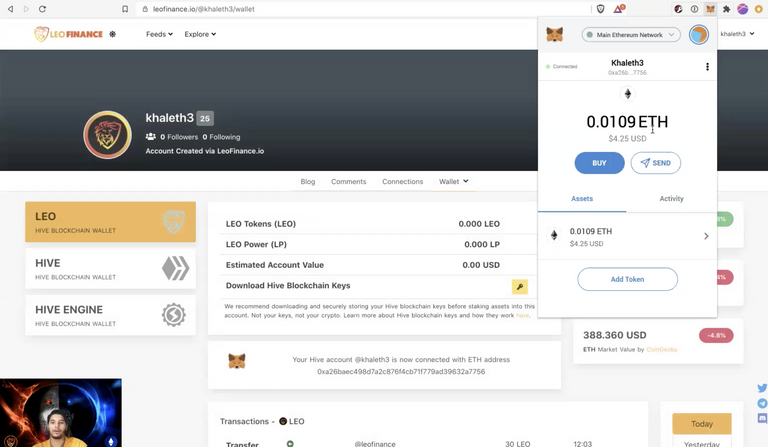 ---
Having done that, you wait for about 1-3 minutes and boom, you'll see the ETH arrive in your Metamask ETH Address.
---
Summarily, Leofinance is blockchain-based social platform where you can earn rewards in LEO and HIVE for staking LEO, writing finance or crypto-related articles as well as commenting on other people's blog. This earned LEO token can then be converted easily to ETH on the platform. To access all these benefits and features on Leofinance, you have to sign up first via the MetaMask gateway.

---
For more information:
Follow @leofinance for official updates
---
Images from @LeoFinance & @Khaleelkazi
---
Ndianabasi Tom
@Tomlee
Posted Using LeoFinance Beta