I am sure many of you hate yourself for not investing early on in leofinance when 1 Leo was 1 cent. Well, first let me tell you that I told ya a million times back then but you didn't listen...lol.. Anyways!
Today I want to shill you another unpolished hive engine token. A token and a tribe that is in a very similar situation like Leo was in its early stages. Meaning it has plenty of potential but atm few know and few give a shit about.
The tribe I'm talking about is cinetv.io and it is a tribe focused on movies, TV series and shit like that.
Like Leo in its early stages, the price of the token is very cheap and it is actually possible to become a dolphin or even a whale simply by posting since the competition for the rewards is very small... For now ;-)
But why do I think it's going to be the next big thing on hive?
For starters, the people behind cinetv.io have a proven track record. Cinetv.io is the child of the Mancave community here on hive. The token of the community (BRO) has been one of the most successful on hive engine, having appreciated more than three times its value since it's inception. Not to mention the super generous and DAILY dividends it's holders get paid.
Other than the proven track history, according to the official announcements, cinetv.io will soon have two features that no other tribe has. Except for leo of course.
A custom UI instead of the shitty one that hive engine tribes come by default. It will look something like this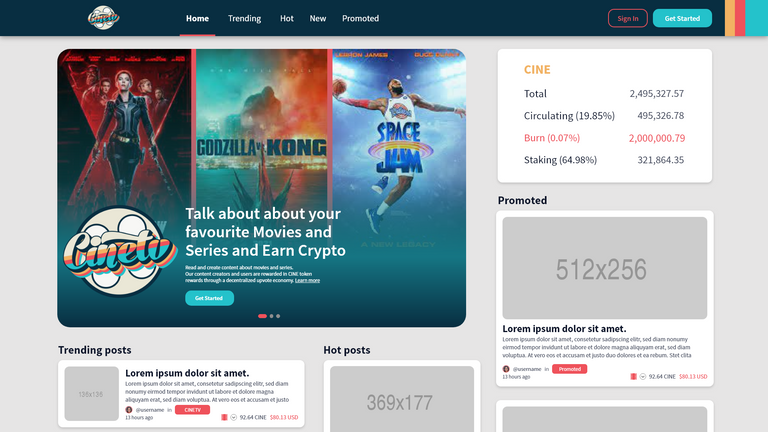 The website will have ads and the revenue from them will be used to buy and burn CINE tokens, to keep inflation in check and the price up!
Another thing I like about cinetv.io is that the topic is something super easy for everyone to participate, unlike LEOFINANCE where many users complain they have a hard time to post related content.
After all, everybody watches movies and series and can share their thoughts about them!
So, all in all I think cinetv has a very bright future if the people behind it play their cards well.
Since the initial tokens were airdropped to LEO and BRO holders I was lucky enough to start with a relatively big stake on the tribe from day zero, so I won't be buying any. But as you can see from my content in the past few days, I am trying to get some for free from my post rewards now that the competition is still small.
Maybe you want to do the same, or even buy a big stack while CINE is still cheap. As always this is not financial advice. I am just a monkey hitting buttons on a keyboard!
Useful links
Posted Using LeoFinance Beta