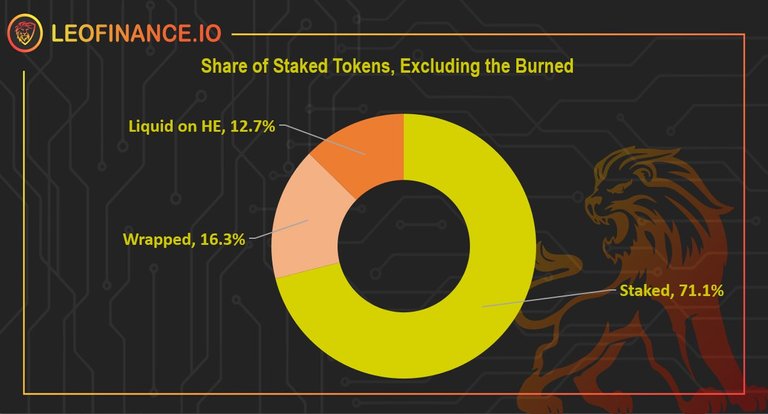 As at the ime of writing this post, @wrapped-leo account holds 868,591.348 LEO tokens and that represents about 16.3 percent of the total LEO tokens in circulation. We are seeing this percentage grow to about 25% in the coming weeks especially as the Liquidity Providers (LP) incentives have been made clearer with a high annualized yield of 138.39%. Details are available in this post.
Bonuses received by those accounts providing liquidity for wlEO on ETH blockchain would be worth much more in USD value as $LEO/$wLEO continues to grow in price. Yesterday, we recorded an all-time-high price of $0.3 for LEO on Hive-engine which was valued at approximately 2HIVE.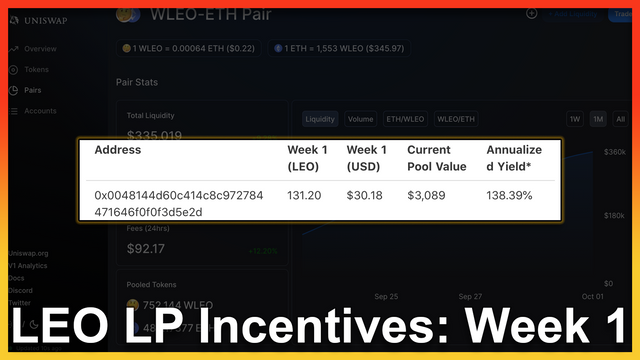 On daily basis, the Leofinance community and $LEO/$wLEO is earning more fresh visits and adoption as development continues to thrive in the community. Everyone on Hive can tell how awesome it is to use the Hivestats account tracking tool, trade other LEO and other Hive-tokens on Leodex or learn about cryptocurrency and blockchain technology on Leopedia. These are awesome crypto absed services that makes a social/investment journey on blockchainand crypto interesting.
There are much more on the pipeline an LeoInfra was announced. Any development which seeks to allow for the collaboration of blockchains and several cryptocurrency projects is what we direly need at this time. Such is the promise about LeoInfra. It is interesting that many are coming to the realizaition of the need for collaboration and this is when mass adoption would be possible.
The wake of crpto collaboration is the beginning of Mass adoption.
The @Brofund project is also incubating DreamR which promises to break the technical bottlenecks associated with blockchain and crypto adoption as well as cater for collaboration of related crypto projects. Looking forward to when projects HIVE, STEEM, BLURT, UPTRENND rewards could be combined together to give a rich crypto portfolio from content sharing. This would be a strong force against the grip that centralizes social platforms holds on internet users.
Back to the wrapped-LEO stake, it is evident that as more LEO is wrapped into wLEO, the less the percentage of LEO tokens staked for curation. This again opens up another opportunity for LEO curators. Staking LEO becomes more profitable as more curation rewards could be drawn. This is because as the share od LEo tokens staked reduce, the more LEO value can be given out in upvotes. Already, the vote amounts have increased by 13%. I'm still studying and would share when the figures are validated.
A win-win Deal for all LEO Investors
Indeed, anyone that is buying into LEO as a crypto project at this time is in the preparation to amass wealth. So far, these are the earning opportunities available:
I'm sure that more earning options would emerge in the near future. This, I say because I'm seeing a hunger for more growth around the LEO ecosystem. It therefore becomes important for any crypto enthusiast to have LEO in his portfolio be any of the above five earning/investment options.
the future of Hive looks brighter with Hive tokens. At this point, we may say that Smart media Tokens may never surface again as the Hive-tokens have bridged the Hive blockchain with other blockchains. I'm hoping to see other H-E projects follow LEO in the coming weeks.
The year 2021 would be a crypto year and being a part of the innovations now is just the best of decisions that one can take.
Join the winning train now...
Posted Using LeoFinance Beta