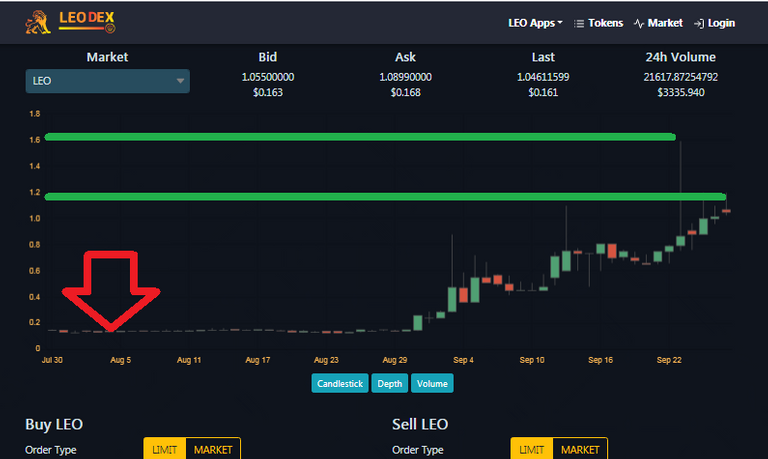 Within my three years of knowing, understanding, earning and investing into cryptocurrencies, I've has several times I wished the hands of time were again drawn back. This happened each time I had a better understanding of a cryptocurrency project probably hours, days and weeks after it had mooned. Yeah, that I mean getting to see why I should have invested in a token/coin before the price pumped higher than I can afford to risk.
We all Have Limits
I joined Steem in 2018 primarily as a content creator and never saw myself then becoming an investor. This was because I never understood the potential of cryptocurrency neither did I knew that financial technology is drifting to that direction. Today, the story is different, I now become an advocate for financial investors to look into the direction of cryptocurrency.
In the next 13 hours hours, I'll be a 20-minute Speaker at the Opening party of a Tech Hub in Uyo, Nigeria known as CITI-Trend set up by one of my runaway Hive invitees @Abasbrave. He's been into multi-media and music and I told him about HIVE and the how the blockchain can reshape and add value to his career lines. He alongside others know my doggedness for promoting blockchain technology an cryptocurrency and wants me to make a brief talk on that. I'll be hosting weekly blockchain/cryptocurrency seminars in that location in the coming weeks and we'll sure have new users and investors join us and I'll definitely be talking about HIVE, LEO and other cryptos. I'll share my material here in few hours to come.
My main aim as I project crypto is to get young creative and vibrant minds closer to the chain to see what they can build to leverage the awesome opportunities that are lurking around the token. This conviction has been built after many times of regretting why I didn't buy in at an earlier time.
I remember some time in April 2020 when 1 LEO was sold for 0.025 HIVE ($0.0075). I could have afforded 40,000 tokens because I had some huge free HIVE in the exchanges. I v=never understood the project and where it was going, I was waiting and wished it got cheaper especially when I compare it to other Hive-engine projects. Though I got some 1k tokens just to start my staking journey.
On checking back after 7 hours, the price of the token went up to 0.035 ($0.0105). I thought it was one of those pseudo price triggers and lo before my eyes, one person purchased over 20k tokens and the prices went long high to 0.08 HIVE each. That's when I began to know that something's happening. I thought all was over with the pump and yet again, it scaled to 0.1 HIVE and up the journey kept going. I had always wished I bought-in when the prices were still at its lows then today I would have been holding well over 100k tokens.
The underlying truth here is that we all have buying limits as per prices and that should inform one to take the right decision while it's still early. Staying further may make joining the investment trend a near impossibility.
Where is LEO/wLEO heading to?
Few hours ago, I penned a post where I mentioned LEO as one of the Hive tokens I would want to HODL for the next 20 years. At this time, I'm understanding better, the direction that the Leofinance community and LEO is going and can say vividly that the future of the token is what any investor would want for his assets.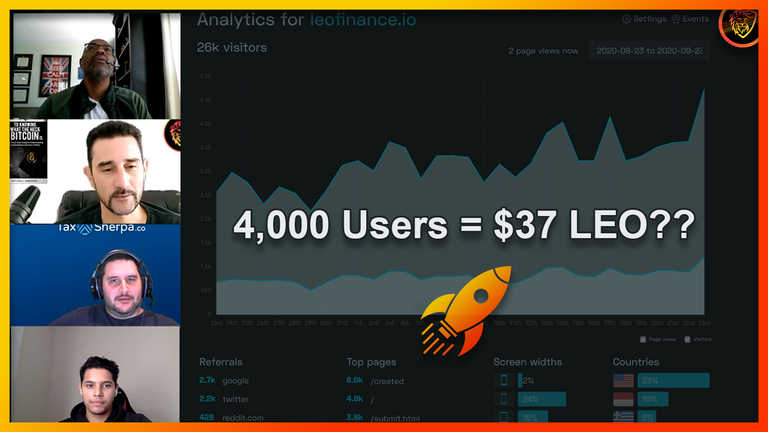 Each time I remember @nealmcspadden's prediction of prices for LEO/wLEO giving it a value around $2 at a worst case when the userbase for the community reaches 4,000. This is expected to occur if and only if all the present LEO stakeholders sell their token and ad revenue becomes the only buying option. That isn't possible. That therefore means that $37 is the ideal price for LEO that we are looking at in the near future term when the LEO community finally earns wide adoption by crypto communities.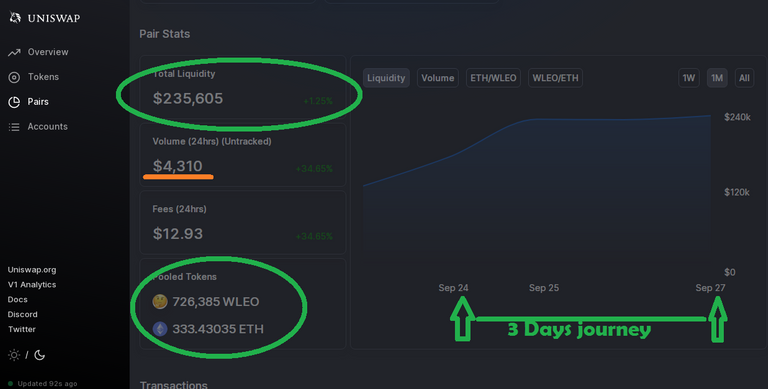 The above is a screenshot from wLEO-ETH Pair on Uniswap highlighting the total liquidity so far provided ($235,605). This is possible with just 726,385 wLEO token sent into the Uniswap pool. This is still the beginning of the journey as wLEO is barely a little above four days old as you can see in the chart.
Imagine what would happen when wLEO get's listed on an exchange like Binance and Bittrex which would soon happen. Certainly, we'll see the trading volume sky rocketing and that should help the token break through the $0.2 resistance that has been for the past few days.
Now notice something on the Leodex exchange where LEO trades against HIVE, the buy prices now balances well above 1 HIVE. That means those hodlers who weren't sure of how strong LEO would stay above HIVE in price had finished dumping and the prices are getting stabled.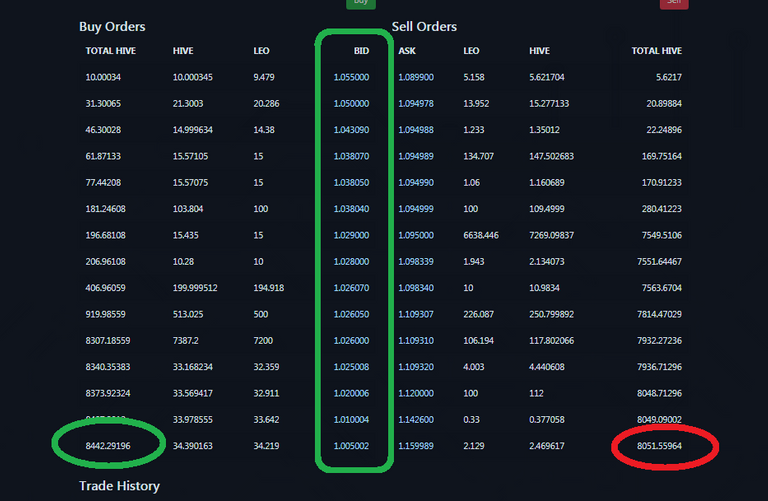 A closer look at the total top buy order shows that more HIVE are in wait to acquire LEo at a price that is well above 1 HIVE value for each. This may be the cheapest days that one can buy LEO with HIVE.
The LEO Token Econonmy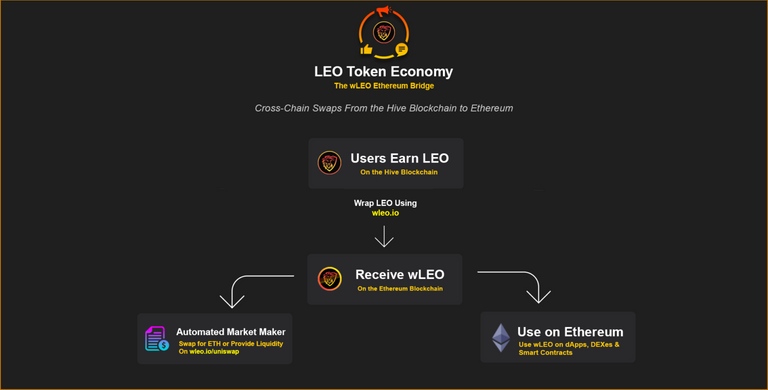 Read more here
It all starts with content creators but it never gets easy doing that. It's never easy sitting for 2-4 hours to pen a 5-minute read post after much reading and researches. Earning with a Miner token like LEOM and LEOMM, earning by delegating HIVE to @leo.voter or providing liquidity to wLEO-ETH pair would sound much easier as only an initial work is required. Everyday, there are growing investment opportunities for the LEO/wLEO token.
Quit saying "Had I known!" about LEO/wLEO by 2021 buy Buying-in Today!
The above sad statement could e possibly uttered by a crypto investor who fails to jump into the LEO/wLEO waters now. I remember how sad I am each time I discovered LEOM and LEOMM at a friendly price quite very late when the the tokens were running out of stocks. I would have been off for days and weeks while my LEO tokens get mined and delivered into my wallet. Read the full post here.
Here this, LEO/wLEO may never be any where below $1 by 2021. The countdown starts now.
I'll stop here for now. Don't say I didn't tell you.
Below are the important links you need to know when you need to play around with wLEO and LEO, the inseparable twins on the ETH and Hive blockchain respectively.
Posted Using LeoFinance Beta