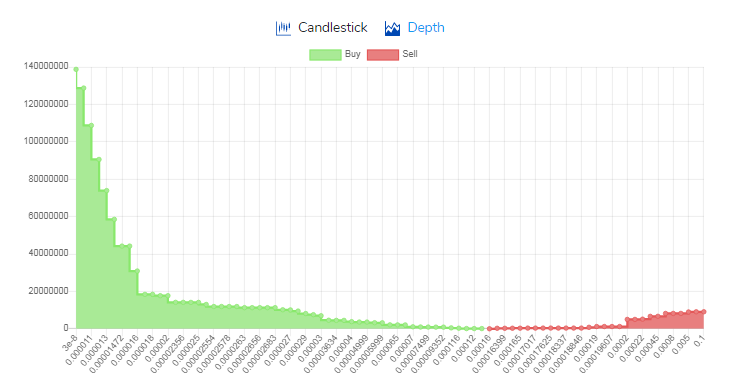 Looks like the crypto bull season is closer than we thought. More beautiful to see the some Hive tokens exhibit the bullish behaviours too.
Bitcoin has made a swift 2.9% pump in the last 24 hours from $11,089 to its present $11,360.65 according to Coingecko chart and it looks like things will get greener in the next couple of days, weeks. Squareup recent investment in BTC in the last few days may be an eye opener for many firms to seek BTC treasury.
The very beautiful thing about this develoipment is that it is positively pushing altcoins and Hive is one of such coins. there as been a corrected 8.4% push in Hive price from the last six hours after a momentary spike to $0.184 about 110 minutes ago.
Hive pumps such as this after a momentary dip is always a dipping moment for most Hive tokens, however, some have been resilient to resist the dump. Hodlers of Hive tokens over a bearish week sometimes pour put everything once there is a green lift in HIVE price.
What are the possible factors that could make a Hive token remain up or grow further when Hive grows? There may not be some valid factors especially as such tokens do not have a market outside of Hive-engine. Now that LEO has bridged to the ETH blockchain, ETH pump would certainly lead to WLEO pump independent of what happens to HIVE.
Was your guess right?
SPORTS have been exhibiting unusual price actions in the last few days that portray a solid bullish characteristics. WHile I may not really affirm the related factors, it seems that there investors and huge stakeholders who are buying into the token. In the last two weeks, an account that was no where among top 20 holders suddenly finds a place in top 7 spots with over 30 million stake.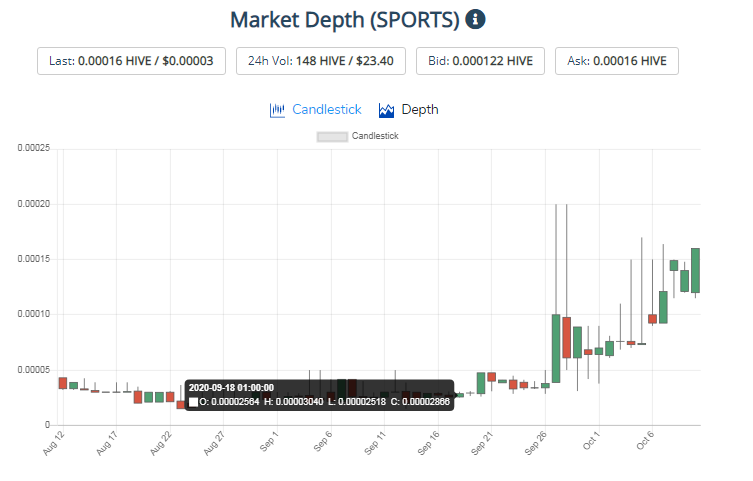 While others are waiting to see a tangible development creating utility for SPORTS, others are already buying in waiting for the development to meet their investment. That's rather a great decision especially when holding a 30 million stake at this point requires about 5,000 HIVE only.
Many had abandoned the @sportstalksocial tribe in the last few months due to price dips and this made some hold huge stakes at no cost at all. Today, there is a 533% pump in SPORTS price from what it was as at September 21. Now that the price is gaining, many users are flogging in to make #sportstalk posts but at this time, mining rate has so reduce and we now have less tokens circulating.
When would SPORTS moon?
I'm seeing SPORTS at 0.001 HIVE per token before December 2020 or higher. It's very obvious that would happen as we now have new investors from ETH blockchain joining Hive through wLEO. With DEC now on Uniswap, Hive tokens is gaining more attention to non-Hive users and many would be buying into a couple of Hive tokens especially, those that are as cheap as Sharwama.
Any triple digit ETH investor that spends as much as $200 and more on gas fees would gladly spare that much to invest in a growing Hive token with fee-less transactions.
At this point, I can say that SPORTS is advancing into a bullish season and I can't tell where the pegging price would be. Don't wait for the rush hour when announcements would be made. Build your stake. Remember, I was shouting this way with LEO when I new nothing about the plans for wLEO and the great development around the LeoFinance ecosystem
You may join my SPORTS Curation Trail to maximize your SPORTS stake. With the trail, your stake of SPORTS would yield profits without your active involvement.
I wan't to be remembered as the user that marketed SPORTS to its highs from a seeming dying spot. I'm not relenting and I hope I can reach the 100 million stake mark before the bull season hits the token. Head unto LeoDex and Hive-engine now that it's still cheap.
Posted Using LeoFinance Beta