Hivestats Data Check! $3k earned for Authoring/Curating Sports Contents on Hive in 22 months

Tracking one's progress by periodic evaluation is one thing that many have missed out in their business and investment journey. When there is evaluation failure, there is the possibility of not knowing the level of productivity. Wikipedia defines productivity as the efficiency of production of goods or services expressed by some measure. One thing that is very important in productivity measurements is the ratio of an aggregate output to a single input or an aggregate input used in a production process, i.e. output per unit of input, typically over a specific period of time.
During one of our business lessons in church, I did explain that if One labourer moulds 5 bags of cement into sandcrete blocks in one day, then, Two labourers should be able to mould above 10 bags, say 12 or so. Same thing happens if one person starts a production job and has a turnover of 20kg per day within his first 3 months on the job. He should have been able to scale the production to 25kg after two years. This is because experience that has been gained over time in the production process becomes an advantage and I call it the extra hand in the production process. Thus, our productivity in any activity is meant to grow with time.
Looking at my productivity as an author and a curator on Hive blockchain, it can only improve each passing day, week, month and year. There was a time when my average monthly SPORTS earnings was less than $20. It later graduated to $30, $50, $100 and now around $136 even as we scale to a monthly take of $500 in the near future. I know it would be exaggerating to make this stats during the bullish market season. However, looking at Hive and SPORTS stabilizing over the last few weeks, it can be neat to make these assessments and predictions.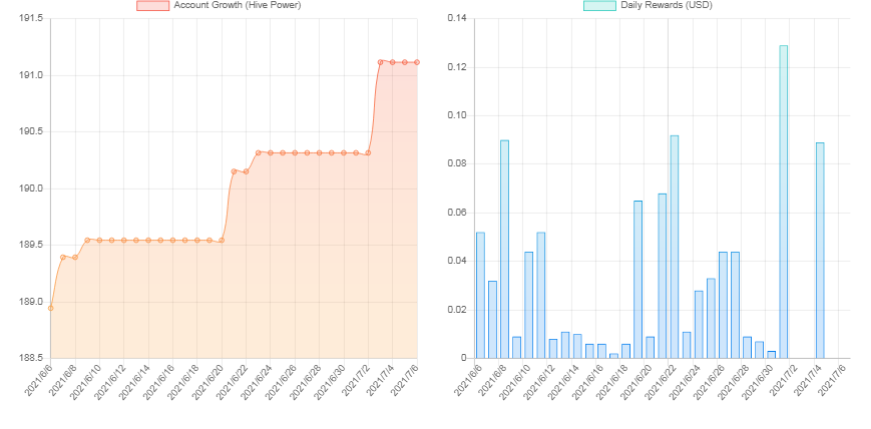 Frankly speaking $136 is worth about 350 HIVE which is about double the average Hive I earn monthly. Lookint through this stat got me really surprise. I'll be celebrating 2 years of active participation in the Sportstalk tribe by August 24 and I'll get to mark it big. Some may never see $136 monthly earning from SPORTS a reality especially with the low price and low liquidity it has in the Hive market. However, I can say I've drawn over that amount in the last 3 months when I was not posting but only curating.
Interestingly, $136 is 40% more than the salary of Bachelor degree holders in the Civil service in my country. You can imagine how valueless their pay could be especially now as the Nigerian Naira continues to lose value against USD on daily basis. 80% of goods in the Nigerian market are imported and thus, as Naira losses against dollar, prices of commodities continue to increase to double or triple in the last 6 months.
Hive provides us with limitless possibilities. We blog (create contents), we consume we socilize, we support one another with upvotes and it all amounts to what the bank can hold and lo, our daily budget is well funded. Keep creating and curating contents on Hive, you never know when they'll round up to millions and more as an inheritance for your children.
Posted Using LeoFinance Beta
---
---