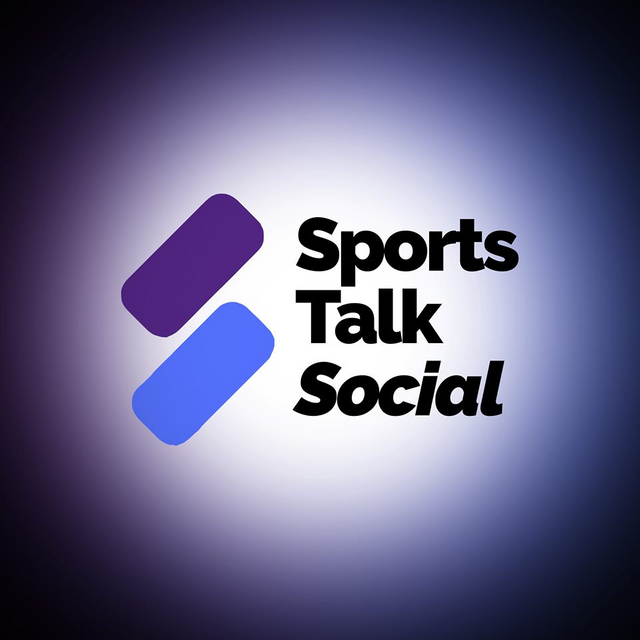 Each time I see LEO price around $0.2, well above HIVE and can vividly remember when I was negotiating within myself whether or not to buy the token six months ago at $0.01, then I've stopped looking down on Hive tokens. Yea! I did look down on some of he Hive projects some time ago especially when I couldn't understand their roadmaps and token economy. One of such is the BRO token in the Mancave project. That's not the story for today.
As at today, a Hive user who bought LEO at April 1 would be 20x richer. As incredible as that sounds, this is just the beginning for the bull journey of LEO. Perhaps it would become one of those tokens traded at $10+ in 2021. Who knows? Don't get bugged with my stories, just thrill yourself with the below chart.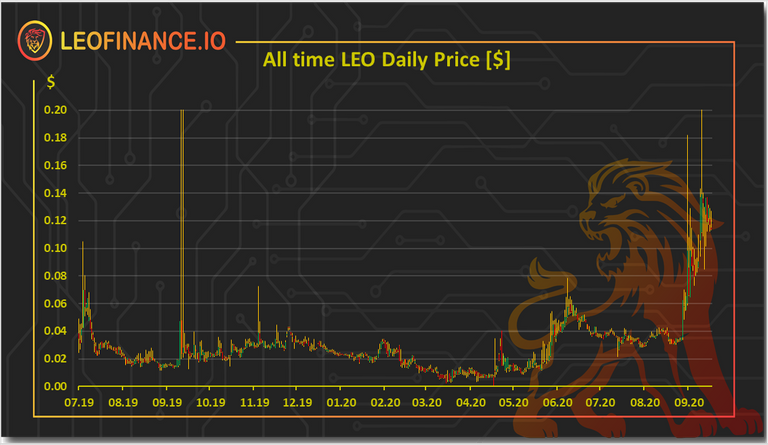 I hope you saw for yourself how the lowly LEO that struggled below one cent is now being begged to e acquired at $0.15. Never cry over spilled milk. There will be no more $0.1 LEO again. I wouldn't imagine the worst case scenario that could make that happen. It's time to move forward and make hay while the sun shines.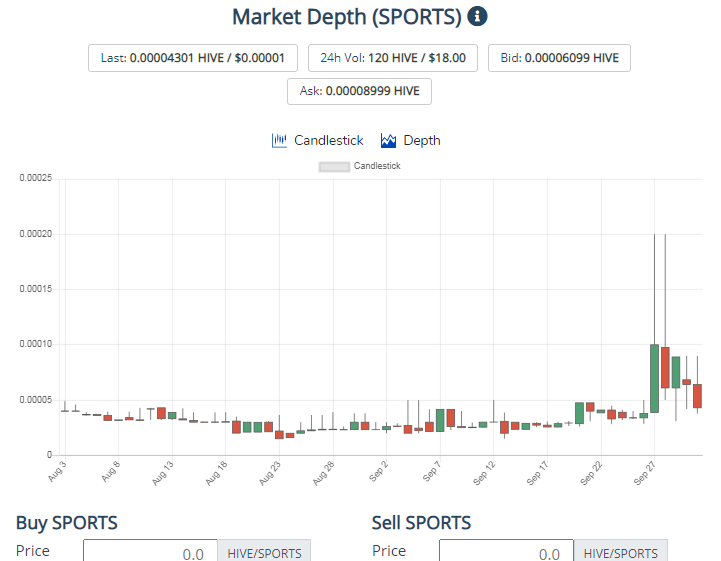 SPORTS can be purchased on LeoDex or Hive-engine. It's my first love, so to say when it comes to Hive-token holdings. I actually learnt to risk hodling and staking Hive tokens with SPORTS. I preferred it because it was cheap and I wouldn't lose too much even if everything was sublimed. It's still as I pen this post and the future could also present SPORTS as a Hive token that followed after LEO. It's not a promise, just my wish and thoughts.
---
Always do your research before investing in any cryptocurrency. I write for the fun of it and store my thoughts here for future references.
---
Back to the gist - Maximize HIVE's Bear Market to reach Whale Status in SPORTS and other Hive tokens. HIVE hodlers are crying because of the dipping price. WHo knows when the green lights would come again. We only hope and hope that our hope never gets hopeless. I do not want to "wish" I had some millions of SPORTS when the token finally bulls.
If you checkup my SPORTS curation account on Hivestats.io, you'll discover that holding a million SPORTS token is not worth anything more than 100 HIVE which is as cheap as $15 today. Bearish seasons as HIVE is undergoing may never last any longer. One must have to maximize the rare opportunities we have.
I have made predictions about some Hive tokens and SPORTS is amongst them in this post and this post. Severally, I've shared my plans to onboard Nigerian SPorts League teams to Hive to be a part of the SPortstalksocial community but I wish I can reach 100 million tokens in stake before they start onboarding as I envisage a 100x price pump then. This post and this post can shed more lights.
Nine days ago, I mentioned that a Hive user can get as much as 12 million SPORTS with just $100. I don't think that is possible again. SPORTS experienced an unexpected pump and since then, there have been some bullish moves.
At the present price, you can place an order for 12 million SPORTS at 0.00005 HIVE per SPORTS. That would cost about 600 HIVE, equivalent to $100. That's too cheap a price to buy SPORTS when we actually bought them at $0.001 some months back. - source
At 0.0001 HIVE per SPORTS, it's still very cheap as one million tokens can be sapped from the market with just $15. For some, that's not enough for a pan of pizza in an evening outing. Makig tiny investments that can turn out as huge holdings would be a great decision.
I personally prefer staking and curating #sportstalk posts with SPORTS so as not be tempted with price jerks. I look forward to a long term holding with SPORTS - 5 to 10 years ahead. We hope to have a crypto mass adoption by them.
You may join my SPORTS Curation Trail to maximize your SPORTS stake. With the trail, your stake of SPORTS would yield profits without your active involvement.
"I wish" are the last words I want to say when it comes to investing in Hive tokens. With the @Leofinance developers, I'm seeing more tangible utility to Hive tokens. More investors are already joining Hive because of wLEO. This is a huge exposure for other Hive tokens.
Posted Using LeoFinance Beta