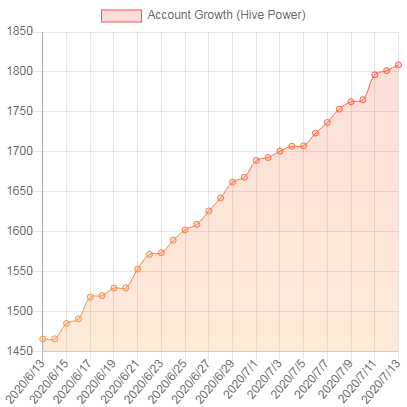 A review of my Hive account stattistics oin Hivestats.io this evening has showin that my Hive power has increased by 343 Units in the last 30 Days. That value is about $77 which has been stored up by the system in the 50%/50% reward split for me.
Watching your growth in a DPoS system like Hive has a way of boosting performance and this is what Hivestats.io can help a Hive user to achieve. My Hive Power had not grown in June because I was running a powerdown to meet up with some expenses, however, having stopped the powerdown some weeks ago, my account is healthily growing in curation capacity.
About a month ago, I remember having ad to lease Hive Power at a costly rate in order to sustain my curation initiatives which cut across several communities on Hive as well as the Hive tokens. Now that account is not going through that pressure anymore as my Voting manna is not drastically running down.
I am targeting reaching at least the 5,000 Hive Power mark by the end of the year and I know it is very possible. In fact if HIVE dips more, then reaching 150% of that target would be possible. The beautiful thing about content creation on Hive blockchain is that creators earn more during the bear season as more HP are generated from post $ value.
As we approach August, I will put more efforts into content creating on Hive to see if a 500 HP earning is possible in a month. This post thus serves as an encouragement to content creators to keep sharing their contents even when the market bears. Our contents also serve as promotional pieces that draw investors to the blockchain and that means a potential for a bullish run.
Keep sharing content to raise to Hive Power earnings so you become a curator as well!
---

Meanwhile, I'll be glad to curate a fresh #leofinance content published from the https://leofinance.io interface. The post must not be older than mine. Feel free to submit the post link to the comments section of this post and consider adhering to the #posh rule. Already, I have made a couple of guide posts to help you create acceptable leofinance posts seamlessly:
Know the LeoFinance Ecosystem
https://leofinance.io is an online community for crypto & finance content creators, powered by Hive and the LEO token economy.
Posted Using LeoFinance