Thread-A-Thon: Let's Sprint Faster to the $10k Prize!

Thread-A-Thon is here!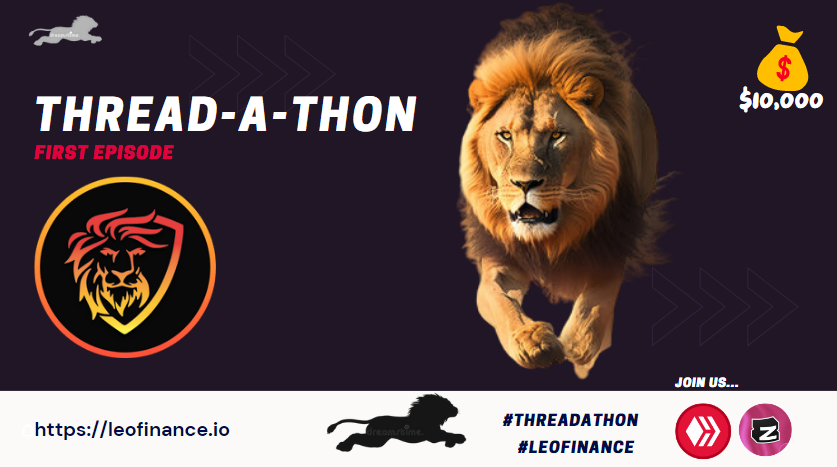 Last week, the Nigerian and African Socialmedia space was thrown agog all for a 26 year old Hilda Bassey who attempted to break the Guinness World Record for marathon cooking. The subsisting record was 87 hours cooking marathon but Hilda stretched herself to mark 100 hours of cooking marathon and that was covered from Thursday 11th may to Monday 15th May, 2023.
What is Thread-A-Thon?
Thread-A-Thon would likely be a new word in the dictionary and ofcourse in the web3 world and I'm glad to use it first. Do well well to acknowledge me the next time you use the word "Thread-A-Thon".
I may not give a direct simple English definition. It'll actually be a build up of definitions that would make more sense over time as we keep adding value to it. However, as Leothreads comes to stay in the web3 world, we could have the word archived somewhere more popular. Meanwhile we are used to a related word lie Hackathon in the web3 environment.
While the word is new, the activity it defines is not new to us in the LeoFinance ecosystem. Enough of the stories, let me try to share my heart what I understand as Thread-A-Thon.
Thread-A-Thon is a user's intense activity of creating microblogs on Leothreads web/desktop/mobile dapp in such a fast pace within a stipulated time that the user takes the top spots in day's leaderboard. Microblogs on leofinance dapp
Leothreads is a decentralized application built on the Hive blockchain for short form contents such as links, photos, emojis, short videos, gifs, etc, within 240 character count.
Short form contents that can be posted on leothreads include but not limited to: photos or collage of photos, info-graphic, a muse or thoughts, a shout out to family and friends, a breaking news, updates on live events, announcement on a new product, call for help, abridged report of an event, personal statuses, report on developing news stories, and more you can ever think of that is within 240 characters. Read more here
Etymology of Thread-A-Thon
I coined the word "Thread-A-Thon" which can also be written as "Threadathon from the two words:
Threads
Threads was formally defined as a social platform where users get paid for creating, upvoting and interacting with crypto and finance content. But Threads now cover every other content niches. Other words related with Threads are: Threading, Threader

Threads is the microblogging front of the LeoFinance ecosystem. LeoFinance also covers crypto wallets, Decentralized Finance (DeFi), NFTs, and all of the possibilities of web3.
A-Thon
The dictionary defines the suffix "athon" as an activity which is carried out for a very long time on a very large scale.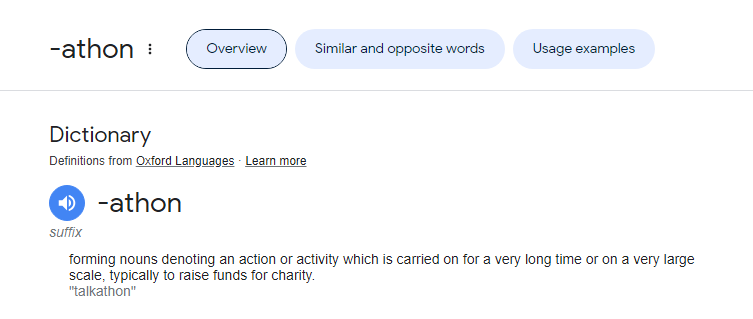 Time and quality are of essence when the suffix "athon" is mentioned. It means that the justification of the time spent on the activity is in the quality of work done.
Putting the two words together...
We can agree that Thread-A-Thon is the use of the LeoFinance microblogging application for creating short form contents over a long period of time thereby stimulating quality engagement, interaction and communication with other users for the sharing of meaningful knowledge, assets and wealth.
Thread-A-Thon: Episode 1
When we mention Thread-A-Thon, there are users who have been practicing it. Some of them are @khaleelkazi, @taskmaster4450le, @anomadsoul, and @rmsadkri. Some of these users have created remarkably, over 5,000 threads in the last 19 days and are still grinding.
In a way, they have set a standard of Threading on leoFinance and it would not be bad to use their outcomes as threshhold for rewards. Thus, attempting to beat their record could be as valueful as breaking a Guinness World Record.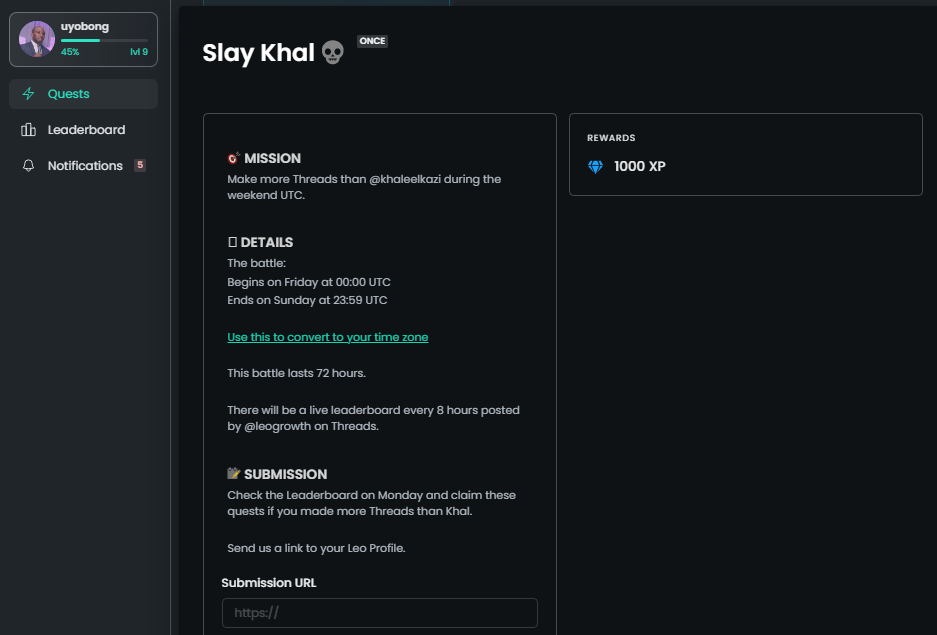 The First Episode of Thread-A-Thon at least in this new Leofinance UI has started today, Friday 00:00 UTC and to run till Sunday at 23:59 UTC. Beating the Threading records of all four users named above qualifies a user for a reward.
Thread-A-Thon Details
Join the quest through this Zealy Campaign link.
Make more Threads than @khaleelkazi, @taskmaster4450le, @anomadsoul, and @rmsadkri during the weekend UTC.
Thread-A-Thon begins on Friday at 00:00 UTC and Ends on Sunday at 23:59 UTC (72 hours)
There will be a live leaderboard every 8 hours posted by @leogrowth on Threads.
Check the Leaderboard on Monday and claim these quests if you made more Threads than Khal.
Send a link to your Leo Profile.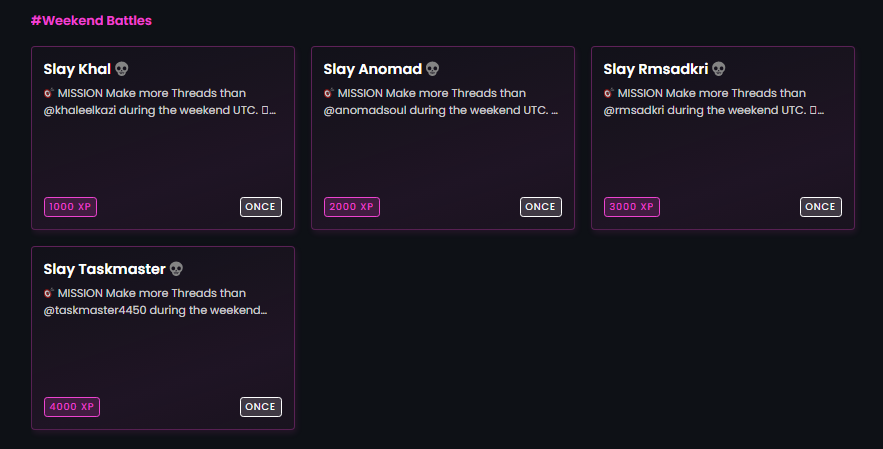 Thread-A-Thon #001 - Who'll Break Taskmaster's Record
@taskmaster4450le, already has a record of over 5,429 threads in 19 days. That is about 285 threads daily. He creates as much as 400 threads in a 24 hour time frame and sometimes it feels likes he uses an AI finger, lol.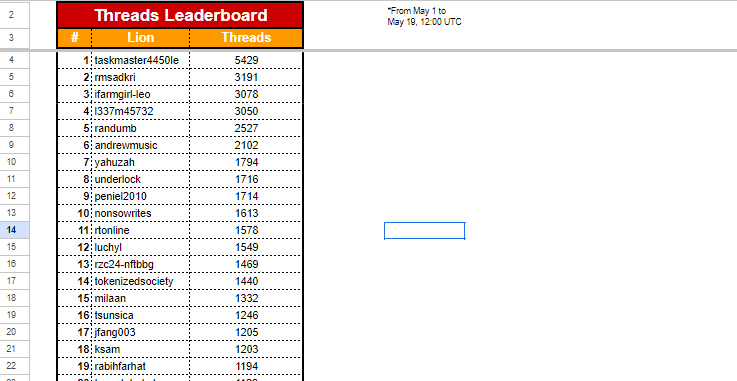 I think beating TM's record would be one of the biggest task any one desiring to join the Thread-A-Thon would have. However, anything is possible!
Are you joining the Thread-A-Thon?
---

If you found the article interesting or helpful, please hit the upvote button, share for visibility to other hive friends to see. More importantly, drop a comment beneath. Thank you!
What is LeoFinance?
LeoFinance is a blockchain-based Web3 community that builds innovative applications on the Hive, BSC, ETH and Polygon blockchains. Our flagship application: LeoFinance.io allows users and creators to engage and share content on the blockchain while earning cryptocurrency rewards.
---
---
Let's Connect
Hive: https://leofinance.io/@uyobong
Twitter: https://twitter.com/Uyobong3
Discord: uyobong#5966
---
Posted Using LeoFinance Alpha
---
---