source
I remember when I started attending motivational classes, the few questions all motivational speakers would always ask would be "where do you see yourself 5, 10 years from now?". The realities of this questions did strike me hard when it came from a high school classmate while we were rounding off our final examinations. I was only 16 then, yet these words sank right in. In one way, it sounded like a catalyst to discover self and the other way, like a challenge.
The question is also familiar at job interviews when the interviewer seeks to know how you will be able to contribute meaningfully in driving forward the goals and reaches of a firm you seek to be employed into. As a businessman, investor, entrepreneur, we need to answer this question but sometimes in the inside. Losing touch of where you're heading on a short or long term in the future would be a disaster.
The world is changing at a rather faster pace and suddenly, things happen. These changes get more slippy when it has to do with the blockchain which is an emerging technology. On daily basis, there are new inclusions to maximize the technology in all areas of life. We can all be witnesses with the DeFi innovation that came into the cryptocurrency sphere in last one month. So much have happened. Many investors have lost a great deal and other have gained 10x and even more.
Within the Hive blockchain, we are witnesses to the spike in LEO token value immediately updates on wLEO were made to provide a cross-chain alternative. You'll agree with me that the dipping price of HIVE in the last few weeks have prevented investors from selling out their tokens. Converting it to LEO and subsequently wLEO is an avenue to push their holdings into the fast growing ETH blockchain. We saw a 4.25 times increase in LEO holdings due to the price surge which did hit parity with HIVE days ago.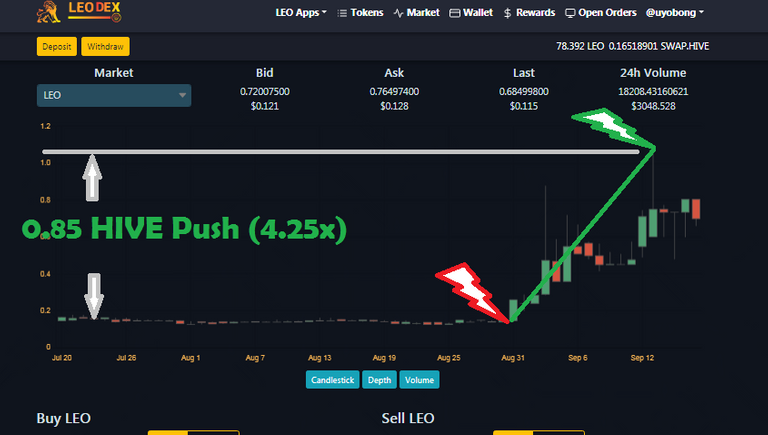 Looking back four months ago, I was struggling to start hodling and staking LEO at 0.05 HIVE each. We can see a 33x movement in just four months. Each day passing has a gruesome effect on the value of the token in volume and price. Presently, more users are now using the leofinance interface and more tokens are mined with increased curation.
Did you notice what I said in the last paragraph? I mean that if you had $1,000 worth of LEO as at April 30, 2020, you'll be $33,000 rich as of today in LEO. How time flies and value flies too. What brought the token to its present value is a futuristic plan. Two months ago, a roadmap for LEO was designed and released, yet, nothing happened then.
Buy the Dips as you Peak into the Future
I have become a Hive token enthusiast in the last few months of engaging the Hive blockchain. I am seeing the future and I'm sticking with that. Anybody who's not opened up for change is dying, because change is a must and time controls. We can't control time, we can only control our decisions and actions. Time keeps moving and waits for no one.
Having read the above, I ask again "What would be the worth of these Hive Tokens in the next Six (6) months?". A consensus answer is that there would be a change, whether positive or negative. I've been in for a few Hive tokens for staking - LEO, SPORTS, CTP, LIST, NEOXAG, CHARY, LOTUS, PAL, and my growth in the holdings of those tokens are not just what they were six months ago.
I have been strategic about it though sometimes with fear and doubts to some of the projects. This fears does not however change the narrative that the community tokens are the value holders for HIVE in the future. HIVE remains a grand coin in the cryptosphere, but it's greatness would be more visible in the worth of its babies- the second layer tokens.
I wouldn't always end a post of this nature without a mention of SPORTS token. It;s one token that is so dear. It's usecase has great potential and it can actually shoot Hive from where it is to the highs of $5. This is due to the passionate fanbase that the sports sector has. SPORTS as of today is worth almost nothing but will someday kiss the $1 mark. It may take decades. When we look back at Bitcoin's journey, we can say that a decade is nothing but numbers.
let's See into the Future
I want to save these predictions here on the blockchain for the future. I'll look back to see how accurate I would have been. I can't be very specific with the indices used for this predictions. All I can tell are utility, development and community strength. These are the few of the many indicators I look for in a token. Here are my predicted values for Hive tokens in the next six months. That would be by March 17, 2021 specifically.
| Token | Price Today - HIVE ($) | Price in Six Months - HIVE ($) |
| --- | --- | --- |
| LEO | 0.72 HIVE ($0.12) | 2 HIVE ($0.5) |
| SPORTS | 0.00003 HIVE ($0.000005) | 0.0001 HIVE ($0.000025) |
| LIST | 0.0072 HIVE ($0.0012) | 0.01 HIVE ($0.0025) |
| CTP | 0.04 HIVE ($0.0067) | 0.08 HIVE ($0.02) |
| NEOXAG | 0.002 HIVE ($0.00033) | 0.08 HIVE ($0.002) |
| PAL | 0.027 HIVE ($0.0045) | 0.07 HIVE ($0.02) |
The today's prices are based on the top "bid price" as at the time of submitting this post. Who's with me, let's deliberate and have your views in the comments section of this post.
Posted Using LeoFinance Beta