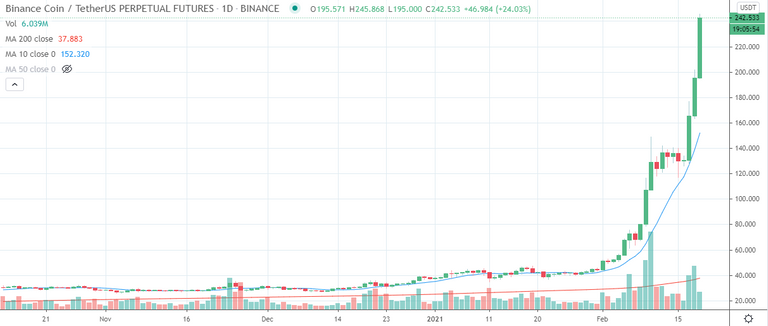 I have been in crypto for about two four years now and the last time i saw what's happening with binance coin was with ethereum when lots of smart contracts started their operations.
Well i think bnb positioned itself for the future via endless contests, giveaway and trading competitions on its native exchange site .
BNB has proved o be a worthy competitor to polkadot and ethereum with its new smart chain. Tokens within the chain are bep20 tokens and they can interact with other non binance projects.
Pancake swap , bakery swap and burgerswap were the pioneering projects in the chain and have seen significant growth. Offering liquidity pools and rewards like Uniswap and sushi swaps on ethereum chain but with significantly lower gas fees.
Not financial advice but i see these projects digging deep into the bulk of the major ethereum based projects and taking over the smart contract business..
Binance coin keep growing on a daily basis with more use and relevance. Every day, millions of transactions are executed on the chain and binance coin is now number 3 based on market capitalisation .
I see real futue and i hope hive and binance can do something together .
Posted Using LeoFinance Beta