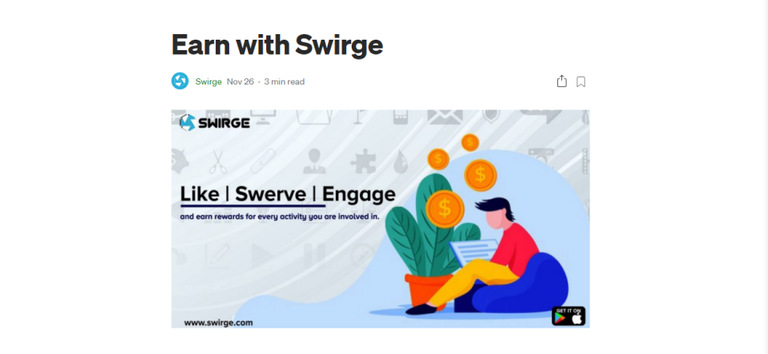 I have always wanted to meet a platform that has almost the same or similar features as Facebook but with a slight Crypto difference.
What do I mean by this?
We are all aware of the wastage of data on Facebook and how so many people are ignorant about this?
In our world today, Cryptocurrency is taking over but sadly, most people don't even see this and adjust by adopting and embracing Crypto blockchain.
I came across a site today, no actually I was referred to a site today that pays in Crypto.
It is called SWIRGE though it has less value right now but don't you think it's worth checking their tokens out?
At least for investors, it worth buying and holding if you do not want to go spend your time on the platform.
Currently, 1 SWG is about 0.05$0.052476 USD
Swirge (SWG)
Swirge price today is $0.052476 USD with a 24-hour trading volume of $131,023
Swirge's ecosystem embodies a decentralized social media, a decentralized financial system, and a marketplace built on Binance Smart Chain.
Swirge is a user-centric platform that is built with users in mind. First, to protect the user's data and information and give them total control over their data. secondly, to give users the power to create wealth by socializing and the opportunity to take charge of their finances.
Swirge solutions offer a user-friendly social platform.
It is a platform built by and for the community, with a decentralized governance protocol where the governance is done by the community.
Unlike traditional existing platforms, Swirge is built to give users complete control over their data, privacy, and finances.
Swirge has seamlessly integrated a decentralized marketplace to enable secure and fast peer-to-peer buying and selling on the platform. Together with a decentralized payment platform to enable fast, cheap and secure transactions all within the platform. This solves issues with remittances, payments, and B2B, B2C type of transactions.
This makes Swirge Stand out.
Source
I agree that's little but I still think it's worth hodling, who knows?
I am in love or addicted to hodling different kinds of coins for when there will be a shoot in price.
We know that this is how Cryptocurrency works. It might not be very favorable today but we can't really predict it tomorrow.
So if you are interested in checking this out, research more about it as I do not have much information yet concerning it.
I found out not too long and I thought of sharing.
If you wanna check out the platform as well, you can do that through my link below.
https://app.swirge.com/register?ref=Wakygrace
~ Crypto Baby
Posted Using LeoFinance Beta