HIVE Monitor - Updated UI/UX and more HIVE Witness Details EN/DE
Here is finally the long promised update about the HIVE monitor application https://primersion.com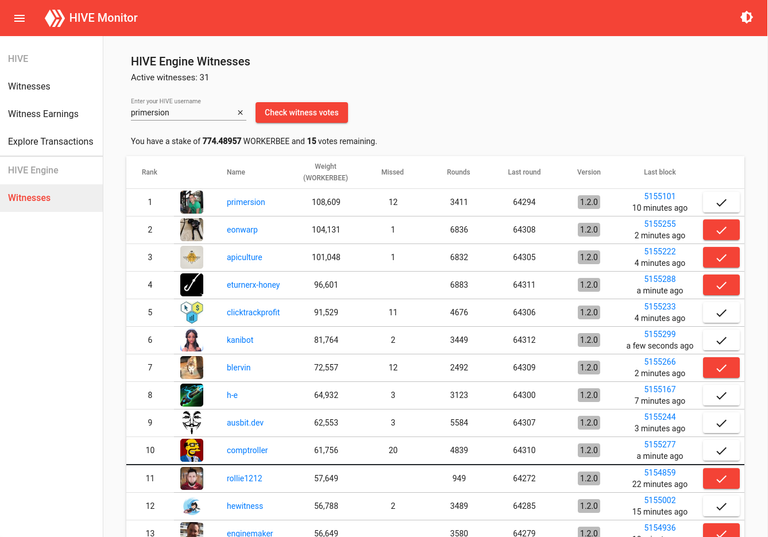 I have been making a lot of improvements to the UI/UX of the application, trying to improve the general usability of the site by introducing a new navigation on the left side and adding a few more details to the HIVE witnesses page.
Easier and more clear navigation
The header now only shows a button on the left for expanding / collapsing the side menu and one button to the right for switching between light and dark mode:

The navigation bar itself is split into two sections, one for HIVE and one for Hive-Engine: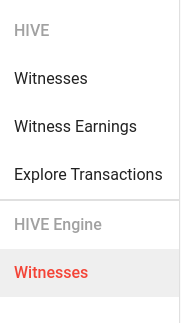 This adds another layer of separation between the two different use cases of the application. The HIVE section allows you to check your witness votes for HIVE, check the earnings of HIVE witnesses and view some stats about HIVE transactions.
The Hive-Engine section currently only provides a single page for viewing Hive-Engine witnesses, voting for them and checking their earnings.
The side bar will collapse / expand automatically depending on the screen you are using. Additionally the main content now spans the whole screen, giving more space for the actual content.
HIVE witnesses
The witnesses page was redesigned and now uses tables similarly to the Hive-Engine witnesses page: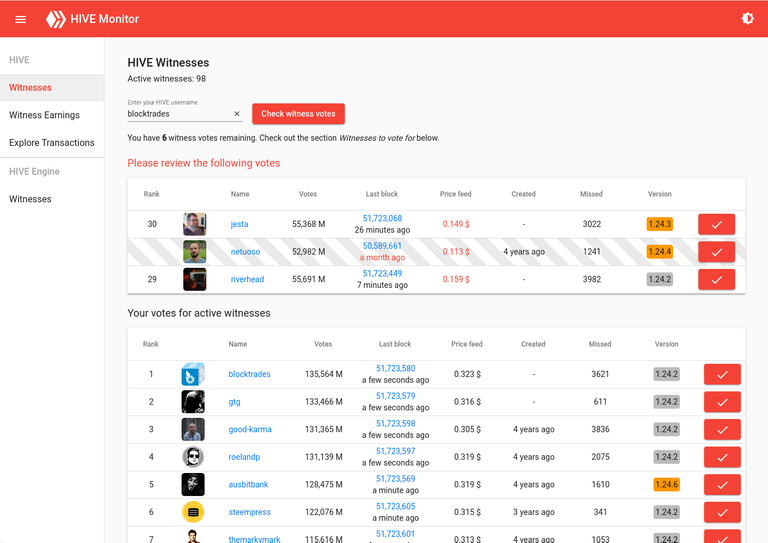 The top still shows the witness votes, which need reviewing in red, followed by the other votes and all active witnesses that may be voted.
The actual tables now show more details about the witnesses, including the total votes, the witness age, the number of missed blocks and the running version and may be sorted by clicking on the header. All information which is outdated / needs review is shown in red.
Disabled witnesses are highlighted by a different background:

HIVE witness earnings
The earnings page was also redesigned and the list was replaced with a table. This makes it easier to compare the actual values of the different witnesses and allows sorting them: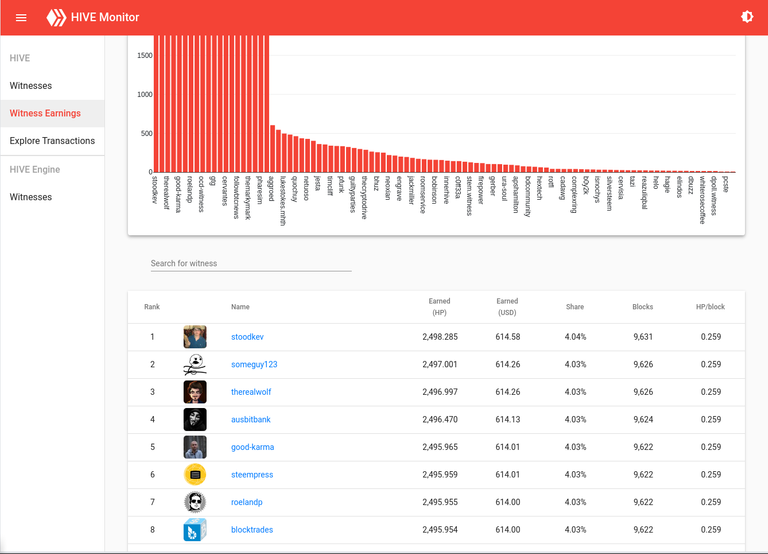 Hive-Engine witnesses
The Hive-Engine witnesses page also got a redesign: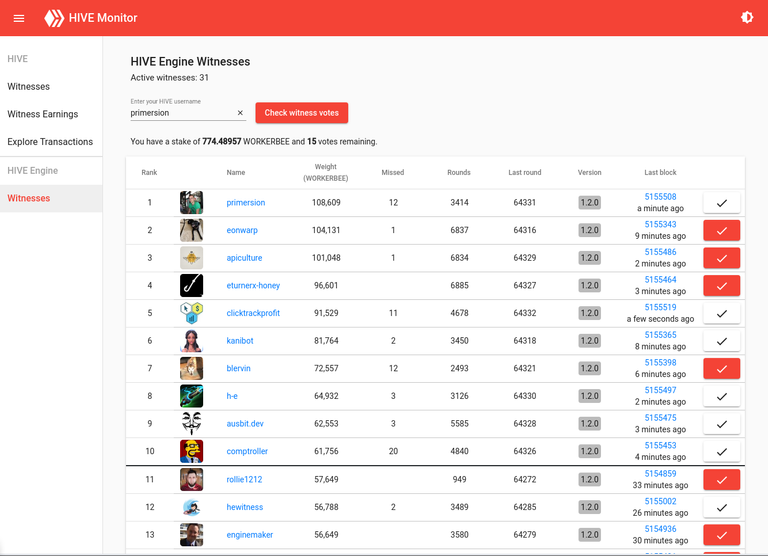 The weight and version column are now much less prominent and only versions different than the current version are highlighted in the table. The actual votes of a witness can now be viewed by simply clicking on a row, which expands it and shows all votes below the witness: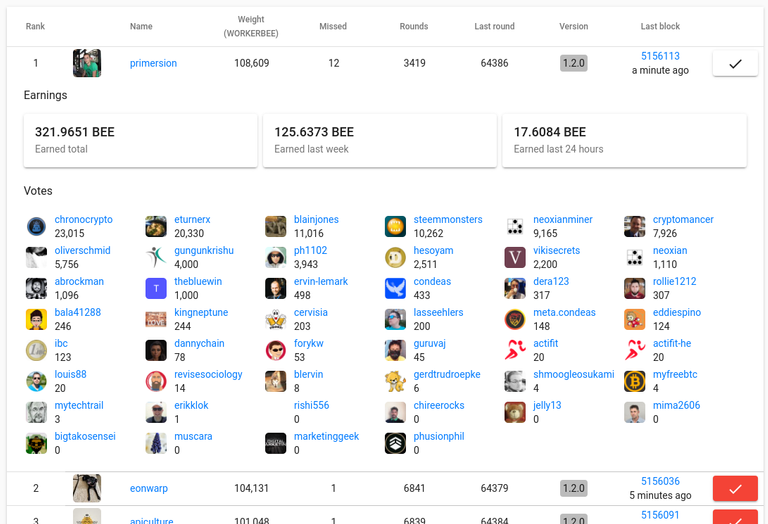 Additionally this will show the BEE the witness has earned total, the last week and the last 24 hours.
The rank of witnesses is now only shown if the witness is active and otherwise it is left blank. Similarly the missed blocks are only shown if the value is different to 0. Also the different columns now have a more equal width, making the table look more equally distributed.
Disabled witnesses are again highlighted by a different background:

Last week the witness protocol was updated and now 10+1 witnesses are used for the signing process instead of 6+1. This is indicated by the thick line after the 10th witness: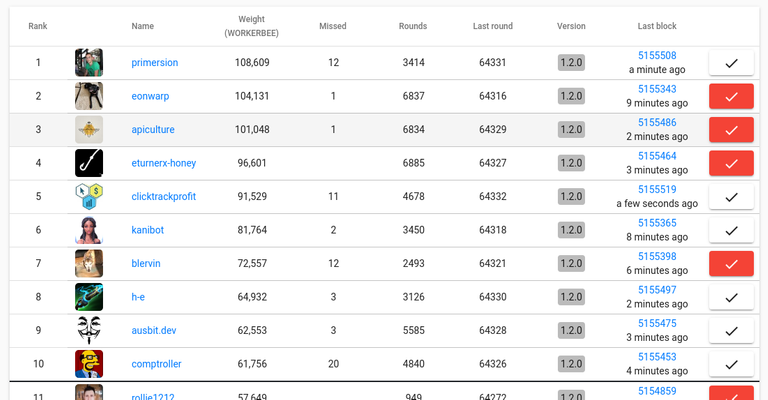 Oh and I reached the 1st position :) :) :) Thank you all for your support and for making this possible!
That's all for now - stay tuned for more awesome updates and if you would like to support me, please vote for my HIVE witness and/or my Hive-Engine witness:
HIVE (using Hivesigner)
Hive-Engine (using Votify - thanks again @dannychain for this awesome tool)
---
Hier gibt es endlich das lang versprochene Update zum HIVE Monitor https://primersion.com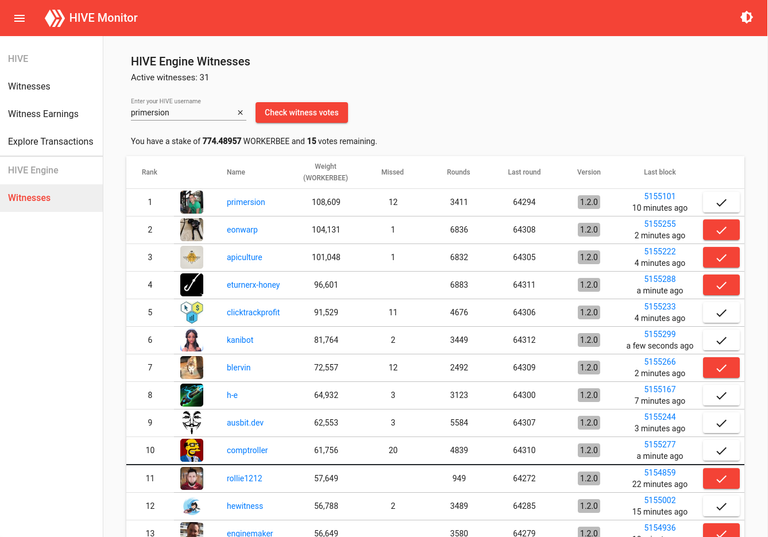 Ich habe zum Großteil an UI/UX Verbesserungen gearbeitet, um die generelle Usability der Anwendung zu verbessern, indem ich eine neue Navigationsleiste auf der linken Seite hinzugefügt habe. Außerdem habe ich die HIVE Witness Seite mit mehr Details ergänzt.
Einfachere Navigation
Der Header der Seite zeigt nun nur mehr einen Button ganz links, zum aus / einklappen der Navigation und einen Button ganz rechts, für das Umschalten zischen dem Light und Dark Modus:

Die Navigation selbst habe ich in zwei Unterpunkte aufgeteilt, einen für HIVE und einen für Hive-Engine: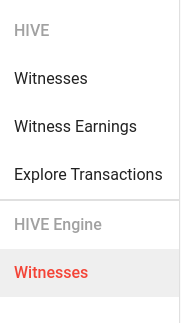 Dadurch gibt es nun eine klare Unterscheidung zwischen den beiden Applikationen. Unter HIVE kannst du die deine Votes für HIVE Witnesse anschauen und überprüfen und dir die Einkünfte der verschiedenen Witnesse anschauen. Außerdem gibt es eine paar Statistiken zu HIVE Transaktionen.
Unter Hive-Engine kannst du dir aktuell "nur" die Hive-Engine Witnesse anschauen, für diese voten und dir deren Einkünfte anschauen.
Die seitliche Navigation klappt automatisch ein / aus, je nachdem wie groß dein Bildschirm ist. Außerdem erspannt sich der eigentliche Inhalt der Seite nun über die ganze Breite und es ist daher mehr Platz für den Inhalt.
HIVE Witnesse
Die Witness Seite wurde neu gestaltet und verwendet nun ebenfalls Tabellen, ähnlich der Hive-Engine Witness Seite: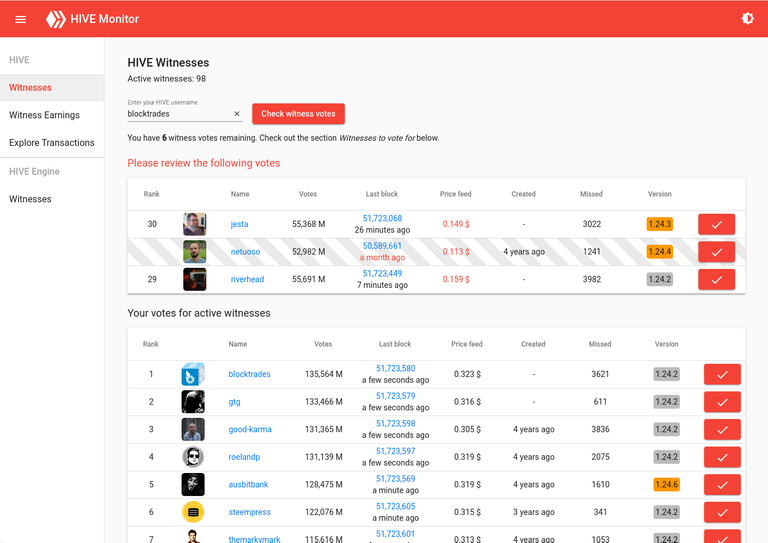 Ganz oben werden immer noch die Witness Votes in Rot angezeigt, welche nicht mehr aktuell sind und angeschaut werden sollten. Darunter sind direkt die restlichen Votes, sowie die übrigen Witnesse für die noch gevoted werden kann.
Die Tabellen zeigen nun mehr Details für die Witnesse an, unter anderem die gesamten Votes, das Alter, die Anzahl an verpassten Blöcken und die Version des Nodes. Außerdem können die diversen Spalten durch Klick auf den Header sortiert werden. Information die nicht mehr aktuell ist / die man sich anschauen sollte, wird in Rot hervorgehoben.
Deaktivierte Witnesse werden durch einen anderen Hintergrund hervorgehoben:

HIVE Witness Einkünfte
Auf der Seite mit den Einkünften der Witnesse wurde die Liste ebenfalls durch eine Tabelle ersetzt. Dies erlaubt es die Werte besser zu vergleichen und die Spalten können auch wieder sortiert werden: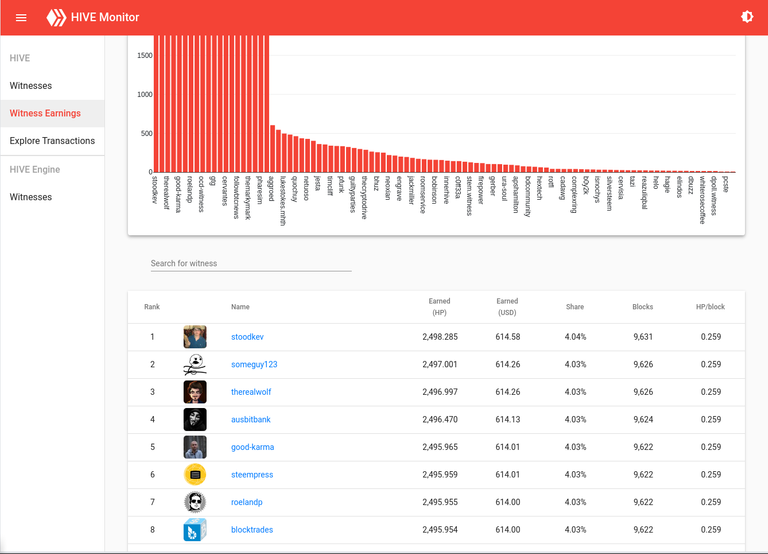 Hive-Engine Witnesse
Die Hive-Engine Witness Seite hat auch einen Redesign erhalten: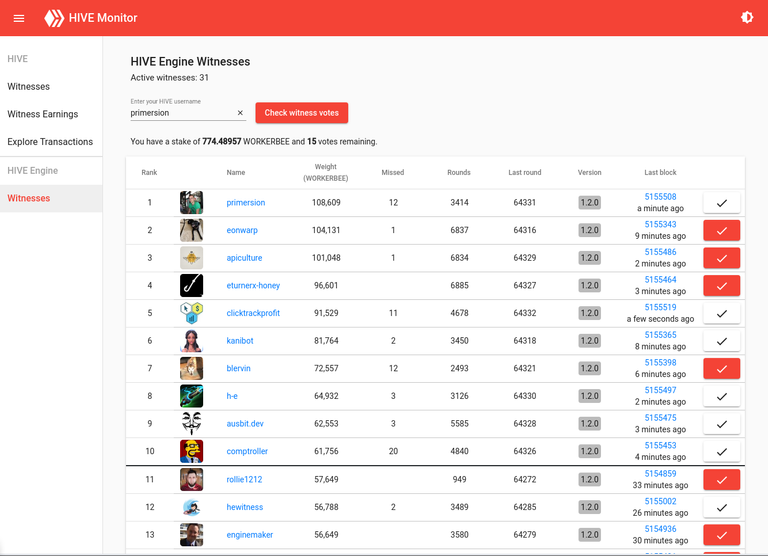 Die Spalten mit dem gesamten Voting-Gewicht und der Version sind nun nicht mehr so prominent und es werden nur noch Werte hervorgehoben die nicht mehr aktuell sind.
Die Votes der Witnesse können nun angeschaut werden indem einfach irgendwo auf eine Zeile geklickt wird. Dadurch wird diese ausgeklappt und die Votes angezeigt: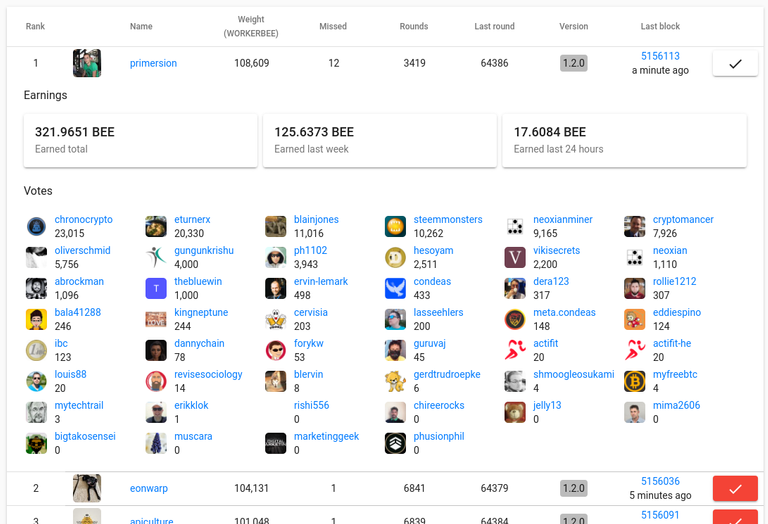 Hier werden auch die BEE Einkünfte der Witnesse angezeigt. Dies beinhaltet die gesamten Einkünfte, die Einkünfte der letzten Woche und der letzten 24 Stunden.
Die Positionierung der Witnesse wird nun nur mehr für aktive Witnesse angezeigt und wird ansonsten leer gelassen. Ähnlich dazu werden verpasste Blöcke auch nur angezeigt, wenn diese ungleich 0 sind. Die diversen Spalten haben nun außerdem eine gleichmäßige Breite, was die Tabelle generell etwas gleichmäßiger ausschauen lässt.
Deaktivierte Witnesse werden wieder mit einem anderen Hintergrund dargestellt:

Letzte Woche wurde das Hive-Engine Witness Protokoll aktualisiert und nun werden für den Prozess statt 6+1 Witnesse 10+1 Witnesse verwendet. Das ist in der Tabelle durch den dicken Strich nach dem 10ten Witness erkennbar: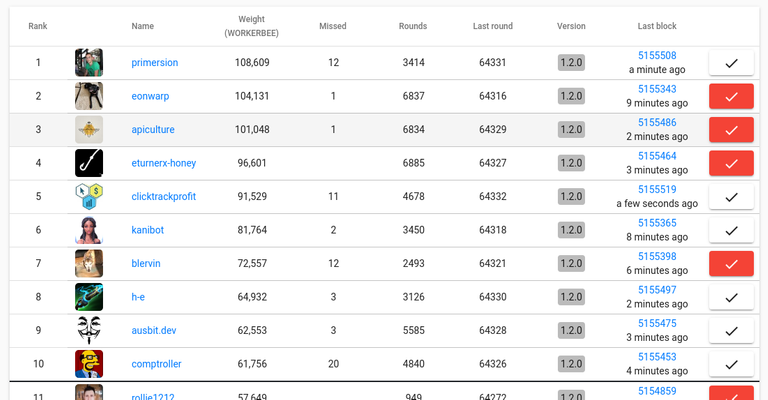 Oh und ich bin nun auf Position 1 :) :) :) Danke dafür an euch alle und danke für eure Unterstützung - ohne euch wäre das nie möglich gewesen!
Das war vorerst mal alles - Ihr könnt schon auf mehr tolle Updates gespannt sein und wenn Ihr mich unterstützen wollt, bitte voted für meinen HIVE Witness und/oder Hive-Engine Witness:
HIVE (mit Hivesigner)
Hive-Engine (mit Votify - Danke nochmal an @dannychain für das tolle Tool)
---
---