The Inkwell Short Story Competition. First Draft . Identity Crossroad

Christine and Linda had always wondered about their Mum and Dad. Having arrived in the UK after WW2, they had made their life here, given their children 'British' Names and 'fitted in'.
"We're clearly Indian," said Linda "but where exactly FROM". As children they had asked but any questions had been met with the reply "We're here now and you were born here. You're British. It's a long way away".
Childhood expanded into teenagerhood. The Beatles became popular, and the girls' swarthy complexions made them exotic in a George Harrison Hari Krishna way. Yes, there had been some racist comments in the playground following Enoch Powell's Rivers of Blood speech, but a good education, middle class friends and marrying 'white' boys had resulted in pale skinned children and even paler Grandchildren for Christine and Linda.
Christine was now 72 and Linda would be 70 next year. They had enjoyed 'good' lives. Both married boys from the building society where they worked together, had a boy and a girl each and enjoyed the comforts of a modern home in Solihull and the two families spend a lot of time together. The families decided that holidaying in the UK was what was needed to give the children fresh air and exercise, so it was camping in Scotland and time on the Norfolk Broads for them.
Over the years times had changed as their children grew up and spent holidays in Majorca, but Christine and Linda stayed closer to home and their last holiday had been in North Wales in a little B & B in Betwys-y-coed. Just the three of them now; Christine's husband Phillip sadly died two years before, so it was just Christine, Linda, and Linda's husband Paul. They had had a lovely time and enjoyed time at the Swallow Falls. "Mum mentioned a waterfall once she had seen when she was a child", said Linda when they were there, but that was where it had stopped.
It was difficult to say who they actually thought their Mum and Dad were. Known as Sherry and Jay King to their friends they spent time playing tennis and having 'a few friends around for drinks'. The former activity mostly merging into the latter. Their accents were decided British, although Sherry's slipped at times when she became tired. 'Speaking nicely' was the number one requirement in their household. So much so children in school often giggled and called them 'posh'.
With marriage and Midlands's life this had tempered, and Christine found herself having to correct her Grandchildren's grammar at times.
There seemed no reason to upset the applecart by seeking an unknown identity which had obviously been rejected by their parents many years ago as they sought a new world and a new life. Both parents passed several years ago and the secrecy with them.
"Grandma ", said Michael 'Can I talk to you?'. Christine was close to her ten-year-old grandson, son of her daughter Melanie, who came to see her after school, heading straight to the biscuit barrel.
Christine looked up from her crochet hoping this wouldn't be about the birds and the bees. Her friend Pauline said these were the most difficult questions and took a bit of ducking and diving.
"What is it darling?".
"You don't know where your family is FROM Grandma, do you?"
"Not exactly a long time ago but we are from here. From England."
"Someone told me we can find out where we are really from by doing a test.". Michael continued.
"What sort of test, Michael?"
"You test spit. That can tell you all the places your family comes from."
"Spit?"
Christine had been avoiding those Family Research Adverts for DNA tests. Surely, they can't really know from SPIT. They must look at your name and guess. "I'll look into it, Michael" she said. That was that.
A week later the box arrived. She hadn't told Linda about it, but she had sent off for an Ancestry Family History DNA testing kit. A bit expensive, but rather exciting. She even felt a bit naughty.
She opened the box and read the instructions. After an hour she had raised enough spit for the container and enclosed it in the envelope to return to the laboratory. A bit of a messy job but she cleared it all away and straight away went to the pillar box on the corner. She strangely had guilty feelings, but a frisson went through her body. What would she discover?
A few weeks passed and she had an email. She opened it shaking. She read it with care looking at all the diagrams and pie charts showing the geographical areas of family origins. To be honest it wasn't much of a surprise. All from the Indian subcontinent. In her heart she knew this.
She closed the email. Perhaps she should have spent that money on some new saucepans.
Then the emails started. The MATCHES. Names and sometimes grainy photos of Indian faces staring out with the claim they were 4th cousins, 3rd cousins. Often from as far away as the USA and Australia. Christine didn't know what to do.
Christine knew Linda was coming round that afternoon. She would have to tell her what she had done.
"How exciting!", said Linda. "Let's go and meet them!". Linda was always the most adventurous of the two and before she knew it Linda had booked tickets and accommodation to Chennai. She had got them passports, visas and even vaccinations. "Can't be too careful," she said. They would be met by 'cousins' at the airport.
Never having travelled abroad before Linda and Christine enjoyed the flight from Heathrow with all the flights meals and entertainment. Getting off the plan at Chennai two men approached them before they had even gone through customs and passed a note to Christine. It said '*There is something you need to know about your parents. Phone me. '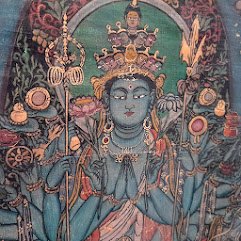 ---
---