Imitoken rose from fasting with a light heart. He had spoken to his god and his god had heard him. He knew what to do now. He entered his father room immediately after the last gong of the town crier had faded into the night and murdered him. His god had spoken. It was time to take his town to war. It was time to conquer the world. Where his father had been hesitant, he would be bold. Where his father had been weak, he would be strong.
---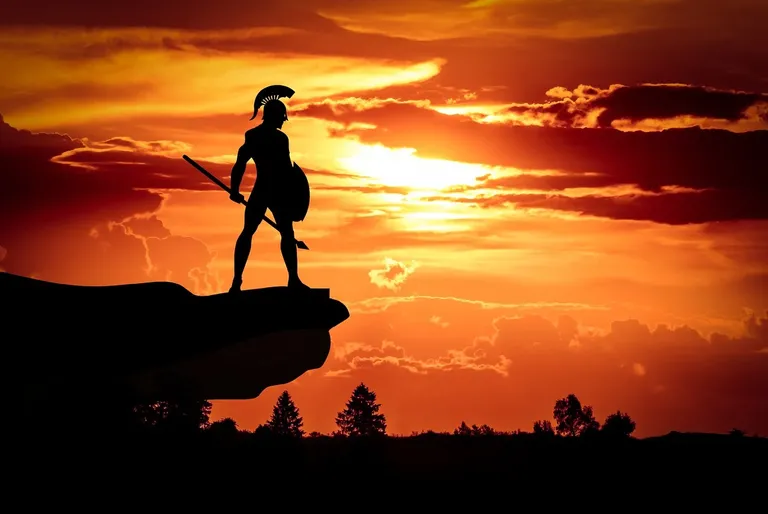 Pixabay
---
Still drunk with blood, he entered the women's wing in search of his wife but found her not. He called for her, blind to all else but she was nowhere to be found. Soon a search party was sent into the town in search of the new chief's wife. It took them two hours but they found her. They found her beneath her lover in the bush. Imitoken's rage was unbearable to watch. It was helpless. In the same night that he had claimed his destiny, he had also lost respect in the eyes of his people. Imitoken could not go to war with his enemies. How could he lead his soldiers to battle? His god had not shown him this or rather, he had not bothered to question his god about the layout of his wife's heart.
To make matters worse, Imitoken had no heir. If he were to die in battle, there will be no one from the royal line to take over. There would have to be an atrocious hunt for a new royal line. His advisers refused that he joined his army in the war against his enemies. He felt ashamed of his failings. He felt he had started poorly as chief of his people despite his bold moves to take the stool from his father. Once again, he sought the face of his god. Once again, his god promised him greatness. So he ignored his advisers, donned his war gear and led his army to war, an unprovoked war.
The war was short. It lasted for two months. In the beginning of the second month, a spear found Imitoken's leg, the knee joint cracked. The healers tried their best but they could not make broken bone whole. Imitoken was crippled. On his mat, beneath the ministrations of his healers and the priests of his god, he railed at everything. He cursed the gods, all of them, for they had lied to him. He caused the fickleness of women for he blamed his wife for his misfortunes. He did not curse himself for killing his father. Broken and almost demented, Imitoken was carried by his broken army back to their home. There was no victory song to welcome them. There were murmurs though; even the trees and rivers had words as to the disappointing turnout of Imitoken's attempt to be conqueror.
But it was not over. While Imitoken nursed his wounds both physical and mental, the enemy that had not wanted war with him amassed a large army at his gates and before the sun could find a suitable seat in the skies, they stormed Imitoken's stronghold and dealt them a heavy blow. People died as it is so in all wars and the town was sacked. Imitoken was dragged naked out of his house and led to the prince of his enemies. He was shackled and dragged away from his town as a prisoner of war. His people were scattered into the wind and the land that they had farmed and bled upon for ages was given to the victors as reward.
Imitoken was thrown into a cage as soon as he arrived at his enemies' town and then forgotten. For twenty years, Imitoken lived in that cage, accepting what was given, whether whip or food. He grew a limp in one leg and needed a staff to move about. His hair grew about his face and dreadlocks covered his eyes. For twenty years, it seemed as if he had been forgotten.
One day, just like any other day, he had a visitor. It was a young man. The young man stood before him and stared at him for several silent minutes then he ordered the guards to have him cleaned and brought before him. The guards bowed and did as he had ordered. Imitoken was brought to a well appointed room. In the room, under the light of a weak lantern with none to witness but a mute shadow and a vulture with hungry eyes, Imitoken heard a tale that made him weak.
You see in the beginning, Imitoken had loved a woman and she had loved him back. They had hidden their love because it was forbidden. She was a maiden destined as sacrifice to the gods. Imitoken refused to accept this fact and despite his lover's plea decided to petition his father. His father did not see his passionate plea as reason enough to change a law that had stood the test of time. He had the girl given to the forest. What they did not know was that she was pregnant at the time of her sacrifice and though it was believed that the women used as sacrifice were killed, it was not so. The priests of the gods are also men and men are greedy even men of gods. They sold the girl to the chief of their enemies. She was an outcast after all, what harm could it do?
The girl lived with the chief and her pregnancy became obvious. When the old chief questioned her, he learnt that she carried the heir to the stool of his enemies. This secret he did not reveal to his son. His son, the heir to his stool, came to fall in love with this girl and though she had a child, he took her as wife and raised the boy as his own. It was this new chief that had defeated Imitoken. The young man then that stood before Imitoken was his son. The news tore every solid place from beneath his feet. The boy informed him that his foster father, the former chief had died a year ago and his mother had told him the truth.
Why did she never come to see me? Imitoken asked.
The youth informed Imitoken that it was his mother who made sure he lived until that moment. The late chief had ordered his death but the queen who had the love of the chief's house and people because of her kind deeds asked the executioner to move him to a hidden cage and make sure that no one goes there except her. Imitoken staggered at those words.
Yes, the youth said, the veiled maid that brought all your meals was my mother and your love. She had you whipped so the prison warden would not take note of you. Every other prisoner got punished from time to time.
When Imitoken had gathered his wits about him again and that took time, he asked why he had been brought out from his cage and his son told him that after his foster father's death, he had been crowned chief because his mother had given birth to daughters after him. He has began a search to gather his true father's people back to form a kingdom that would stand strong against the coming tide from across the desert.
You seek to join the towns together? Imitoken asked.
I seek to create an empire, the young chief replied.
The gods were right, thought Imitoken. They were always right.
What do you need from me? Imitoken asked.
You will be my ambassador. You will find those that are lost and bring them home, the young chief replied.
So, twenty years after exile, Imitoken set out once again to conquer but this time not with spears and arrows but with words; this time not lands but the hearts of men. This time he went with pride. This time he believed his god. One can only wonder if he will find his people. One can only wonder if they will forgive. One can only wonder if they will listen to him again. I do not have the answers. My knowledge of events ends here.