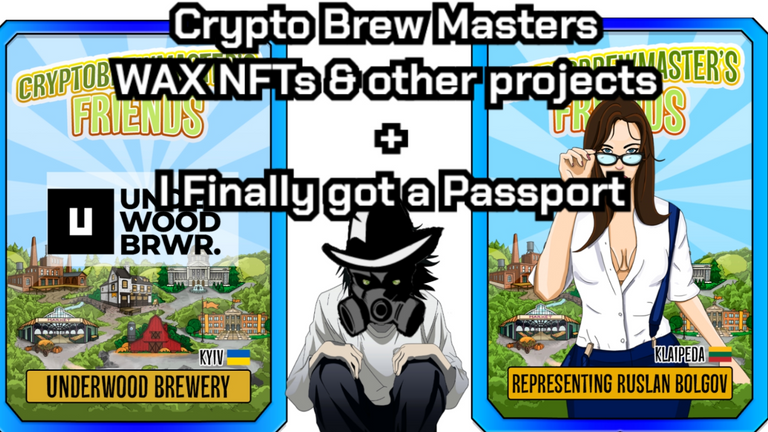 Finally I purchased a Passport in crypto Brew Masters, This has been a long time to build up all 1,000 ASH required to purchase it but the passport gives users a bit of an advantage. For starters posting all trades to their market now requires it assuming that I get sales there I have much less posted items to compete with thus giving me a leg up on the competition.
Not only this but eventually guilds will require a passport once the option becomes available. Perhaps the most awesome advantage to the passport has to be the AIRDROPS not that I received one yet but this is something I for one am very excited about.
I bought mine but Crypto Brew Masters are giving some away on twitter details
https://peakd.com/cbm/@cryptobrewmaster/2-2-citizen-passports-giveaway
So why should you play crypto brew masters well other then it being a really fun blockchain Game. The weakly challenges pay users HIVE and ASH, kind of how i paid for my passport.
Their WAX NFTs actually gave me my start on WAX NFT production and sales, this has been a extremely helpful addition to my blockchain portfolio. Since they gave me my first NFT which got me to look into WAX I have been including Airdrops in every post throwing in WAX even helped a couple Hive users start to produce their own line of NFTs.
All of this I owe to the simple act of giving me an NFT thank you doesn't cover it, I will be eternally grateful smallest of gestures can have the most unpredicted outcomes.
Game changes
There has been little changes to the gameplay in recent wees but this always seems to be the calm before the storm I anticipate something big must be on the horizon.
Not that I have a whole lot to go on but this line from one of https://peakd.com/@cryptobrewmaster recent posts is promising.
"We planning on working on the NFT Marketplace, that is gonna support all our internal and external projects. We are thinking on the Idea, that the stacked passport could cut the NFT minting fees or the market fee."
https://peakd.com/hive-140217/@cryptobrewmaster/cryptobrewmaster-passport-info-and-benefits
Not that I can say for sure but I'm hoping this means perhaps making WAX and Hive a little more cooperative with one another. However this is simply speculation and to be honest optimism.
Their other Game ocean world launched I played a little but to be honest my schedule is constantly jam packed. But I logged in to check it out it shows promise when I find time ill have to play some more and do a proper write up.
https://peakd.com/@oceanplanet
Partnering with real world breweries
This has to be one of my favorite aspects by partnering with real world businesses, Typically breweries in this case. Crypto Brew Masters Is helping to normalize and build awareness for Hive as well as the larger blockchain community as a whole.
https://peakd.com/hive-167922/@cryptobrewmaster/cryptobrewmaster-scouts-for-a-partner
I dont really care for alcohol but I appreciate the scope of a project like this and the potential future benefit to an undertaking like this one. As crypto becomes more mainstream projects like this are going to become increasingly important. The way they integrate the brewery labels and their WAX NFT projects chefs kiss perfect.
One day I would like to see a project like this adapted to cannabis dispensaries and Pipe stores. Education on the subject of blockchain isn't something that exists yet so we have to cooperate with and learn from one another. So when projects do something original like this I for one take notice.
Though I didn't have much to report on Game play The Crypto Brew Masters project is bigger then that I just wanted to bring this to attention. Dont forget to check out their WAX NFTs one of which todays airdrop will also include.
https://wax.atomichub.io/explorer/collection/gocryptobrew
Single claim airdrop
I try to include a single claim airdrop URL for WAX wallet users containing free NFTs, It may only be claimed by the first lucky person to click the link. After claimed once the URL will no longer be active. The lucky reader should receive 5 NFTs if you received less then 5 check your whitelist settings.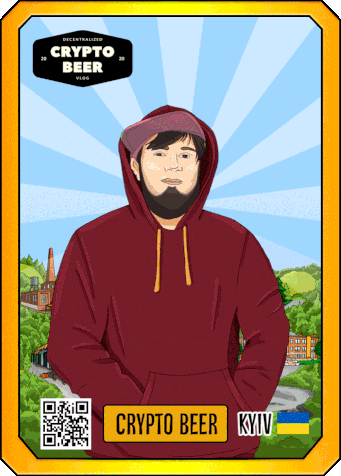 I'm throwing this NFT into the airdrop today An NFT commemorating their YouTube channel reaching 1,000 subscribers.
https://wax.atomichub.io/trading/link/57464?key=5KidCX3N7L5ZzNf88aogD3DmVHUz3vhtTYzJgcMBDey46r2TycZ
Please let others know the link has been claimed in the comments it helps
In the off chance somebody at Crypto Brew Masters Reads this, https://gamecredits.org/ Has Free NFT production and sale now as well as partnerships with support options for Blockchain game projects it is an ETH based project but they have done well despite the GAS fee limitations Especially with the free NFT production and sale.
Any one wants to purchase any of my thousands of dollars of WAX NFTs they are on sale here.
https://wax.atomichub.io/explorer/account/akyqy.wam
Or if you want to play crypto brew masters for the first time please consider using my referral.
https://www.cryptobrewmaster.io/game/invite?ref=3d5efa435682425384e9aeb6236ab07e&code=AlphaBonus