Español
English
---

¡Hola mi gente linda de Hive! que gusto saludarlos, hoy estuve practicando un poco más el dibujo, quise hacer un retrato de un personaje muy complicado de dibujar Dobby de Harry Potter, aún me falta practicar mucho más. Pero quise compartir este trabajo con ustedes.
Hello my beautiful people of Hive! what a pleasure to greet you, today I was practicing a little more the drawing, I wanted to make a portrait of a character very complicated to draw Dobby from Harry Potter, I still need to practice a lot more. But I wanted to share this work with you.
---

Lo primero que realice, fue hacer un pequeño modelo del tamaño del rostro de Dobby, para tener una idea del espacio que iba a utilizar.
The first thing I did, was to make a small model of the size of Dobby's face, to have an idea of the space I was going to use.
---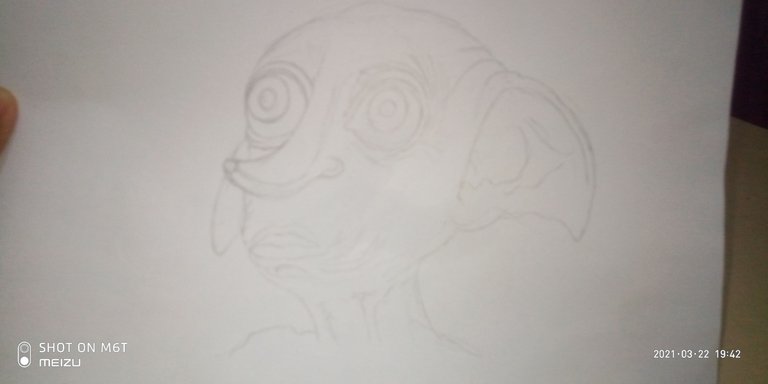 Luego comencé a dibujar el ojo izquierdo, para tener un punto de partida y porque siempre me gusta comenzar por los ojos, pienso que es una de las cosas que le da vida a los retratos, y los hace mucho más realista.
Then I started to draw the left eye, to have a starting point and because I always like to start with the eyes, I think it's one of the things that gives life to the portraits, and makes them much more realistic.
---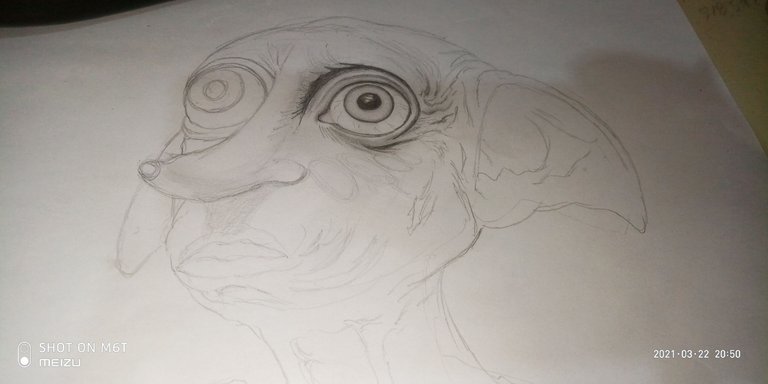 Después fui dándole forma al rostro, colocando las sombras que mejor pude realizar, para darle un poco ese aspecto de arrugas que tiene este personaje, la verdad no me resulto muy fácil, porque es un tipo de piel muy delicado y con demasiados detalles, solo realice lo que mejor pude hacer.
Then I was shaping the face, placing the shadows that I could do better, to give a little bit of that wrinkles aspect that this character has, the truth is not very easy, because it is a very delicate type of skin and with too many details, I only did what I could do better.
---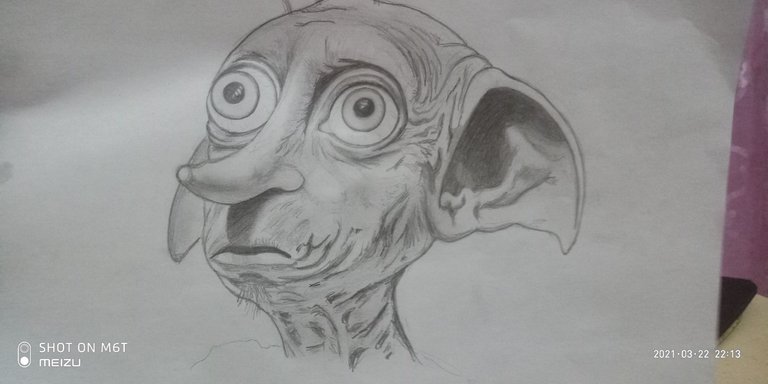 Me gustaría mucho, aprender a pintar con colores, aunque en estos momentos no tengo colores, espero poder comprar muy pronto una buena cantidad de colores, y empezar mi practica más realista. Los colores para mi son vida, y así pueden ver el resultado final de mi practica de hoy. Espero que les haya gustado. Saludos.
I would really like to learn to paint with colors, although at the moment I don't have colors, I hope to be able to buy a good amount of colors very soon, and start my practice more realistic. Colors are life for me, and so you can see the final result of my practice today. I hope you liked it. Greetings.
---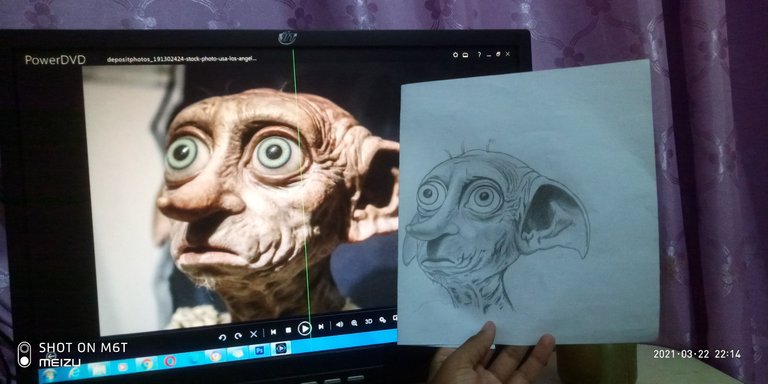 ---
Quiero seguir practicando los dibujos de rostros, es una de las cosas que más admiro de los artistas que dibujan rostros, es una de mis metas, siento que nací con este Don y debo perfeccionarlo, además es algo que me relaja mucho y me llena de mucha paz.
I want to continue practicing drawing faces, it is one of the things I admire most about artists who draw faces, it is one of my goals, I feel that I was born with this gift and I must perfect it, it is also something that relaxes me a lot and fills me with a lot of peace.
---

** Los separadores y cintillo son de mi autoria, para uso exclusivo de Hive.
** Para la traducción utilice https://www.deepl.com/
** Las fotos son de mi autoria, fuero tomadas desde mi celular un MEIZU/The photos are my own, they were taken from my MEIZU cell phone.
¡Gracias por su apoyo, por leerme y votar, GRACIAS!
Thank you for your support, for reading and voting, THANK YOU!