When you leave to a new house what do you do? If possible, you leave a forwarding address, just in case someone looks for you at the former location.
A few days ago the PeakD team had a great idea, in my opinion, which is exactly that: a forwarding address.
If you moved to a new house -- and you did since you are reading this post of mine on Hive -- and you don't expect to stay in both houses at the same time, you should leave a forwarding address at your old address, so people who look for you there know where you can be found.
The new feature is described by @jarvie in a post in the SteemPeak community on the Steem blockchain (I'm not sure if it was posted to Hive as well), but you can find it here:
https://steempeak.com/hive-175001/@steempeak/april-updates-to-steempeak
The second point is the one I am referring to, from the post which includes more points.
On SteemPeak, the "forwarding address" was called "re-direct", and you can see instructions on how to enable it in the above linked post.
Here's how my profile looks on SteemPeak with the feature enabled: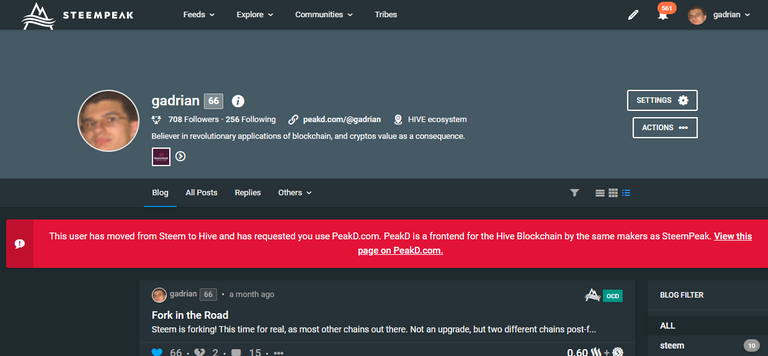 Now, this feature only works in SteemPeak. But what if someone uses steemit website, for example?
Don't worry, there's a way to leave a forwarding address which works in all interfaces which still operate on the steem blockchain.
And that is from your profile. You have there fields like website, location and maybe about, where you can make sure a visitor knows where you can be found.
For example, I changed website to https://peakd.com/@gadrian (my profile on Hive via PeakD), and location to "HIVE ecosystem". These changes are only on the steem blockchain if you make them via SteemPeak, of course! Your profile will be unchanged on Hive.
Here's how my profile on steemit looks like now: