CHRISTMAS GIFTS by PGM / REGALI DI NATALE by PGM (ITA/ENG)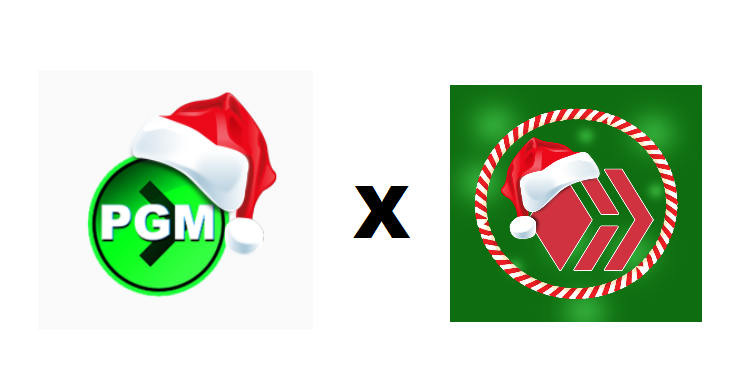 photo by @astrocreator
ENG
Hello to all friends of the PGM community, after announcing the upcoming Airdrop that will take place at the end of the month, if you are interested I leave the link to the post here we thought it was time to give some Christmas presents.
---
I don't know if you remember, but in the last post I made a spoiler...

photo by me
---
Well, dear friends, we are proud to announce a collaboration with the ChristmasHive community

photo by @astrocreator.
Obviously, before talking about the actual collaboration between the two projects, I want to explain to you...
HOW THE COMMUNITY WORKS
The rules of behaviour are simple.
A big family so you have to behave like one.
Post in English or include an English translation
like to read and look at the photos, it is advisable to write a post of 300 words and attach at least 3 photos
Use the tag #christmashive, it will help the curators read your post and you'll have more chances to get upvotes
Avoid spam or inappropriate content, be creative and tell us honestly about your Christmas.
Very simple rules that you can find on the home page of the community and if you are a bit more curious I leave you the post with which the community of @claudio83 was opened, you can find it here.
---

photo by @astrocreator.
---
But now let's take a closer look....
HOW THE COLLABORATION WILL WORK
There will be a kind of daily Engagment for the best two posts of the day.
Obviously to participate in this contest your post must be in line with the community rules.
And so prizes will be awarded to:
The post of the day with the best content
The post of the day with the most comments
So the quality and activity under the post will be rewarded.
In fact, both in my opinion and in the opinion of @claudio83, having a lot of interaction in the community is something fundamental.
BUT WHAT PRIZE WILL THE BEST TWO POSTS WIN?
Each individual post will receive 5 PGMs
so a total of 10 PGMs per day.
UNTIL WHEN DOES THE COLLABORATION LAST?
Well the collaboration lasts until the 24th of December, Christmas day, so from the 1st of December until the 24th of December you can win these daily prizes.
HOW TO SUPPORT THE COLLABORATION
To support the project and the collaboration you can do the following:
re-blog
mention users who may be interested in this project.
Each re-blog will be equal to 1 PGM
Each mention will be equal to 0,10 PGM
---

---
BUT WHAT IS THE PGM TOKEN
The PGM tokne (PLAY GAMER) is a project made for the video gamers and to assure to all the video gamers a real community based on the sharing of their favourite games both Blockchain and not. The project currently has these projects under its belt:
x Command !PGM
x Possibility to point the token
x Collaboration with the UTOPIS token community and CCH community
x Collaboration with ALIVE
And these are the future goals
Start an NFT shop with currency exchange in PGM tokens
NFT minigame with main currency of PGM token
---
If you have any ideas to improve the project you can write below or in the #new-ideas section of the server discord
---

---
TOKEN ADDRESS
---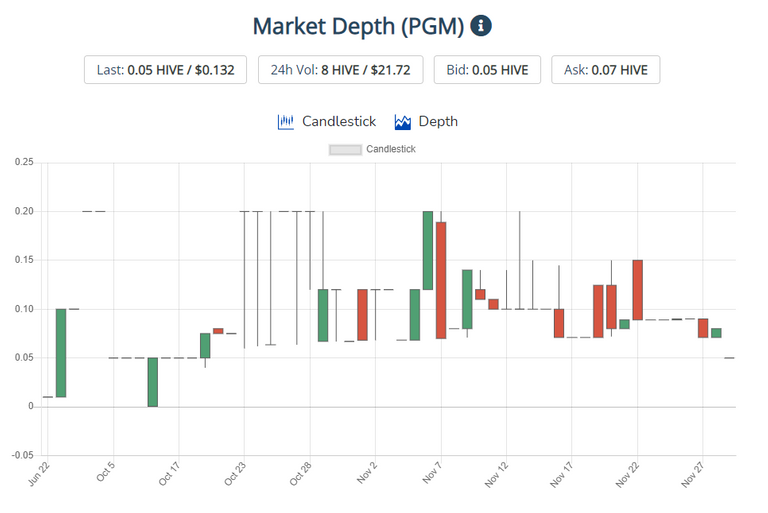 This is the trend of the PGM token, as we can see the price has dropped a bit due to some choices made for the PGM token.
Now for 39 days the PGM token has not gone down with trading volumes in the last 24h at $0 , this is all thanks to you....
1 HIVE = 14.3 PGM
1 PGM = 0.07 HIVE
---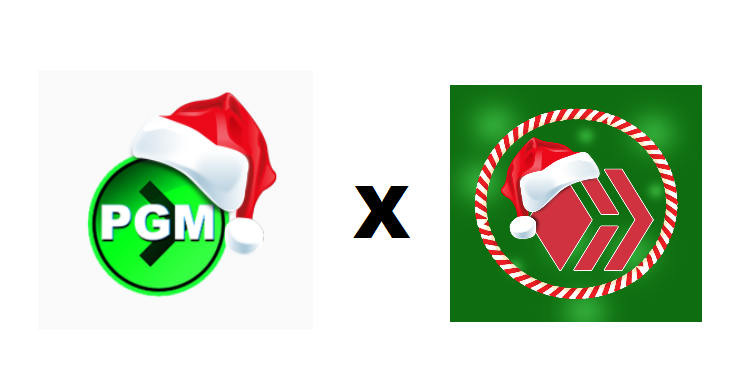 photo by @astrocreator
ITA
Ciao a tutti amici della community di PGM , dopo aver annunciato l'imminente Airdrop che avverrà a fine mese , se siete interessati vi lascio il link del post qui abbiamo pensato che sia arrivata l'ora di fare qualche regalo di natale.
---
Non so se vi ricordate ma nello scorso post avevo fatto uno spoiler...


photo by me
---
Beh cari amici e amiche siamo fieri di annunciare la collaborazione con la community ChristmasHive

photo by @astrocreator
Ovviamente prima di parlare della collaborazione vera e propria tra i due progetti vi voglio spiegare bene...
COME FUNZIONA LA COMMUNITY
Le regole di comportamento sono semplici.
Una grande famiglia quindi bisogna comportarsi come tale.
Postare in inglese o includere una traduzione in inglese
piace leggere e guardare le foto, è consigliabile scrivere un post di 300 parole e allegare almeno 3 foto
Usa il tag #christmashive, aiuterai i curatori a leggere il tuo post e avrai più possibilità di ottenere upvotes
Evita lo spam o contenuti inappropriati, sii creativo e raccontaci onestamente il tuo Natale
Regole molto semplici che potete trovare all'interno della home page della community e se siete un pò più curiosi vi lascio il post con la quale è stata aperta la community di @claudio83 , lo potete trovare qui.
---

photo by @astrocreator
---
Ma ora andiamo a vedere in maniera concreata....
COME FUNZIONERA' LA COLLABORAZIONE
Ci sarà una sorta di Engagment giornaliero per i migliori due post del giorno.
Ovviamente per partecipare a questo contest il vostro post dovrà essere in linea con le regole della community.
E quindi verranno premiati:
Il post del giorno con il miglior contenuto
Il post del giorno con più commenti
Quindi verrà premiata la qualità e l'attività sotto il post.
Infatti sia secondo me , sia secondo @claudio83 avere molta interazione nella community è qualcosa di fondamentale.
MA CHE PREMIO VINCERANNO I MIGLIORI DUE POST?
Ogni singolo post riceverà 5 PGM
quindi un totale di 10 PGM al giorno.
FINO A QUANDO DURA LA COLLABORAZIONE
Bene la collaborazione dura fino al 24 di dicembre , giorno di Natale quindi dal 1° di Dicembre fino al 24 di Dicembre potrete vincere questi premi giornalieri.
COME SUPPORTARE LA COLLABORAZIONE
Per supportare il progetto e la collaborazione potete fare queste cose:
effettuare il re-blog
menzionare degli utenti che possono essere interessati a questo progetto.
Ogni re-blog sarà uguale a 1 PGM
Ogni menzione sarà uguale a 0,10 PGM
---

---
MA CHE COS'È IL PGM TOKEN
Il PGM tokne (PLAY GAMER) è un progetto fatto per i videogiocatori e per assicurare a tutti i videogiocatori una community vera e proprio basta sulla condivisione dei proprio giochi preferiti sia Blockchain e che non. Il progetto attualmente a questi progetti all'attivo:
x Comando !PGM
x Possibilità di puntare il token
x Collaborazioni con la community di UTOPIS token e CCH community
x Collaborazione con ALIVE
E questi sono gli obiettivi futuri
Avviare un negozio NFT con cambio valuta in token PGM
Minigioco NFT con valuta principale del token PGM
---
Se hai qualche idea per migliorare il progetto puoi scrivere qui sotto o nella sezione #new-ideas del server discord
---

---
ANDAMENTO DEL TOKEN
---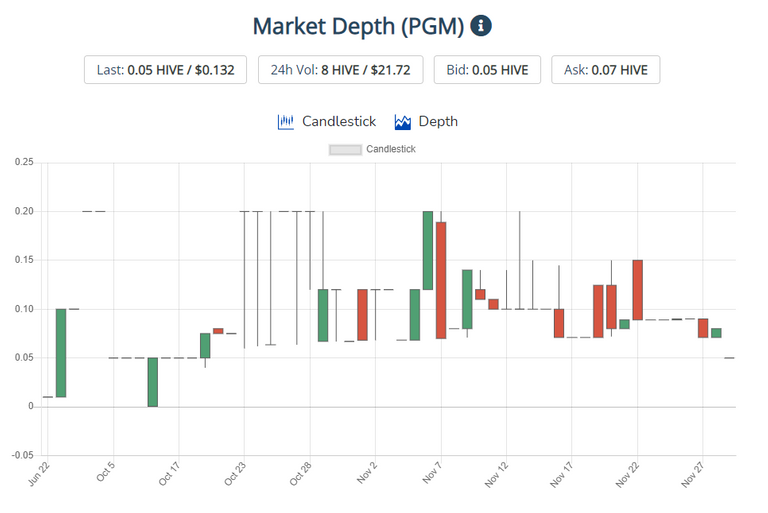 Questo è l'andamento del token PGM , come possiamo vedere il prezzo è un pò calato per via di alcune scelte prese per l'Airdrop che scadrà il 31 Dicembre.
Orami da 39 giorni il PGM token non scende con i volumi di scambio nelle ultime 24h a 0 $ , questo è tutto merito vostro...
1 HIVE = 14,3 PGM
1 PGM = 0,07 HIVE
---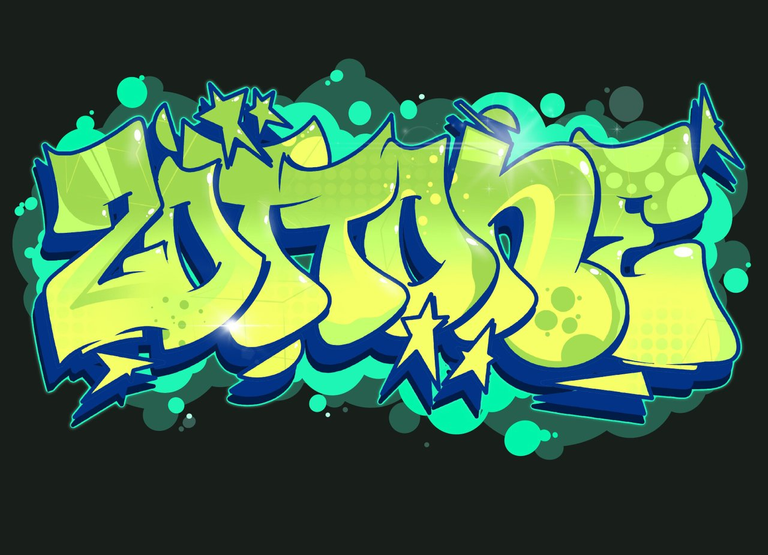 Follow me on
TWITTER ---> https://twitter.com/zottone444
TORUM ---> https://www.torum.com/u/zottone444
HYPPER ---> https://hyprr.com/profile/zottone444
NOISECASH ---> https://noise.cash/u/Zottone444
READCASH ---> https://read.cash/@Zottone444
BLURT ---> https://blurt.world/@zottone444
JOIN ON TELEGRAM ITALIAN GROUP ---> https://t.me/hiveitaly
FOLLOW HIVE ITALIA ON ---> Twitter -- Instagram -- Fecebook
photo by @rankoree / @darkflame / @astrocreator / @finguru / hive-engine .
---
My private socials
Instagram---> oh_alezott_
Twitch ---> zottone
---
Links that may be useful to you for the PGM token
Buy it here
If you don't know how to buy the PGM token click here
If you want to know what projects we collaborate with, click here and here
If you want to become a sponsor of the project click here
joins the PGM discord server
Buy games by paying with hive-HDB-Pizza Token here @thebeardflex
To buy my microphone click here
To join my fortnite community click here
---
@bencwarmer
@krok75
@aiovo
@imfarhad
@libertycrypto27
@blumela
@dynamicrypto
@blue.rabbit
@josseangel
@astrocreator
@misterc
@motivationsimo
@brutalmonkey
@tampilyne
@tokutaro22
@mrhuman88
@rickmc10
@dwixer
@mimi05
@atma.love
@lebey1
@moeenali
@flauwy
@melinda010100
@lozio71
@hollowknightgod
@cryptounicorn420
@choof
@servelle
@kwskicky
@bokica80
@bear.oneup
@ministickupboy
@stewie.wieno
@mchero
@mrhuman88
@jfang003
@lokywolf2295
@captaincryptic
@visionaer3003
@dagobert007
@shiftrox
@subidu
@pablodare
@weesleytv
@mvl2304
@oscarpower55
@joetunex
@cantfoldaces
@ahmetay
@phoenixwren
@stefano.massari
@harpreetjanda
@mynatasha
@carys
@shiftrox
@germangenius
@happyfrog420-new
@doriangel
@robibasa
---
---