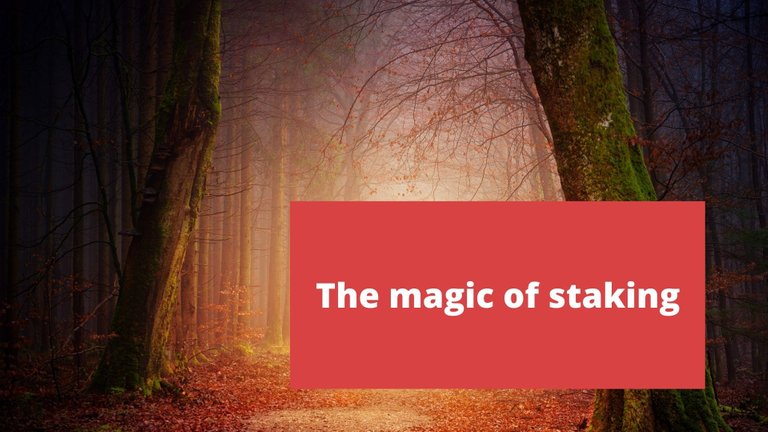 In one of my last posts, I've written about how to build a regular, stable income by staking tokens. Instead of cashing out all your earnings from this platform, I suggested that you stake it, or at least part of it, to build a stable income in the long term.
The magic dimension of staking
When you leave your money in a bank account, you will probably get 0 – 3% interests on it. These interests will probably be paid to you at the end of the year. If you have 1000 $ in your bank account, you will get 30 $ interests if rates are at 3%. This is great but it doesn't even come close to the potential of this platform.
To illustrate the potential of staking, I would like to make an example with you
Let's say you start the year with 1000 Hive and you stake all your tokens. In this example, you don't make posts.
Organic growth of your stake
When you have tokens staked, your stake will actually grow at a rate of about 3.47%. You don't have to do anything to get this. What is interesting is that this interest isn't paid out at the end of the year, your stake is actually growing every minute!
Using your stake
There are several ways how to make a nice return on your stake. You can either delegate your tokens on a platform like dlease.io and you can get a return between 12 and 15%.
Another way of generating a return is simply to use your stake to curate posts. By upvoting content, you will receive curation rewards. 50% of the value of a post is distributed among the curators. This can be even automated using a service like hive.vote.
Whether you delegate or you curate, you can get a return of about 10 to 15% on your tokens. The amazing thing however is that you get daily payouts from these activities.
Staking pays you out every day!
At first sight this seems not to be a big thing but it actually is. Your stake is growing organically and also thanks to curation/delegation. You earn 3.47% from organic growth and about 12% from curation/delegation. This is a total of 15.47%.
Because of the fact that your tokens are paid every day, you can reinvest all your earnings and you will thereby generate compound interests!
In the table below, I've made the calculation for a whole year and thanks to compound interests, the APR of my stake reached 16.75%. This is about 1.4% additional return just from compound interests! Where can you get 16.75% on autopilot?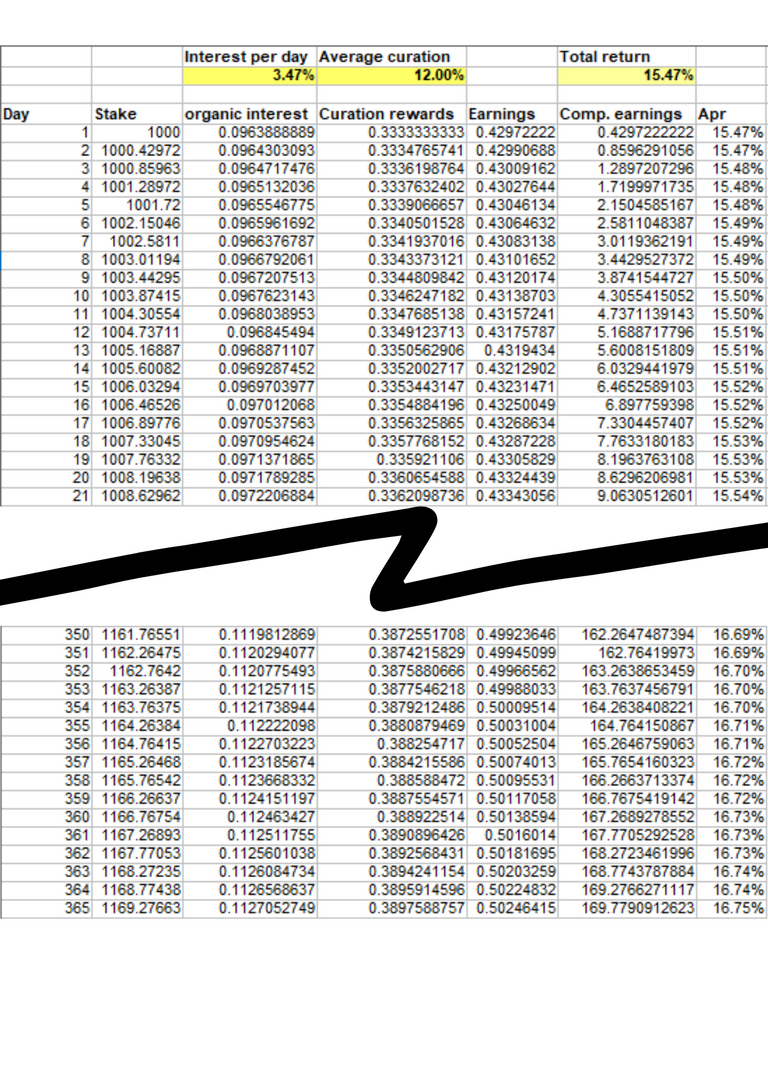 Now imagine that you make your stake grow by producing content regularly. This gets really interesting!
In short the potential of the staking economy is simply mindblowing. Once you have discovered that, you should do everything possible to make your stake grow as fast as possible.
---
Let's conect on Hive, Lbry or on Publish0x
My free e-mail course: The 100'000 satoshis a week strategy