The most important part of your Content Creation Business - You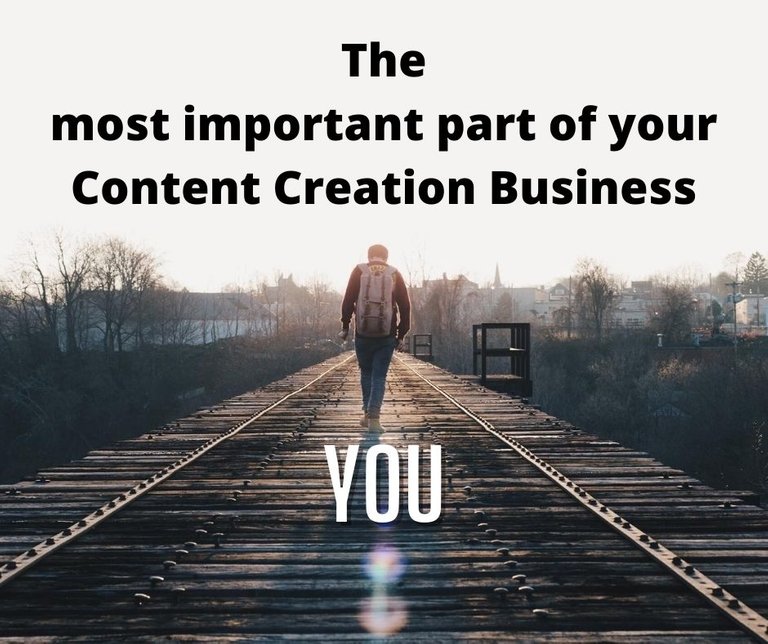 This is the second post in the series in which I want to show you how you should consider content creation as a business and ways to improve it.
These are the previous posts:
Content Creation is a Business and you are the CEO
In this post I want to look at what is the most important in your business... No it's not your product or content. The most important part of your business is YOU. If your content can be considered to be your products, YOU on the other hand are the BRAND of your business!
You are the brand of your business
Manage your Brand
As a consumer of content I tend to choose the articles I read or the videos I watch according to who produced the content. I have limited time and I don't want to waste it. So I choose the authors that I know for being able to provide quality content. From this perspective, your brand is more important than your products. I very seldom choose to read a post because of it's title. I often choose according to the author because I know them or because they came to my attention through different ways (I will talk about that in a later post). You are the brand and in this post I want to show you how you can develop this side of your business.
What is your brand and how do you define it?
You need to create your brand and manage it well. This is easily said but how is it done? First of all, you need to define who you are on this blockchain. A good piece of advice is to be yourself. Be yourself with your strengths and your weaknesses. What does this mean?
Find your voice
Above all, you need to find your own voice. Speak with your own words and produce content that is yours. At all cost avoid taking content from others or let others write your posts.
Imperfection is a part of all of us. Don't try to be perfect
Accept that you can't be perfect and you don't need to be perfect. We are all learning at different levels and on different fields. What seems nothing special for you, might be revolutionary for somebody else.
You don't need to be able to write Wikipedia articles to write about a topic. Write about it with your voice and your experience. If we want to read a dictionary.... well we would simply read a dictionary...
Your corporate identity
In order for people to find you and react to your content, it is important to have a certain corporate identity. You should have a logo for your business that can be a profile picture of yourself. Use the same logo on all the channels that you are using. Don't change this logo too often.
You can add a corporate identity to the layout of your images, videos or posts. Like that people can directly link the content to you. Make sure that this visual content reflects who you are and what you do. Don't hesitate to use a signature at the bottom of your posts. This can be a great way for people to find out more about you.
With each of your posts, you promote your business and your corporate identity should support you in this endeavour.
Define your products – your content
When you want to build up your brand, it may be a good idea to define what kind of content you want to produce. The content that you produce should be consistent with your brand. If each of your posts is about another topic, this might be confusing and not really helping to build your brand.
This doesn't mean that you have to write always about the same stuff but there should be a kind of consistency. You can create a series on a certain topic or write about one topic on Sundays and another topic on Wednesdays for example.
If you want to reach a level where people subscribe to your posts and give you automated upvotes, it is a good idea to have a certain consistency on how often you post and what you post. If you make 5 posts in one day and then nothing during a week, you might scare people off. You can be consistent and write two posts a week or a post every day.
Another good idea is to have a certain standard for your posts. If you write well researched posts most of the time and then you post 4 pictures of you and your cat, this will also not go down well. You need to keep a certain standard if you want to get automated upvotes. People gladly will give you an upvote for a quality post but they won't give you an automated upvote if only one out of 4 posts is of quality.
If you want to post about different topics and subjects or even mix different media, it might be a good idea to have separate accounts and specialise these accounts a little bit.
A tricky questions for your: If you had 20 words, how would you define your content creation brand?
In the next post in this series I will write about your products, your content
---
Let's connect on Hive, Lbry or on Publish0x
My free e-mail course: The 100'000 satoshis a week strategy

---
---