Hello community, recently I've been more aware and thoughtful of things that 15 or 20 years ago I didn't even think about, might I be getting old?
Well, I am 37 years old, however, sometimes I have been labeled as old in my thoughts for thinking about the future differently than most people think, at least my age, this happened to me more often before, but, nevertheless, there are things I would like to comment in this post, that in a way I could think it is the thought of other people, and I would like to know through the comments if it is really so....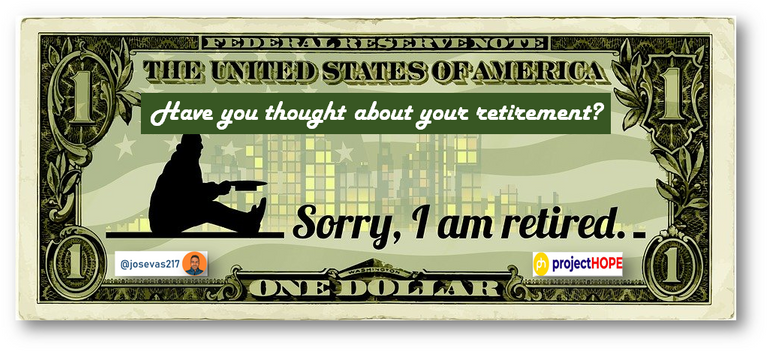 Edited ImageSource
I know that seeing the dollar as the main image of this post, in an image that speaks for itself, you might think that I am focusing on a specific country, and in reality I am not, because I am Venezuelan and currently live in Bogota, the Colombian capital, and I can say that concerns about getting older and being in a complicated economic situation is something I frequently see here in this country.
Old people going through the garbage looking for something to recycle and then sell for a few pesos to provide food that day or the next day, is a reality.

Source
I also know that it is a reality in many other countries, and although I have not yet set foot on the soil of any developed country, I am afraid that in a certain way they show us the pretty face of each country and that all of them could have some similarities in this aspect.
To believe that the government can bear the burden of an entire population of "older adults" is absurd, we know that this is not possible, but in the face of this reality the only thing left is to work from now on so that one can procure a better future for oneself, without so many worries, no more than those that arise routinely, but that not having a roof to sleep under or that the scarcity of food in your home is not your future reality.
These are aspects that I had not thought about before, but now I do, perhaps because I am a migrant in another country, probably because I am getting a little older, or simply because I am facing the future, working now to ensure that what is a reality for many today is not my reality, nor is it close to it in the future.
I wish everyone a great future in the medium and long term, that they manage to consolidate as independent and that they never depend on anyone to survive.
Thank you very much for reading me.
I would like to know if you had thought about your future as elders, if you have a plan for an early retirement and to be able to enjoy a quiet life without shortages...I will read you in the comments.


I authorize the use of this banner to everyone who wants to do it.