Hello and Namaste Everyone
It's high time that we must understand that covid is getting worse these days in India you are in a country where the situation is the same or even fired then I think we should not take it for granted.

This second wave of covid 19 spread has been highly dangerous. these days in India every day more than 200k cases are coming up and there is something very serious issue and alarming that we need to take utmost care of ourselves as well as the people who are around us. Even in my apartment, more than 50 people are found covid positive and the situation is very bad here. people at school are scared to get infected by covid and because of that, they have stopped going outside unless it is really necessary.
The current high positivity rate reinforces the possibility that the virus has spread at a much faster rate during the last couple of months, and infected many more people compared to last year. During the first wave, the positivity rate had peaked in the last week of July last year, and it steadily declined after that even when the positive cases continued to rise in August and September.
src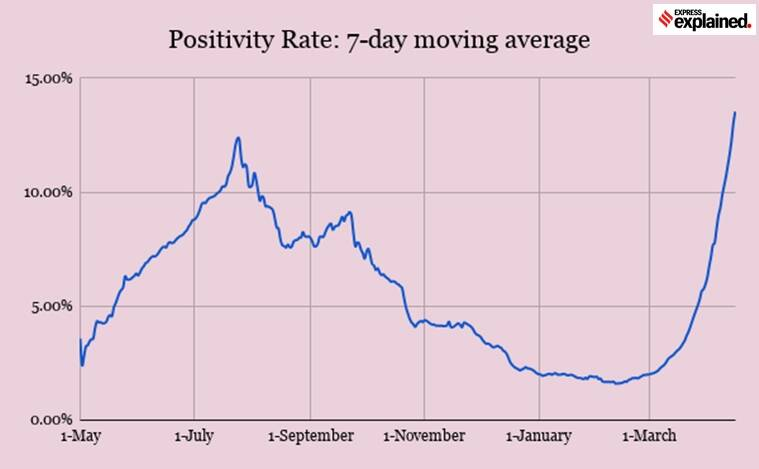 ---
Experts are saying that this way will continue for next couple of months and until July it is going to be similar so it's the best way to keep ourselves home as much as possible because of this. Is going to be almost three months' time. Vaccination he's already going on at full pace and the government has made it available for everyone above 45 years. Vaccination is a way to make us more immune and this process takes 42 days of time. one has to take 2 doors of vaccines to get the complete dose within the cycle of 42 days.
Hopefully, the government will make some arrangements so that age criteria will be reduced in the coming weeks or months time then many more people will be able to get the vaccination and we can hope for a better life thereafter. but please do not expect any miracle to happen over the night because this process is going to take quite longer. We are expected to follow the precautions for the best of our safety and health.
I have got myself covid tested today and waiting for the result which will come after two days operated three days' time because these days lot of rush is there. I am keeping my fingers crossed and hoping that things will not be positive and my result will be negative so that I can expect a better life otherwise next 2-3 weeks are going to be worst and I don't know how I'll be managing these things because this is something related to the family.
So guys please don't take it lightly and do whatever is best for your health and safety and follow proper social distancing from the people and avoid going to crowded places.
Thank you.
Stay Safe
Namaste from India