ALMOST A MONTH OF MUSICFORLIFE! (The numbers of our first month)

---
THANKS
---
A CRAZY ADVENTURE
---
I would like to thank in advance all those community members, authors, curators, partners, musicians, and even readers who are part of the recent M4L ecosystem.
I must say that I am very and more than happy with the performance of this first month of the community. What comes later will be very epic and we really want to continue creating and improving the environment for the proper growth of the platform.
M4L will not be just a tribe, but it will clearly be the base of the community, I also applaud with emotion the amount of strong hands we have here and so much talent that is gathered in our community.
This First Month
---
Before, I find it interesting to mention it but we are about a month and a half away from the first stage of rewards deflation. (21% less)
M4L had a more than warm launch from the community of hive, risingstar, spinvest and everyone who participated in the miner sale.
According to google analytics, the "musicforlife.io" domain receives approximately 5 to 15 visitors per minute, which leaves us at around 400 unique visitors per day. We have added google ADS which we have yet to optimize to create a constant revenue stream for the growth of M4L tokenomics.
The new UI is in process, we already have the complete mockup that you can find in the discord, which by the way you can see that you can now access the community discord from the main M4L interface.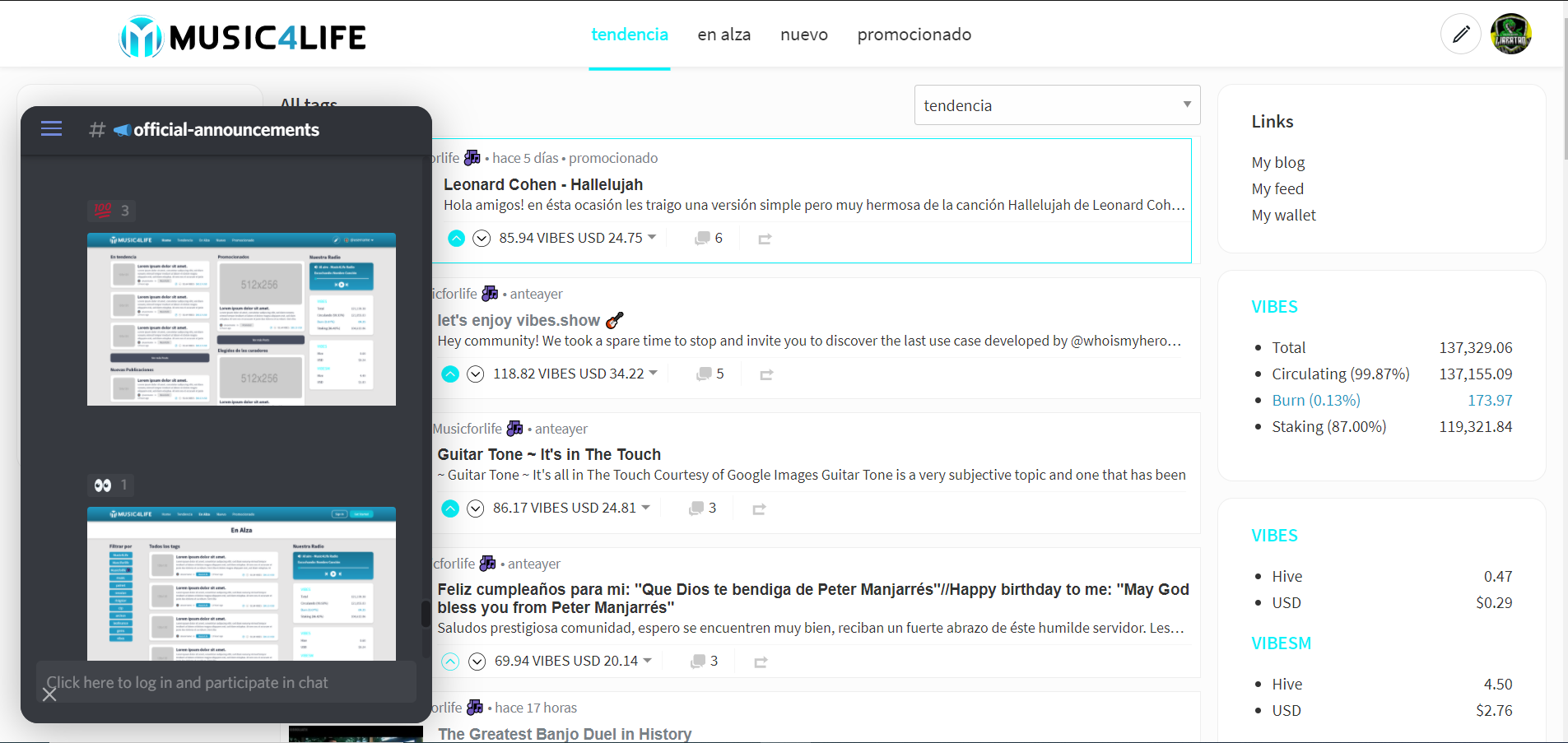 Minor details like being able to see the amount in USD you get in your posts, a list of previous posts by the authors, etc.
About radio, it will probably be released together with the new UI so as not to have to do a double job on the code.
---
Rewards
---
Let's take a look at this excel document with some approximate numbers, we must take into account that they are not 100% exact because the scottbot is a bit strange for the burning part.
A few features after the 100k VIBES that were launched as an initial supply. Subtracting the 288 VIBES that miners receive on a daily basis, we have to reward the community with around 27268 VIBES.
Which means that the authors have received taking the current price of vibes of 0.289, a total of $ 3900.
And the curators $ 3940, this happens because the scotbot first takes out the rewards from the curators and then performs the 1% burn. It is something that is out of our hands at least for now.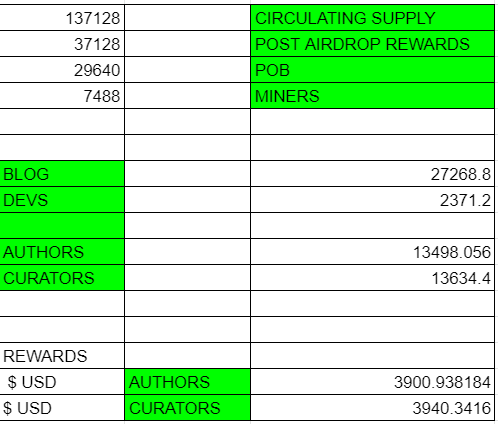 It must be taken into account that almost 87% of VIBES are in staking which causes an immense shortage in the sale, in fact someone with less than 1000 HIVE can make an X10 in the price of VIBES. *** Diamond hands ***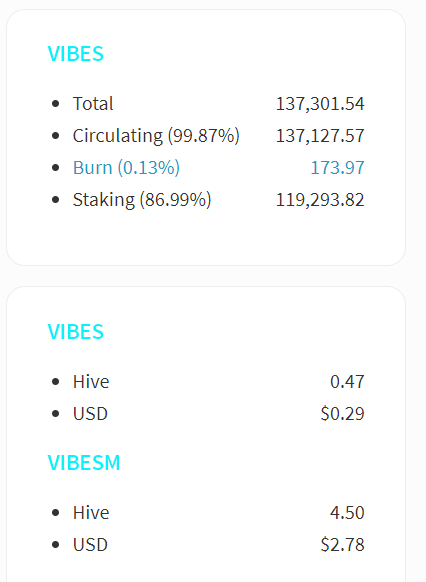 ---
There are still many things we have in mind to do, this is just the beginning, not only we as a team can contribute to the growth of M4L, I also thank @whoismyhero for creating https://vibes.show/ a new app for the M4L ecosystem.
But hey, I'll leave you a spoiler of things to come:
NEW UI
RADIO
WAX NFT SALE (to buy and burn vibes)
FARM NFTs WITH VIBES AND COIN PARTNERS
VIBES FAUCET
I hope you have a great day, I wish you the best vibes for your lives.
---
---
SOCIAL MEDIA 🎶
---

---
Posted via MusicForLife.io
---
---