Some time around lunchtime Today, I was watching one of the many cooking programs on UK TV. One of the Chefs then mentioned that they were making Apple Pie specifically for "National Apple Pie Day" 🍏 This seemed like a great topical theme for my post. My active brain moment you might say! LOL
Today is "National Apple Pie Day" 🍏 on the "National Holiday" Calendar for Thursday 13th May 2021.
So here are some interesting facts...
Apple pie has been around since the Middle Ages. A Dutch cookbook dated 1514 lists a recipe for "Appeltaerten". It called for a standard pie crust, slices of soft seedless apples, and a few tasty spices—specifically cardamom, ginger, cinnamon, nutmeg, clove, mace, and sugar—all cooked up in a traditional Dutch oven. The English also had their version of apple pie, which dates back to the time of Chaucer. The English version also suggests adding figs, raisins, and pears to the apple-and-spice mixture. In Sweden, apple crumble was the gold-standard. Traditional Swedish apple crumble requires breadcrumbs or rolled oats instead of pastry, and is served up with custard or ice cream. In France, apple pie is served upside-down as a tarte tatin.
The French also caramelized their apples, an innovation which added a whole new dynamic to the flavor. They were also the ones who decided to add cheese to their pies, which actually makes for a surprisingly delicious treat. In the 17th century, apple pie was finally brought to the American colonies. Over time, apple trees (which were not native to the Americas) began to grow, which made baking much easier. Now, apple pie has become an indelible part of the American identity, to the extent that apple pie is considered one of the most American things in the world.
So this event Today is important to create a better understanding, and hopefully more awareness of the condition. Sadly, there is no known permanent cure to this illness. Much more research is desperately needed for sure...
Text Source: Please visit "The National Calendar Website" Link [here] (for more information).
Now for some appropriate Music...
Today finding the right song with pie in the title was fairly easy. Many thanks to the great music artist Don McLean.
My Song Selection For Today is: "American Pie" sung by the artist Don McLean ~ Uploaded to ©YouTube by ©Universal Music Group
Above Music Video Source: ©YouTube [Here]
Below Image Source: "Screen Shot" from ©YouTube [here]
The picture (below) depicts a live performance by Don McLean on UK TV in 1972. The show was named "Sounds For Saturday". First shown on the BBC News-Night Channel.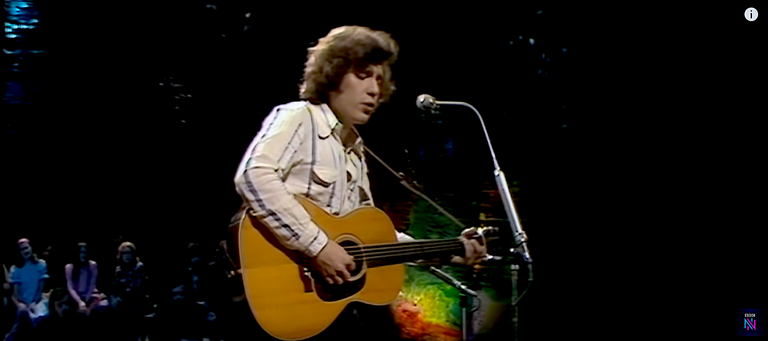 Also notice that the special Twitter "hash tag" #NationalApplePieDay is currently trending!
So you can start interacting with many others on Today's topical event, by Tweeting there NOW!...
Many Thanks for reading and listening,
see you all again very soon... 👋