Close your eyes and feel the music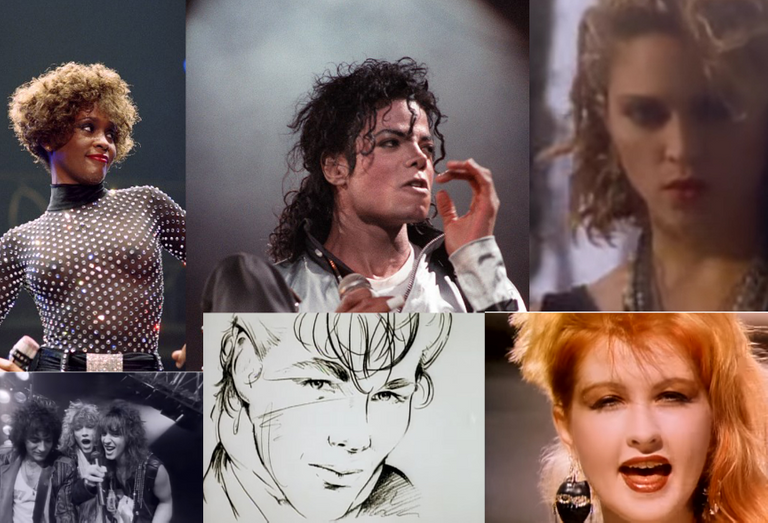 In this list I will put you the best pop songs of all time. Or at least, the ones that I like the most and that have sounded the most on the planet. They come in all styles and for all tastes, but they all deserve to be there for something.
So close your eyes and feel the music
'One love' by Bob Marley
Well about this song you already know what I feel when I listen to it, and if you don't know... look at the previous post
King of Kings
'Take on me' by A-ha
They may be further north than most, but never has a Norwegian group made it that high. 'Take on me', released in 1982, is one of the great anthems of the 80s. A song recognizable from the first moment that sums up a whole decade in terms of sound and aesthetics. Also, a video clip that was, in its day, a complete revolution at a technical level due to its mixture of pencil drawings and a real image, I was speechless when I saw it.
what a beautiful song
'Thriller', by Michael Jackson
From those first recognizable chords to that chilling Vincent Price interlude - not to mention the epic and revolutionary accompaniment to that musical mini-film that marked a before and after in the video clip world - 'Thriller' became a classic on the same time it was published and is still as popular today as it was in 1982. The 'moonwalk' never goes out of style. I have good taste, you don't think...
'When Doves Cry', by Prince
The great artist formerly Known as Price fought against music copyright infringement throughout his illustrious career, to protect great hits like this song (which is why it is almost impossible to listen to a Prince song on YouTube or any other online platform ). This 1984 song returned to the charts after Price's death in 2016 to remind us all that the legacy of those who shine will never be extinguished. What a pity that he is not with us yet
'Rehab' by Amy Winehouse
Another great artist who left us very young Amy Winehouse, the London singer touched the sky ... and then fell to the depths of hell. An album in which she masterfully mixed soul, jazz, pop and R & B, and of which it is difficult to highlight a single song, although it was 'Rehab', her first single, which catapulted her to the international fame. The rest of her tragic story is well known: drugs, scandals, a sick persecution by the paparazzi and an untimely death, in 2011, when she was only 27 years old.
'Rolling in the Deep', by Adele
The British explosion (aka. Adele) rose to international fame with this song, released when she was only 21 years old - although her voice gives off the experience of a woman decades older. Nearly unreachable vocal tones and a tainted love story earned Adele two Grammys as fans around the world screamed and sang this hymn of breakups. And she still has a great career ahead of her, although I have not heard from her for a long time after separating from her husband.
'Single Ladies (Put a Ring on It)', by Beyoncé

The quintessential anthem of single women around the world. Catchy, with its own Spanish version, no one can resist the dance of 'Queen B' in leotards, moving in that unique way with two dancers. And yes, Kanye West was right:
"Beyoncé has one of the best videos of all time!"
'Get Lucky' by Daft Punk
One of the most danced hits of recent times. And probably one of the roundest songs ever composed. French electronic music duo Daft Punk joined forces with Pharrell Williams to create a song that has become a modern classic. If your feet don't go away when you listen to it... you simply don't have blood in your veins jejejejejej
'Uptown Funk', by Mark Ronson and Bruno Mars
Bruno Mars provided the voice for this song produced by Mark Ronson for the fourth collaboration between the two. She swept the 2015 Grammys, even winning the Song of the Year award, and her video clip has become the third most viewed video on YouTube. It was also used as a single in all of last year's commercials, probably. And besides that he dances like the angels themselves.
'Crazy' by Gnarls Barkley
When producer Danger Mouse and rapper Cee Lo Green teamed up to create the group Gnarls Barkley, they probably didn't even imagine how far their first single, the irresistible 'Crazy', would go. A song that hooks from the first listen and that came to be considered by 'Rolling Stone' magazine as the best of the first decade of the 21st century.
Craaaazzzzzyyyyyyyyyyyy.......
'Hey ya!' By Outkast
Never has pop and hip hop combined so well. In 2003, Outkast reached the top with 'Hey ya!', The presentation single from their album 'The Love Below'. In the United States it was all the rage, and critics unanimously voted it one of the songs of the year. This was undoubtedly contributed by an original video in which André 3000, 50% of the group, interprets eight different versions of himself.
A genius for me
Well this is it and surely there are many more and better, but if I put all this post it would never end.
Just close your eyes and listen to the song, that's the best of everything you feel inside, and then tell me, I would love to read those feelings
---
Posted via MusicForLife.io
---
---