Rising Star - Completed 4k Missions... Opening a Pack...

Hello all friends,

More playing means more starbits.

---
Sharing my game status....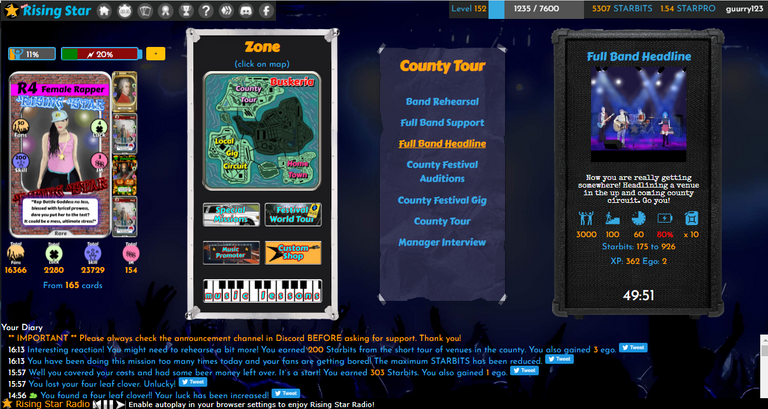 Completed the level 152 and now heading for level 153.
---
The 4k mission completion means a Pack form as reward. Opened the pack and received below cards form the pack...

R90 Touring Coach - 550 Fans, 3 Luck, 0 Skill & 3 IM
40 Rosanna - 10 Fans, 0 Luck, 5 Skill & 0 IM
34 Drew - 10 Fans, 0 Luck, 5 Skill & 0 IM
In total it added 570 Fans, 3 Luck, 10 Skill & 3IM.
---
Now days most of the time I am working on Full Band Headline &
County Festival Auditions. The mission took 60 and 120 Min respectively to complete.
Some time do County Festival Gig also and it took 180 min to complete the mission.
I am focusing to unlock the level 175 which will enable me to perform the County Tour.
---
Festival World Tour
I am able to complete some of the Festival tours also. Purchased some Starpro from the market to performer the mission as we required 1 Starpro per mission. Here is my collection :-


---
How is your progress in game?
---
Have you start playing the game if not feel free to use my referral link and start earn Starbits token.

---
---