Back down to 79th
In a 24 hours span I am back down to 79th. Not ideal but have to take note that my mission minutes drop dramatically. This is attributed to me spending most of my energy on the special missions rather than trying to accumulate the best ROI in missions minutes and Starbits earned.
I am not as worried with the ranking drop since I attribute the drop due to reduced mission minutes. I will be able to boost that back up now that I am focusing mostly on long duration missions.
My Stats and Card Collection Updates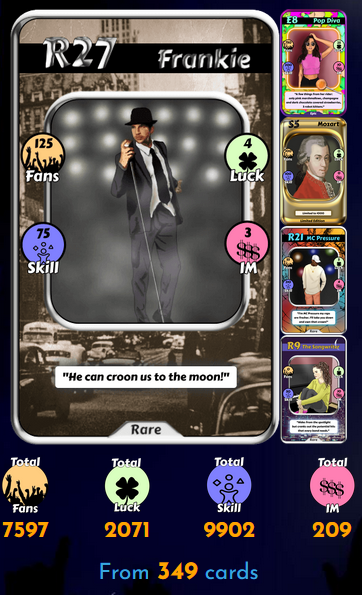 Day by day I am earning more skill points which helps lower my Ego and earn more Starbits per mission. I hope to get to 10k within the next day or two and will likely focus mostly on earning Starbits afterwards.
On the front of earning XP I am basically one level up and now at 133.

17 more level ups before I can partake on the next new mission.
Thanks for reading and hope everyone become a rising star!!!
My Past Posts on Rising Stars:
Rising Stars - Investing in IM to Get Higher Ranking
Rising Stars - Now ranked 78th.
Rising Stars - Level 130 but big drop in rank
Rising Stars - Steady Progress...
Rising Stars - Earning 0.04 swap.hive a day...
If you have not started playing Rising Stars please try it out. Link in pictures below and the game is FREE once you create an Hive account.