Back up to 77th
As I suspected yesterday that my lack of mission minutes was main culprit of my drop in ranking. Now with special missions over and a reserve of Starbits to spend I am going to shop around for cards as I see fit. Focus on cards that give me better stats to boost my ranking is ideal. Priority is people than instruments.
Meanwhile I am still learning how to combine NFTs to create crafted cards. Apparently many players are doing this and in rapid successions daily. I see in the front of the game page @vcelier having rapid successions of multiple crafted cards rewarded daily. Wonder how easy it is to obtain such cards? Will look into it and report back.
My Stats and Card Collection Updates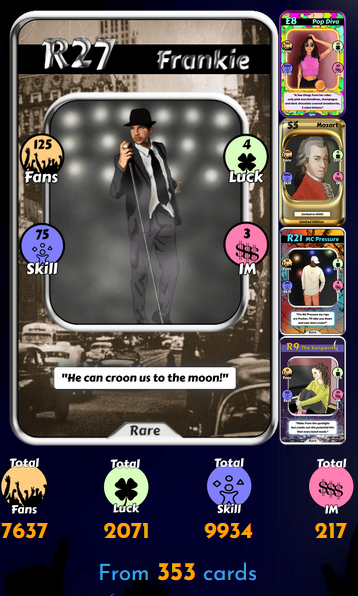 I added a handful of cards today right after new rankings were updated so for tomorrow I will have to see if the new card additions help boost my ranks. Meanwhile almost to 10k skill points as I slow and steadily increase that particular stat. I would have thought by now I would get there, but been busy trying to earn more mission minutes and starbits.
On the leveling up side I am now at 134. Each day one level up so making progress there too.
Thanks for reading and hope everyone become a rising star!!!
My Past Posts on Rising Stars:
Rising Stars - Battles in Ranking...
Rising Stars - Investing in IM to Get Higher Ranking
Rising Stars - Now ranked 78th.
Rising Stars - Level 130 but big drop in rank
Rising Stars - Steady Progress...
Rising Stars - Earning 0.04 swap.hive a day...
If you have not started playing Rising Stars please try it out. Link in pictures below and the game is FREE once you create an Hive account.