Rank 56th
Not ideal to be losing ranks but not surprise since I did not add cards to my collection. The higher ranks sure are competitive. With that small drop I basically earn 25% less hive, now at 0.11 swap.hive / day. It will continue to drop if I do not stay active adding to my card collection. I am in search of deals daily now.
My Stats and Card Collection Updates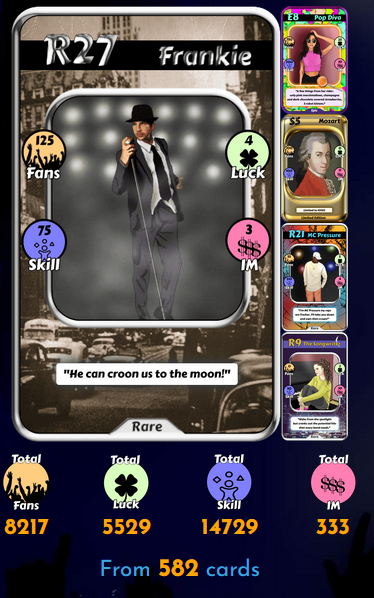 The skill point gains comes from multiple music lessons completed daily and now I am close to 15k mark. If you do not remember less than a week ago I was trying to get it over 10k.

Close to level 142 which won't be long as I am finishing up a mission as I write this post.
Thanks for reading and hope everyone become a rising star!!!
My Past Posts on Rising Stars:
Rising Stars - Up One Rank to 53rd
Rising Stars - Moved up to Rank 77th...
Rising Stars - Investing in IM to Get Higher Ranking
Rising Stars - Now ranked 78th.
Rising Stars - Level 130 but big drop in rank
Rising Stars - Steady Progress...
Rising Stars - Earning 0.04 swap.hive a day...
If you have not started playing Rising Stars please try it out. Link in pictures below and the game is FREE once you create an Hive account.