Now Ranked 53rd
In the process of playing more missions I have also earned more mission minutes. This in turn lead to increase in overall points and help me keep up in the ranks of top 100. Ideally I hope to stay in this range of ranks as daily swap.hive rewards is turning into a bit more useful. If I hold this ranking for at least 10 days I basically earn 1 swap.hive. May not sound like much but it adds up in the long run.
My Stats and Card Collection Updates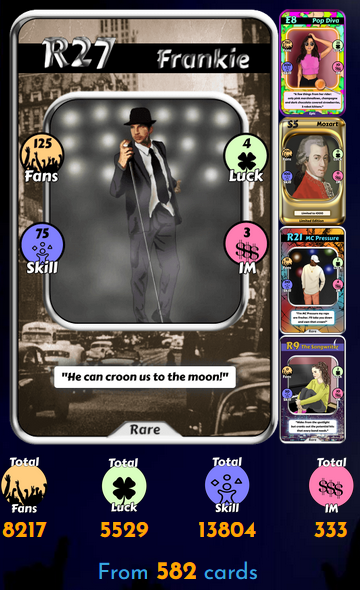 My skill points continue to rise as I continue to rake in points after music lessons. I can never get too much skill points. On the side I am able to play a few missions that earns Starbits daily and can average out 12k - 14k a day. The Starbits will help me buy more cards in the near future.
Now I am level 140 so only ten more to go before I get to partake on the next mission.

Thanks for reading and hope everyone become a rising star!!!
My Past Posts on Rising Stars:
Rising Stars - A New Personal Best, 54th...
Rising Stars - Moved up to Rank 77th...
Rising Stars - Investing in IM to Get Higher Ranking
Rising Stars - Now ranked 78th.
Rising Stars - Level 130 but big drop in rank
Rising Stars - Steady Progress...
Rising Stars - Earning 0.04 swap.hive a day...
If you have not started playing Rising Stars please try it out. Link in pictures below and the game is FREE once you create an Hive account.