Buying Multiple Cards Quick and Easy
First a quick update with the additional cards in my collection I am now again ranked 76th. I do not remember exactly how quick I got over 400 cards but it was a while when I was in the 300 range. Now with investing more into the game I am battling for a higher rank.
Now on to title of this section, buying multiple cards quick and easy. For a while now I have still not gotten use to Rising Star's internal market place. The search is slow and difficult to go through, while it is also difficult to make card purchases quickly if I wanted to buy in bulk. Here lies a 3rd party website that makes it easier.
https://beta.nftm.art/buy/star
Is link to NFTMart.

The website is easy to use and players can filter out cards at specific price per different currencies ranging from Hive all the way to Starbits. Best part is to purchase multiple cards players only have to click on the individual cards they wish to buy and it click counts toward one of the cards. Therefore 10 clicks creates a basket of 10 cards for that are summed and player simply have to only pay one time. The speed of obtaining the cards after purchase is pretty much as quick as the in game market.
My Stats and Card Collection Updates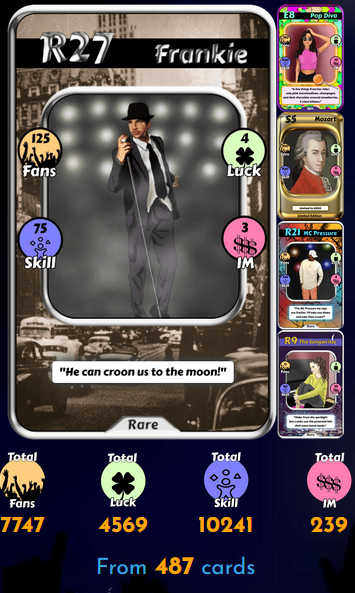 I invested more Hive to get another batch of cards and now will await for tomorrow's results for what is close to a 500 card collection. Mostly increase in my luck points but I also got over 10k in skill points.
I am level 136 and rising steadily. Now though the XP to make it to the next level are a bit higher so it is taking me slightly more than 24 hours to move up a level. Still I am making progress.
Thanks for reading and hope everyone become a rising star!!!
My Past Posts on Rising Stars:
Rising Stars - Newbie of Crafting Guitars and Drums
Rising Stars - Moved up to Rank 77th...
Rising Stars - Investing in IM to Get Higher Ranking
Rising Stars - Now ranked 78th.
Rising Stars - Level 130 but big drop in rank
Rising Stars - Steady Progress...
Rising Stars - Earning 0.04 swap.hive a day...
If you have not started playing Rising Stars please try it out. Link in pictures below and the game is FREE once you create an Hive account.