73rd and hope to stay up here a bit longer
The hive spent to add points in my overall rank has helped a bit. I am now holding what if I remember correctly is my personal best in rank. I look forward to breaking through sooner than later.
I am also very close to 500 cards so will intend to be looking at the market to add to my collection.
My Stats and Card Collection Updates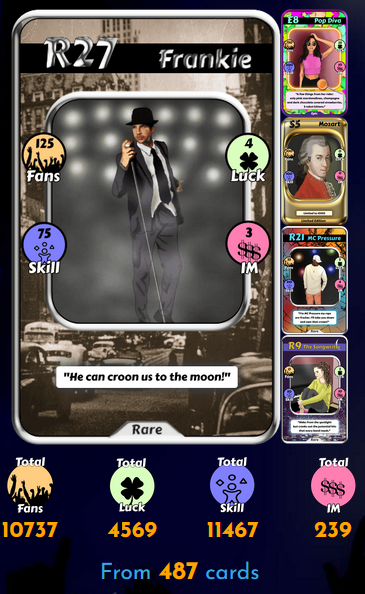 I should first clarify that my fan points is 1/4 temporary due to drunks earned while my skill points is 100% permanent. I am basically scoring a lot of skill points today with the increase luck cards I bought. With over 11k now it is quite impressive for one day progress. I look forward to playing more music lessons to bring down ego while having a higher than 1:1 between skills and fans.
With more skill points I sacrificed earning less Starbits. Yet in the long run I will mostly want to stay playing missions that earn me more Startbits. Now lowering my Ego while gaining more skill points is building up for my future progessions of the game.

On the front of XP and leveling I am now at level 137. Now less than 14 levels from achieving the opportunity to complete the next new mission.
Thanks for reading and hope everyone become a rising star!!!
My Past Posts on Rising Stars:
Rising Stars - Up Some Ranks Today
Rising Stars - Moved up to Rank 77th...
Rising Stars - Investing in IM to Get Higher Ranking
Rising Stars - Now ranked 78th.
Rising Stars - Level 130 but big drop in rank
Rising Stars - Steady Progress...
Rising Stars - Earning 0.04 swap.hive a day...
If you have not started playing Rising Stars please try it out. Link in pictures below and the game is FREE once you create an Hive account.