With my recently acquired daily dose of pizza I think I could achieve more missions than before! So that was certainly a good investment. However, with more missions, the ego counter keeps incrementing...
I am at a point now where I'm "OK" with the number of fans from my cards plus the accumulated ego in comparison with with my skill.

Image: Screenshot https://www.risingstargame.com/
However, due to some unforeseen luck I got around 350 new 'drunk' fans today, which quickly broke the skill/ego balance: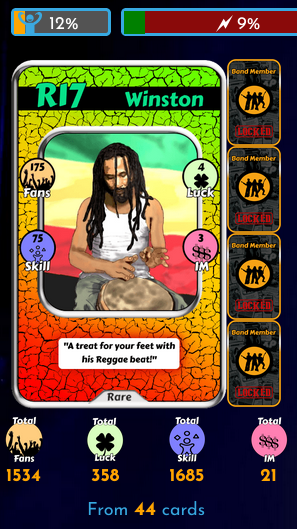 Image: Screenshot https://www.risingstargame.com/
So that doesn't really work in the long run, I have to take better care of the ego. With the instrument cards I have right now, I can make 15-31 skill per lesson, so I have to do at least one lesson per day to keep up with the new ego received from missions, but certainly a couple or lessons more to compensate for unexpected drunk fans.
At the moment, I try to get this done most efficiently by reinvesting the earned STARBITS both into suitable instruments to increase the amount of skill earned from missions and possibly into characters with more skill than fans. Short term, combined with more lessons than missions to reduce the ego debt.
What do you do to balance ego? If you have any suggestions on how to tackle this best, let me know in the comments please!
What is Rising Star?
Rising Star is a music career game on the Hive blockchain. You can play for free with a Hive account and earn crypto and tradeable NTFs. You can find the game at https://www.risingstargame.com. The official account for announcements etc. is @risingstargame.
Yours
-π
---

Join me on RisingStar


Join me on CryptoBrewMaster

---
Posted via MusicForLife.io