The Bottom Left "Roadie" Cabinet - El gabinete "Roadie" inferior izquierdo
Rising Star "Mini-Games," & Crafting - "Minijuegos" y artesanía en ascenso
For my post tonight, I wanted to write about "Rising Star," and share some things I personally like to do every day in the game. I also wanted to take the opportunity to tell you one of my favorites, and in my opinion, under-rated aspects of the game - The "Crafting Fair."
Para mi publicación de esta noche, quería escribir sobre "Rising Star" y compartir algunas cosas que personalmente me gusta hacer todos los días en el juego. También quería aprovechar la oportunidad para contarles uno de mis aspectos favoritos y, en mi opinión, subestimados del juego: la "Feria de artesanía".

The "Drum Fair..." - La "Feria del Tambor ..."
Mini-Games - Mini Juegos
Daily Tasks... - Tareas diarias...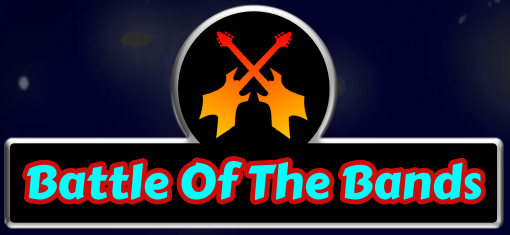 Every day, I make sure to check in for a few minutes to the "Mini-Games." One of them, the "Battle of the Bands," is a very simple click interface that pits you against other players that are waiting to "battle."
Todos los días, me aseguro de registrarme durante unos minutos en los "minijuegos". Uno de ellos, "Battle of the Bands", es una interfaz de clic muy simple que te enfrenta a otros jugadores que están esperando para "luchar".

Battle of the Bands Interface - Interfaz de la batalla de las bandas
Not a Smart Man, Jenny - No es un hombre inteligente, Jenny
I do not claim to be a developer, but I assume there is something written in here for this part of the game to have meaning. Other players go here waiting for a "Battle," so the least I can do is spend a few minutes a day giving it to them! As you can see from the ranking, I do not do too bad in here. Maybe it is time for you to give it a shot? See how you do in the "Battle of the Bands!"
No pretendo ser un desarrollador, pero supongo que hay algo escrito aquí para que esta parte del juego tenga significado. Otros jugadores van aquí esperando una "Batalla", así que lo mínimo que puedo hacer es dedicar unos minutos al día a dársela. Como puede ver en el ranking, no lo hago tan mal aquí. ¿Quizás es hora de que lo pruebes? ¡Mira cómo te va en la "Batalla de bandas!"

"Jumping Jet" - "Jet de salto"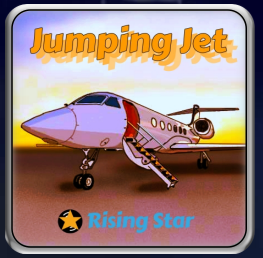 Out of the two currently available "Mini-Games," I have to admit, I like "Jumping Jet" the least. It is an old-school, Almost Donkey Kong-type game, where you have to use your mouse to "jump" a jet through some guitar necks. To be honest, it is just not my style of game, but it might be yours! Again, give it a try, I am sure it is there for a reason! Try to do better than I do though!
De los dos "minijuegos" disponibles actualmente, tengo que admitir que me gusta menos "Jumping Jet". Es un juego de la vieja escuela, tipo Almost Donkey Kong, en el que tienes que usar tu ratón para "saltar" un jet a través de algunos cuellos de guitarra. Para ser honesto, simplemente no es mi estilo de juego, ¡pero podría ser el tuyo! Nuevamente, pruébalo, ¡estoy seguro de que está ahí por una razón! ¡Intenta hacerlo mejor que yo!

Ye Olde jumping game... - Ye Olde juego de saltos ...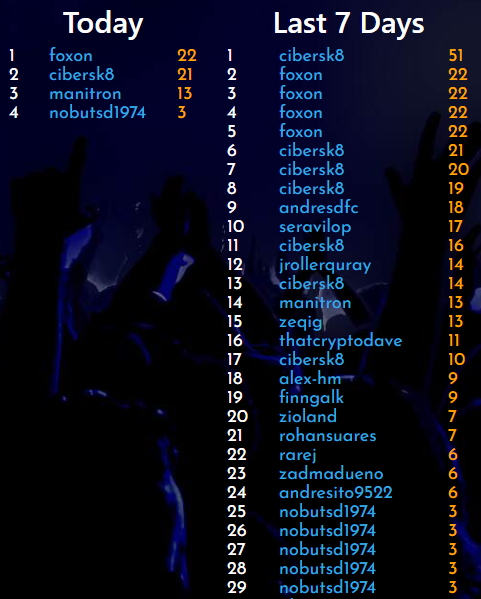 Make sure you do better than I do! - ¡Asegúrate de hacerlo mejor que yo!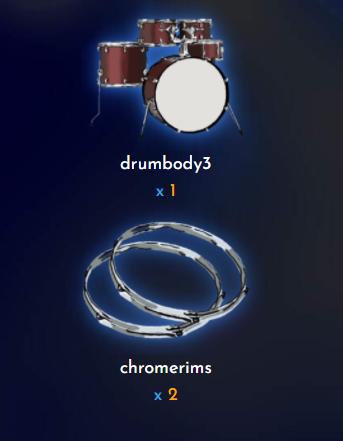 Crafting Fair - Feria de artesanía
In the above picture, you can see some of the parts I have managed to accumulate at this particular point in my crafting this round. In case you were not aware, you can spend your #StarBits to go search out guitar, and drum parts. Then, when you have enough, you can "craft" them, and burn a new #NFT. I can only assume this will be something that gets either harder to do as time goes on, or gets discontinued at some point. After all, what is the point of having it in the game if there is no value in doing it, Right? Either way, I enjoy crafting the new instruments, and as you can see, I have done it a few times now...
En la imagen de arriba, pueden ver algunas de las partes que he logrado acumular en este punto particular de mi elaboración de esta ronda. En caso de que no lo supiera, puede gastar sus #StarBits para buscar partes de guitarra y batería. Luego, cuando tenga suficiente, puede "crearlos" y grabar un nuevo #NFT. Solo puedo asumir que esto será algo que se volverá más difícil de hacer a medida que pase el tiempo o que se suspenda en algún momento. Después de todo, ¿de qué sirve tenerlo en el juego si no tiene ningún valor hacerlo, verdad? De cualquier manera, disfruto creando los nuevos instrumentos y, como pueden ver, lo he hecho varias veces ahora ...

Wonder if they will be worth something someday? - ¿Me pregunto si valdrán algo algún día?
Rock on Stars! - ¡Rock en las estrellas!
I want to thank @RisingStarGame for making a music-based game that is both fun, and an investment opportunity based around #Music. As a curator for the #MusicForLife community, I truly enjoy listening for the "I'm not drunk!" guy, and the sound of change being thrown at me when it is time to start a new mission, so until we are all Stars on our way to the far reached of space! Keep On Rockin!
Quiero agradecer a @RisingStarGame por hacer un juego basado en música que es a la vez divertido y una oportunidad de inversión basada en #Music. Como curador de la comunidad #MusicForLife, realmente disfruto escuchando el "¡No estoy borracho!" chico, y el sonido del cambio que se me lanza cuando es el momento de comenzar una nueva misión, ¡así que hasta que seamos todos Estrellas en nuestro camino hacia el lejano espacio del espacio!

I am still letting my voting power re-charge, but I am still giving out a few select votes for well-written posts!
¡Todavía estoy dejando que mi poder de voto se recargue, pero todavía estoy dando algunos votos selectos por publicaciones bien escritas!