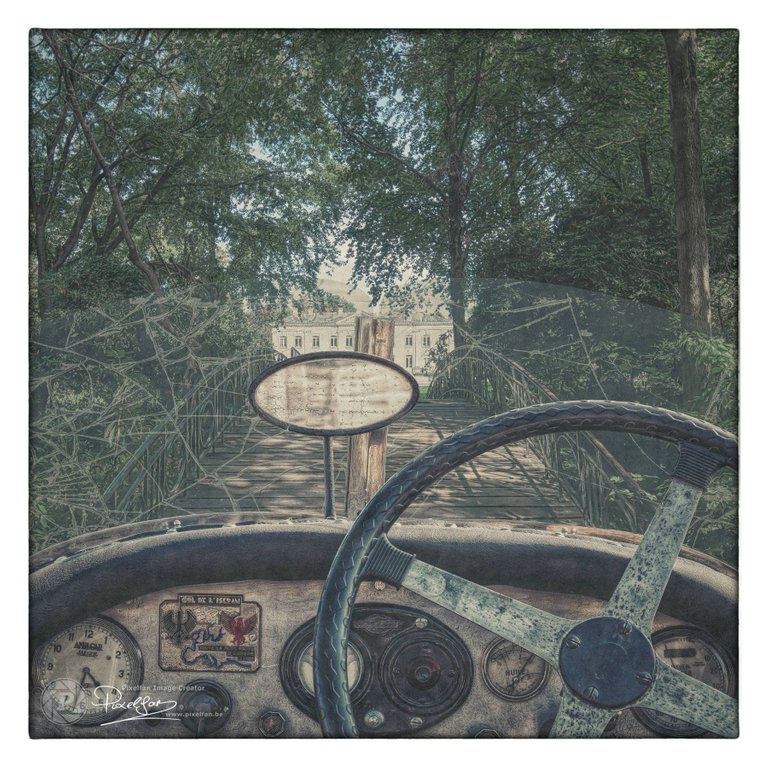 Those damn corona numbers are quietly rising again ...
Okay, it is nothing comparable to the US figures, but normally they should have gone down and no longer rise ...
I suspect that the holiday fever that many people have has everything to do with it. That and the laxity of many ...
So, no vacation for us this year. At least not abroad. Honestly, it is not such a disaster and it gives us the opportunity to visit and discover places close to home.
Places that you normally do not visit but that are still worth it. Like here, for example, a park with a beautiful castle that I had not visited in years.
At least I don't risk anything here! No people around me, healthy fresh air ... No, no corona for me ...
Although...
Does anyone actually know how much such an old moat bridge can carry? I'm starting to hear strange creaking noises here ... 😉
---
You like this Vintage Travel Series?
I surely do 😊 I like it that much that I continue creating new images with different cars, bikes and places. If you're curious about the images I posted here before, just click on the thumbnail to see the original post...
---
---
BTW: all cars (or bikes) used in these pictures are real and existing. I don't own those cars but did spot them during my hikes and decided to shoot them because they're just good-looking or original or vintage. This doesn't mean that I shot them on the same place as in the final picture… as a matter of fact, they never were there…😉 The places in the pictures are mostly interesting or original places… but not always car-friendly 😂
As a final note… I can guarantee that no car or bike has been hurt during the picture-shoot…Please, don't forget to resteem if you like my Vintage Travel series... I'm sure others will like them too!
You liked this post?
Right you are 😉
Just follow me here to make sure you don't miss any new work. As you can see below, you will be in good company... my 3 skinny friends are waiting for you 😉


BTW: I will not ask you to upvote my posts… deep down inside you know you have to 😉
Curious to see my other work?
Although I spend most of my time here, you can also find me in other places… just take your pick…