What would you do if you had won a million dollars? I wonder how many people will think of it as a joke if some guy just comes up to them and hands them a million dollars cheque. Now people just don't go around handing million dollars now, do they? Well, the movie that I'm writing about is what people did with the million dollars they have won. I know a million dollars is worth a lot now, but imagine how much of worth it had in 1932!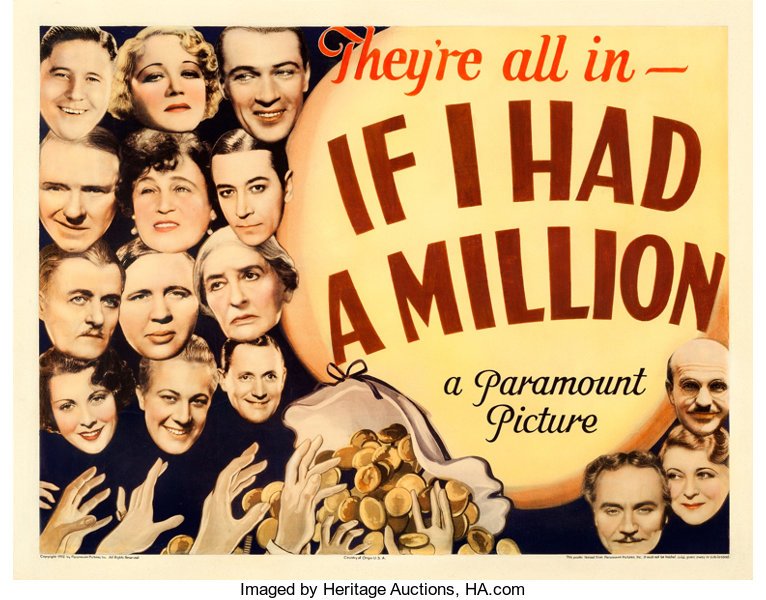 Image
If I had a million (1932) is unlike any other movies I have written before. It's an anthology film focusing on a theme that consists of several stories tied together. Even though the stories aren't linked together but they all lead back to the plot story. This time I won't be as detailed as last time, as it's a movie that has short stories and I will be narrating it if I do.
The plot, hmm, that I'll tell you. If I had a million (1932) is a movie about an eccentric millionaire, John Glidden (played by Richard Bennett) who is in his last stages of life. With no family remaining and no relative to his liking, Mr. Glidden is constantly changing his will to whom he should leave his wealth. His techniques are just as unexpected as he is. While throwing another fit of rage, the tycoon decided he will not leave a penny to any of his relatives or employees (vultures he called them), rather he would give it to strangers. Didn't I tell you about his atypical method?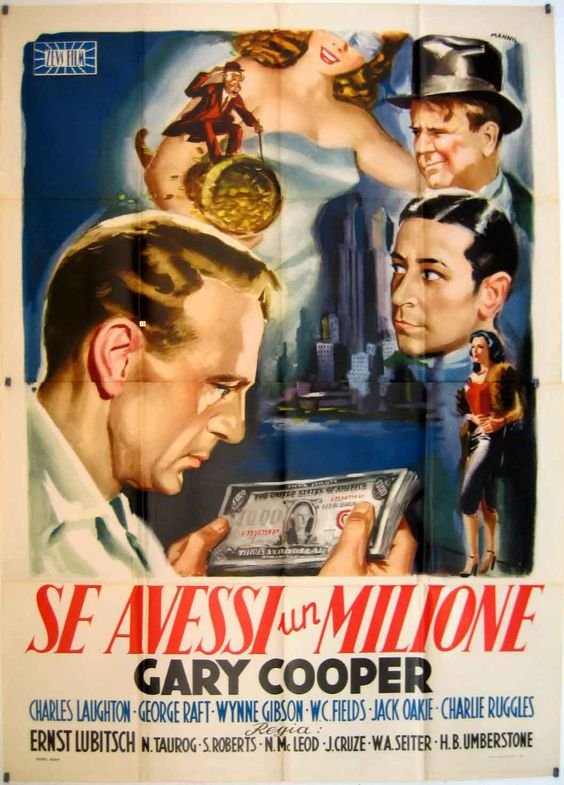 Image
To avoid his will being contested, Mr. Glidden decided to deliver the money to 8 strangers personally before he dies. Here's a thing, he picked out the people from the yellow page and the first name that selected is John D. Rockefeller which got dumped. Then he wrote a cheque to 8 strangers 1 million each and with a letter to the bank so that they won't have any problem cashing it out. Each of them has a story of their own. Now, I already said I won't be telling about the stories but I'll give you some ideas.
China Shop - Directed by Norman Z. McLeod and with Charles Ruggles as a salesman, the story turned the unhappy salesman into a happy millionaire.
Violet - With Director Stephen Roberts the story of Violet played by Wynne Gibson.
The Forger - George Raft played the character of the forger and the story directed by H. Bruce Humberstone
Road Hogs - This little story was of a couple portrayed by Alison Skipworth and W. C. Fields with Norman Z. McLeod. Now I found this story to be hilarious.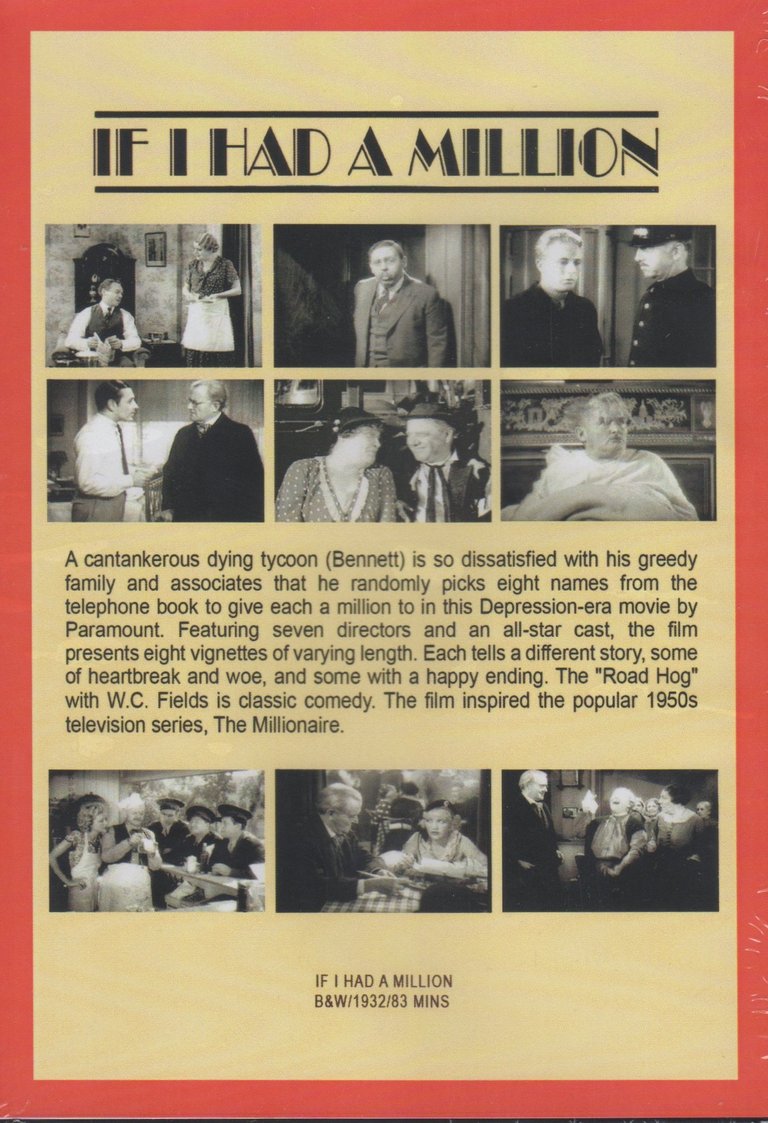 Image
Death Cell - Now this story was unsettling. With James Cruze as Director and Gene Raymond as the protagonist, the story seems as though not everyone is lucky.
The Clerk - Directed by Ernst Lubitsch the story is about an experienced clerk played by Charles Laughton who just has had enough of clerk duty.
The Three Marines - William A. Seiter directed this segment based on marine Steve Gallagher (Gary Cooper) and friends Mulligan (Jack Oakie) and O'Brien (Roscoe Karns). They should have known that it was no joke.
The Three Marines - Mary Walker (May Robson) the unhappy unhappy elderly woman was the last beneficiary and boy did they spent the money well. This last story was directed by Stephen Roberts.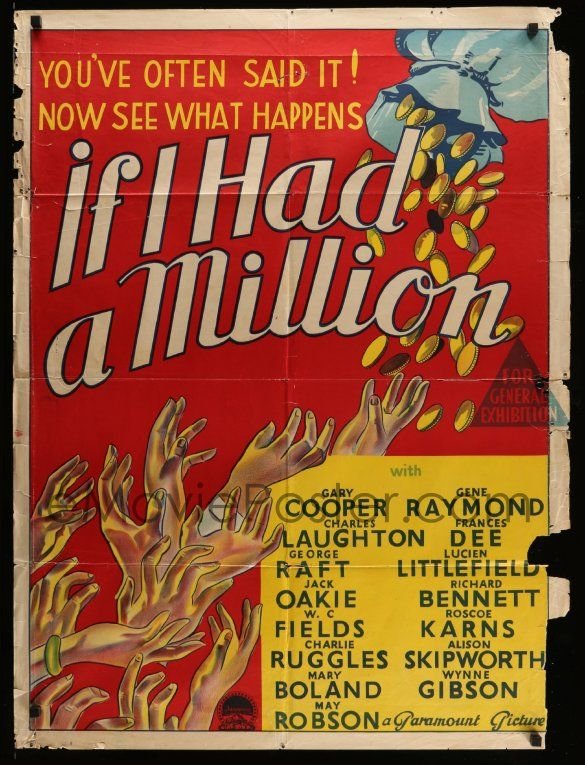 Image
So, all in all, I enjoyed this movie a lot. Although at first glimpse, it may look like a comedy a few stories didn't turn to be a happy ones. The New York Times has called it (quote) "an unusually good entertainment worked out with true imagination and originality, except possibly for one interlude (Death Cell)." Also, it is said that there some stories that didn't end up in the final print. This is all for today. Thank you so much